April First Thursday with Local Cherokee Artists
Posted 01 March 2018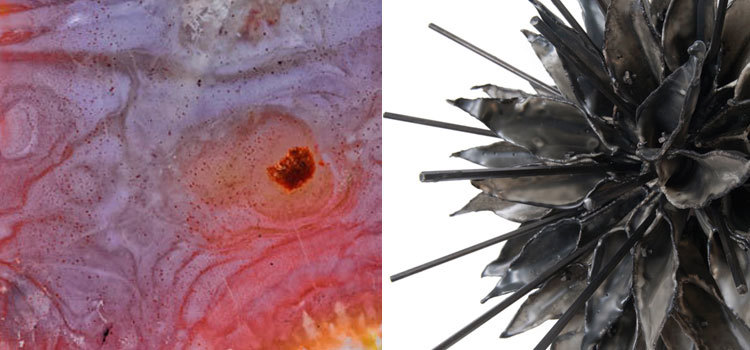 Every First Thursday, we open our doors to the community: whether you're just strolling by, headed to a gallery down the street, or here for a show, come on in and join us for local music, snacks a-plenty, and a complimentary beer from our neighbors over at Deschutes.
In April, The Armory is excited to host two exhibits by local Cherokee artists. Explore Brenda Mallory's Recurring Chapters in the Book of Inevitable Outcomes on the Lower Level then see Joe Cantrell's stunning natural photography. Special thanks to the Native Arts and Cultures Foundation for their generous support.
From 5-6 p.m., join And So We Walked writer and performer DeLanna Studi in the Ellyn Bye Studio to tour the set designed by John Coyne!
Thursday, April 5
5 - 7 p.m.
FREE
About Brenda Mallory
| | |
| --- | --- |
| | Brenda Mallory (Cherokee Nation) is a Portland-based artist whose work ranges from individual wall-hangings and sculptures to large-scale installations. She works with mixed media, mining natural and found materials to create multiple forms that are joined with crude hardware or mechanical devices to imply tenuous connections and aberration. She is interested in ideas of interference and disruptions in systems of nature and human cultures. A resident of Portland for many years, Mallory grew up in Oklahoma and is a member of the Cherokee Nation. She has a BA in Linguistics & English from UCLA and a BFA from Pacific Northwest College of Art. Mallory has received awards from the Oregon Arts Commission, Ford Family Foundation, and Regional Arts & Culture Council and Crow's Shadows Institute of Art. She was a 2015 Eiteljorg Contemporary Native Artist Fellow, was awarded a 2016 Native Arts and Culture Foundation Fellow in Visual Arts, and is a Mentor in the MFA Applied Craft and Design Program at PNCA+OCAC. brendamallory.com |
About Joe Cantrell
| | |
| --- | --- |
| | I am a member of the Cherokee tribe, raised in Cherokee County, Oklahoma, which may, or may not, have something to do with this. As a child, I thought all things in nature had a Spirit. I broke rocks open to discover what lay inside them, but I always felt a pang when I did it, a little prayer asking forgiveness of the rock and the order that had placed it with me. Plant life was the same way, flowers looked and smelled beautiful, but the changes in their geometry as they passed through the life cycle were more enticing. Zen seemed to have more answers than science for me. Now approaching age seventy, digital photography makes those explorations visible for others. I'm just a valve. I point the shiny side of the camera at something, push the button, and things pass through so you can see them, too. Often, I don't even "see" what I'm photographing, rather, I feel it and am thoroughly surprised when the final image appears. More here. |
About Native Arts and Cultures Foundation
| | |
| --- | --- |
| | We believe Native arts and cultures: Bring a valuable perspective to contemporary life Inspire healing within indigenous communities and among Native peoples and the general population Provoke thought, spark discussion, explore solutions and add a vital contribution to our communities and world The Native Arts and Cultures Foundation (NACF) is a Native-led, 501 (c) 3 philanthropic organization dedicated exclusively to the perpetuation of American Indian, Alaska Native and Native Hawaiian arts and cultures nationwide. More here. |
We at The Armory humbly acknowledge that the Portland metropolitan area rests on the traditional village sites of the Multnomah, Wasco, Cowlitz, Kathlamet, Clackamas, Bands of Chinook, Tualatin Kalapuya, Molalla and many other Tribes who made their homes along the Columbia (Wimahl) and Willamette (Whilamut) rivers. Today, Portland's diverse and vibrant Native communities are 70,000 strong, descended from more than 380 tribes, both local and distant. We take this opportunity to offer respectful recognition to the Native communities in our region today, and to those who have stewarded this land throughout the generations.
Attend this event and find the promo code to redeem on PlayMaker for 250 points! Sign up or sign in at www.pcsplaymaker.org. Explore. Earn. Enjoy.