Audition Workshop with Rose Riordan
Posted 26 February 2018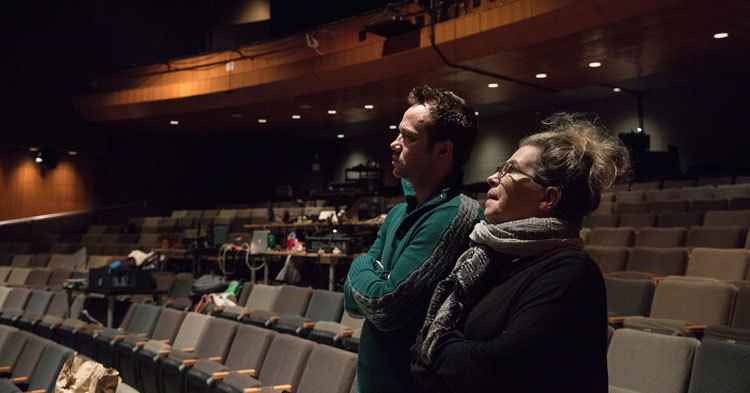 Associate Artistic Director Rose Riordan has seen it all in years of auditions. In this one day workshop, she'll share the do's and don'ts and help you present your best self in auditions.

On-your-feet, practical coaching of your current audition pieces will breathe new life into your favorite audition pieces and give perspective on what a casting director really sees when you perform and what she really hopes to see. Come prepared with four short monologues (one minute in length max for each). Space is limited.
Please note: To make sure all participants get the most out of the workshop, we require a quick review of your headshot/resume. Please email us your preferred workshop date your headshot and a resume at and someone will be in touch shortly to sign you up and take payment.
$80
Saturday, April 14
2 - 6 p.m.
The Sunday, April 15 class has been canceled. Spots are still available in the Saturday class.
About Rose Riordan
Rose is in her 18th season at Portland Center Stage, where she serves as Associate Artistic Director. At The Armory she has directed Our Town, The People's Republic of Portland (2013 and 2015), Vanya and Sonia and Masha and Spike, The Typographer's Dream, LIZZIE, A Small Fire, The Mountaintop, The Whipping Man, The North Plan, Red, One Flew Over the Cuckoo's Nest, A Christmas Story, The 25th Annual Putnam County Spelling Bee, The Receptionist, A Christmas Carol, Frost/Nixon, How to Disappear Completely and Never Be Found, Doubt, The Underpants, The Pillowman and The Thugs, which won four Drammy Awards, including Best Ensemble and Best Director. Rose has also directed some of the staged readings for JAW festivals: The Thugs (2005), Telethon (2006), A Story About a Girl (2007), 99 Ways to F*** a Swan (2009), The North Plan (2010), San Diego (2012), The People's Republic of Portland (2012), Mai Dang Lao (2013) and A Life (2014).
FAQs
What to Bring
Class participants will receive a welcome/introductory email the Wednesday before their class providing specific details of what to bring to class. Class participants are always welcome to bring bottled water, and coffee or other beverages with a lid are also permitted. Please ensure cell phones and other noise-making devises are placed on "Silent Mode" or Off during class hours. There is no need to bring a printed copy of your ticket.
Refunds and Exchange Policy
The Armory does not offer refunds on purchased class registrations; all sales are final. Class exchanges can be made within 24 hour notice prior to the first class meeting. In rare circumstances when a class may be cancelled (due to extreme weather, artist absence or other unavoidable situations) we will offer refunds or replacement registration for a future class.
Click here to Learn more about our weather policy.
Arts for All
The Armory is proud to participate in Portland's Arts for All program. This means those Oregonians receiving SNAP benefits or with an Oregon Trail Card can receive discounted tickets to Community Events and Classes, available in person at the Box Office. Please have your Oregon Trail Card with you at time of purchase.
Getting Here
The Armory is located at 128 NW Eleventh Avenue in the Pearl District of Portland, Oregon. We're exactly one block north of Powell's Books, between Couch and Davis.
Bus: The Armory is located in the heart of the Pearl District on NW Eleventh Avenue and Davis Street, just a short walk from most bus lines.
MAX: From the eastbound train, get off at the 9th Avenue/Library stop. From the westbound train, get off at the Tenth Avenue/SW Morrison Street stop. Walk to Tenth Avenue and turn right, follow Tenth Avenue to Davis (approx. 6 blocks) and turn right to corner of Eleventh Avenue or Walk to corner of Tenth and Yamhill and board the Portland Streetcar, get off at Couch Street stop and walk to corner of Eleventh Avenue and Davis Street.
Streetcar: The Armory is also conveniently located directly on the streetcar line. The Portland Streetcar runs on Tenth Avenue (to NW 23rd) and on Eleventh Avenue (to Portland State University) and stops on the corner of NW Couch Street respectively. The entrance to The Armory is on the corner of NW Eleventh and Davis (one block north of Couch).
For complete transit directions from your location use the trip planner at www.trimet.org.
Accessibility
The Armory is committed to making our facilities accessible to all of our patrons. For specific program questions and ticket information, or if you need assistance, please contact the Education Department at 503-445-3795 or email us at education@pcs.org.
Parking
The Pearl features 2-hour metered on-street parking around The Armory, from 8 a.m. - 7 p.m. Monday-Saturday and 1 p.m. - 7 p.m. on Sunday.
For a parking garage, we recommend The Brewery Blocks/Whole Foods Underground Parking Garage. It is the largest lot in Portland and it is located one block from The Armory. It's a well-lit, security-patrolled underground garage that houses 1,300 parking spaces. There are two entrances to this lot: NW Twelfth Avenue or NW Thirteenth Avenue, between Couch and Davis Streets. The elevators take you into the M Financial Building lobby (just around the corner from the Armory) or into Whole Foods on the corner of Couch and NW Twelfth Avenue.
Other questions?
If you have any additional concerns or questions, please contact the Education Department at 503-445-3795 or email us at education@pcs.org.