First Thursday with Livy Conner + Art from Immigrant Families
Posted 16 October 2017
Every First Thursday, we open our doors to the community: whether you're just strolling by, headed to a gallery down the street, or here for a show, come on in and join us for local music, snacks a-plenty, and a complimentary beer from our neighbors over at Deschutes.
For November's event, hear local folk artist Livy Conner and meet some volunteers from Catholic Charities working to provide hope for the most vulnerable members of our community. We'll also showcase art by students from immigrant families!
Thurs, Nov. 2
5 - 7 p.m.
FREE!
About Livy Conner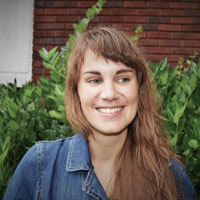 REVIEWS
"Mind Of Your Own is a brilliant debut album from Livy Conner. Combining profound lyrics with a distinctive singing style, Livy is a fresh 'voice' on the music scene in the tradition of the great singer/songwriters.
-HughBroder, Executive Producer, 2013 documentary, For the Love of Music (The Story of Nashville)
"While Conner's lithe voice can knock you out when it needs to, her songwriting is equally deserving of praise. Her lyrics are reflective, emotional, and, in a word, real."
-Jared Booth, Metronome Charleston
"The Lowcountry singer has a tender-sweet voice and a knack for crafting easy-going creekside melodies. Our recommendation: Queue up 'Dave Said'."
-Kailey Miller, Charleston City Paper
About Catholic Charities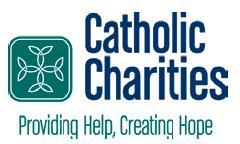 Inspired by the transformative power of God's love, Catholic Charities — the social service arm of the Catholic Church in western Oregon — partners with the most vulnerable, regardless of faith, to achieve lasting solutions to poverty and injustice. Catholic Charities envisions a society in which all people thrive economically, socially, and spiritually; cultivate diverse, respectful, and just communities; and recognize the inherent dignity and sanctity of human life.
Catholic Charities provides a broad array of programs and services for our community: Family Support & Counseling, Family Success/Economic Empowerment, Refugee Services, Legal Services for Immigrant Communities, Permanent & Transitional Housing, and Homeless Supportive Services.
About Deschutes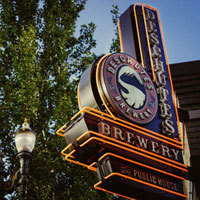 As a family and employee-owned brewery, Deschutes believes every pint of beer worth brewing is worth sharing—with friends, family, and even the stranger you just met on the barstool next to you. And every Deschutes Brewery pint shared has a healthy dose of community, experimentation, and ingenuity. It's crafted with plenty of balance and drinkability and invested with quality and consistency. This is not us waxing poetic. This has been the blueprint of Deschutes' DNA since our modest beginnings in 1988 as a small public house in downtown Bend, all the way through to the present. We invite you to explore all that our beers have to offer, here in the digital space, and in person, at our Pubs, and at our events. We think it should be an extraordinary experience no matter where you visit us.

Close
Sep

26

We

Available

Sep

27

Th

A few seats

Sep

27

Th

Available

Sep

28

Fr

Available

Sep

29

Sa

Available

Sep

29

Sa

Available

Sep

30

Su

A few seats

Oct

02

Tu

Available

Oct

03

We

Available

Oct

04

Th

A few seats

Oct

04

Th

Available

Oct

05

Fr

Available

Oct

06

Sa

Available

Oct

09

Tu

Available

Oct

10

We

Available

Oct

11

Th

A few seats

Oct

12

Fr

Available

Oct

14

Su

Available

Oct

16

Tu

Available

Oct

17

We

Available

Oct

18

Th

A few seats

Oct

19

Fr

Available

Oct

20

Sa

Available

Oct

20

Sa

Available

Oct

24

We

Available

Oct

25

Th

A few seats

Oct

26

Fr

Available

Oct

28

Su

Available
A Life

Sep 29 – Nov 11
Sep

29

Sa

A few seats

Sep

30

Su

Available

Oct

02

Tu

A few seats

Oct

03

We

A few seats

Oct

04

Th

A few seats

Oct

05

Fr

A few seats

Oct

06

Sa

Available

Oct

07

Su

A few seats

Oct

09

Tu

Available

Oct

10

We

Available

Oct

12

Fr

Available

Oct

14

Su

A few seats

Oct

16

Tu

Available

Oct

17

We

Available

Oct

19

Fr

Available

Oct

20

Sa

A few seats

Oct

23

Tu

Available

Oct

24

We

Available

Oct

26

Fr

Available

Oct

28

Su

Available

Oct

31

We

Available

Nov

01

Th

Available

Nov

01

Th

Available

Nov

02

Fr

Available

Nov

03

Sa

Available

Nov

04

Su

Available

Nov

04

Su

Available

Nov

07

We

Available

Nov

08

Th

Available

Nov

08

Th

Available

Nov

09

Fr

Available

Nov

10

Sa

Available

Nov

10

Sa

Available

Nov

11

Su

Available
Performance Times
Evenings: Tuesdays – Sundays at 7:30 p.m.*
Matinees: Saturdays and Sundays at 2 p.m., Thursdays at noon*
Accessibility