Gospel Night with Mt. Olivet Baptist Church
Posted 18 January 2017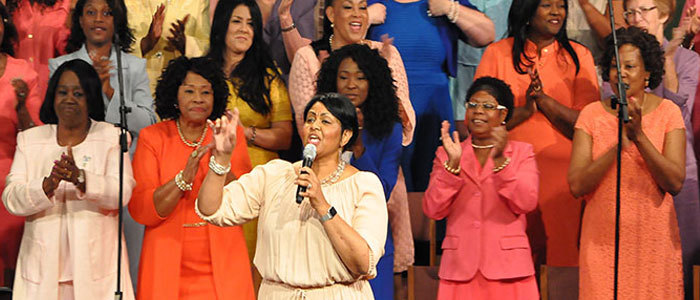 Mt. Olivet Baptist Church presents an evening of gospel music on the set of His Eye is on the Sparrow. Featuring the renowned church choir from Mt. Olivet's services, the event promises to be a memorable experience.
Monday, February 27
7:30 p.m.
FREE
Use the Promo Code "MTOLIVET" for $10 off your ticket to "His Eye is on the Sparrow"!
(Not valid on previously purchased tickets or with other discounts. Subject to availability).
About Mt. Olivet Baptist Church
Mt. Olivet was organized in 1907, when a small group of African Americans were successful in persuading the American Baptist Home Mission Society to grant them a contract of organization. The church was originally located on the Northwest of Portland, at Broadway and Everett. In 1921, to get the church on the "proper side of town," the Ku Klux Klan donated some lumber to help the church relocate to the Northeast side on the corner of NE Schuyler and 1st Avenue. Today, we are a multicultural center of worship, teaching, and service and have a global ministry. We largely support several missionaries overseas. We have constructed a three-story Christian elementary school on the outskirts of Bangalore, India. The school serves over 800 children. 300 of them are orphans. We sent two of our pastors to plant new churches - one in Vancouver, Washington in 1997, and the other one in Pittsburgh, Pennsylvania in 2002.More info at www.mtolivet.com.
---
Don't miss His Eye is on the Sparrow.
Running February 4 to March 26 in the Ellyn Bye Studio.
Feb

25

Sa

Sold out

Sold out

Feb

26

Su

Sold out

Sold out

Feb

26

Su

Sold out

Sold out

Feb

28

Tu

Sold out

Sold out

Mar

01

We

Sold out

Sold out

Mar

02

Th

A few seats

Mar

02

Th

A few seats
Accessibility