Happy Hour with "Mary's Wedding" Playwright + Director
Posted 19 April 2017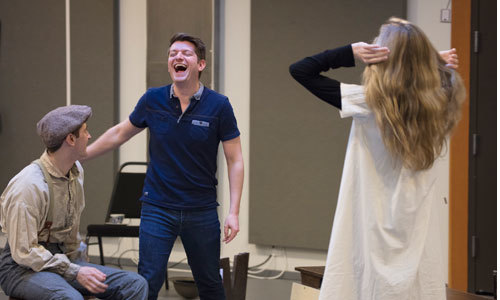 In a conversation with production dramaturg Mary Blair, Stephen Massicotte described his motivations behind writing the play. "I think that I dramatize history in a frustrated effort to make it solid and real," he said, " and it seems important, for some reason, that I tell the audience that there were other people here before us."
Hear more from playwright Stephen Massicotte and director Brandon Woolley in a brief presentation about the making of Mary's Wedding and bringing the script to life on stage. After the presentation, meet and mingle with the artists before the May 10th performance of Mary's Wedding.
Wednesday, May 10
6:30 p.m.
FREE
To read more of the interview between Mary Blair and Stephen Massicotte, check out our blog post here.
---
Don't miss Mary's Wedding.
Running April 15 to May 28 in the Ellyn Bye Studio.
Apr

26

We

Available

Apr

30

Su

Available
Apr

25

Tu

Available

Apr

27

Th

Available

Apr

28

Fr

Available

Apr

30

Su

Available
Apr

25

Tu

Available

Apr

26

We

A few seats

Apr

27

Th

A few seats

Apr

27

Th

A few seats

Apr

28

Fr

Available

Apr

29

Sa

A few seats
Accessibility