Happy Hour with Mount Hood Cherokees
Posted 01 March 2018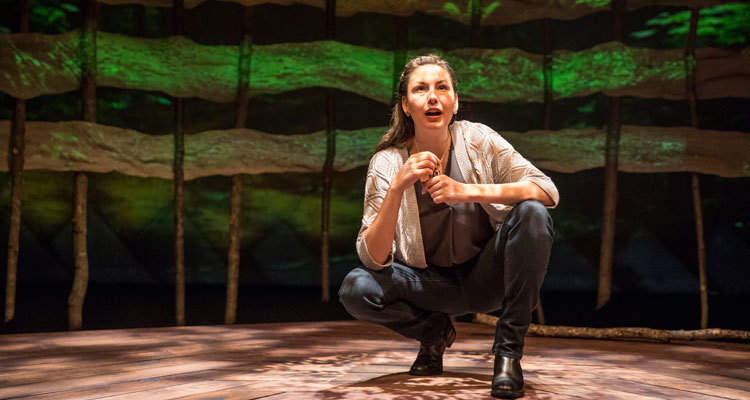 And So We Walked is DeLanna Studi's story of recreating the Trail of Tears with her father, simultaneously reuniting with her Cherokee heritage and her family. Celebrate the play and learn about Mt. Hood Cherokees, the local satellite chapter of the Cherokee Nation. Members David Crawford and Rebecca Goss will discuss Cherokee history and sovereignty and what And So We Walked means to their community. Enjoy free snacks and complimentary drinks until 7:00 p.m.
Sunday, April 22
6:30 - 7:30
FREE
About Rebecca Goss
| | |
| --- | --- |
| | Rebecca Goss was born and raised in Portland, Oregon and spent much of her childhood with her Cherokee Grandfather, Champ and non-Cherokee Grandmother Ruby. Although she knew her heritage, Rebecca was not raised to know her Cherokee Culture and history. But, Rebecca's Grandfather started speaking the Cherokee language after several years of being diagnosed with Dementia. Childhood memories of Traditional Stomp Dancing, attending Dwight Mission Boarding School, and the language all came flooding back to him. After he passed, Rebecca felt it immensely important to honor him and their culture and started a journey to connect with her Cherokee Kin. She has since connected with her extended Cherokee family, over 150 relatives in Stilwell and Bunch, Oklahoma as well all over the US, and has helped coordinate a large family reunion each year to connect and to honor her Grandpa Champ and all of her Cherokee Ancestors. Rebecca has been on the Mt. Hood Cherokee Council for several years, planning and coordinating events for our Cherokee Community. The distance of being far away from the Cherokee Nation makes her even more determined to stay connected to our local Cherokee and native community here in Portland. |
About David Crawford
| | |
| --- | --- |
| | David is a Cherokee Nation citizen and a founding member of Mt. Hood Cherokees (MHC), an official satellite community of the Cherokee Nation in Portland. He is currently MHC Council Chairperson. Born in Michigan, raised in Oklahoma and Kansas, David has traced his Cherokee heritage to the Cherokee spouse of his 4G Grandfather, Richard Ratliff. His 3G Grandmother, Anna Ratliff, was born about 1802 in Turkey Town along the Coosa River in the Cherokee Nation (now in northeast Alabama). David holds a Bachelor of Music Education from Wichita State University and a Masters in Professional Accounting from The University of Texas. Retired now, David has been a musician (trombone), a music educator, an Air Force C-130 Navigator and a CPA. |
About Mount Hood Cherokees
Mt. Hood Cherokees (MHC) is a community of Cherokees dedicated to Cherokee history, culture, heritage, tradition and fellowship. Most of our members reside in Oregon and SW Washington. We are a satellite community of the Cherokee Nation and act as the official point of
connection between the Cherokee Nation and its Mt. Hood Cherokee citizens.

We have come together on the basis of our shared history and heritage, and out of an interest in the continuation of and a love for the Cherokee People and Nation. We are a non-political, non-profit organization.
Attend this exhibit for 250 points on PlayMaker! Look for a loyalty code to enter on PlayMaker to redeem your points. Sign up or sign in at pcsplaymaker.org