Happy Hour with PFLAG
Posted 18 September 2017
Enjoy our pre-show Happy Hour hosted by PFLAG, with members from all over the US visiting Portland for their national convention. Learn more about this amazing organization, including local chapters, while enjoying our cash bar and complimentary hors d'oeuvres.
Saturday, October 21st
6:30 - 7:30 p.m.

On the Mezzanine
About PFLAG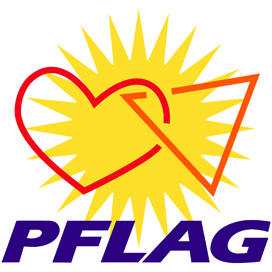 Founded in 1972 with the simple act of a mother publicly supporting her gay son, PFLAG is the nation's largest family and ally organization. Uniting people who are lesbian, gay, bisexual, transgender, and queer (LGBTQ) with families, friends, and allies, PFLAG is committed to advancing equality through its mission of support, education, and advocacy. PFLAG has 400 chapters and 200,000 supporters crossing multiple generations of American families in major urban centers, small cities, and rural areas in all 50 states, the District of Columbia and Puerto Rico. This vast grassroots network is cultivated, resourced, and serviced by PFLAG National, located in Washington, D.C., the National Board of Directors and 13 volunteer Regional Directors.
Use the Promo Code "PFLAG" for $10 off tickets to Fun Home.
*Not valid on Area 4 seating, student tickets, special engagements, or with other discounts. Subject to availability.
Attend this event and find the promo code to redeem on PlayMaker for 250 points! Sign up or sign in at www.pcsplaymaker.org. Explore. Earn. Enjoy.

---
Can't make the Happy Hour? No worries, the promo code "PFLAG" is still good for $10 off tickets for the 7:30pm show.

Three ways to The Armory from the Mariott Downtown Riverfront to see Fun Home
Lyft
Radio Cab (503) 227-1212
Portland Streetcar – Walk West away from the river to 5th Ave. and take a left. Walk two blocks to Harrison and find the Streetcar platform. Take the Streetcar to 10th and Couch St. Walk up Couch St. to 11th Ave. and take a right. You have found us!
The Armory has a café on site for a quick bite before the show. Or enjoy one of these local favorites practically across the street.
Close
Oct

21

Su

Sold out

SOLD OUT

Oct

23

Tu

Sold out

SOLD OUT

Oct

24

We

A few seats

Oct

25

Th

Sold out

SOLD OUT

Oct

26

Fr

Available

Oct

28

Su

A few seats
A Life

Sep 29 – Nov 11
Oct

21

Su

Available

Oct

21

Su

Available

Oct

23

Tu

Available

Oct

24

We

Available

Oct

26

Fr

Available

Oct

27

Sa

A few seats

Oct

28

Su

A few seats

Oct

31

We

Available

Nov

01

Th

Available

Nov

01

Th

Available

Nov

02

Fr

Available

Nov

03

Sa

A few seats

Nov

04

Su

A few seats

Nov

04

Su

Available

Nov

07

We

Available

Nov

08

Th

Available

Nov

08

Th

Available

Nov

09

Fr

Available

Nov

10

Sa

Available

Nov

10

Sa

Available

Nov

11

Su

Available
Performance Times
Evenings: Tuesdays – Sundays at 7:30 p.m.*
Matinees: Saturdays and Sundays at 2 p.m., Thursdays at noon*
Accessibility