Humorous Memoir Writing Lab with Courtenay Hameister
Posted 22 November 2015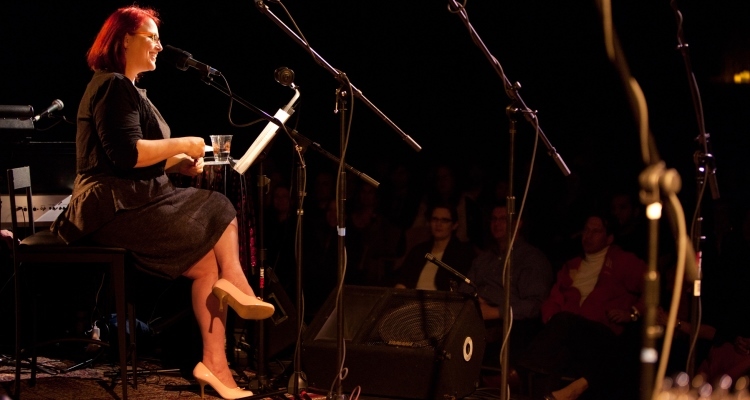 Tragedy + Time: A Humorous Memoir Workshop with Courtenay Hameister
December 13 from 10:30 to 1:00
$20
Whether you're hoping to inject some humor into your blog, write a Bossypants-style memoir, or learn to look at those awkward, humiliating and/or litigation-worthy moments as funny instead of tragic, this class is for you. Live Wire's Courtenay Hameister will talk about the power of the ugly truth, the judicious use of self-deprecation, and turning the catastrophic into the ridiculous. The class will include a brief writing prompt and discussion of your work.
Instructor: Courtenay Hameister is the head writer and co-producer of Live Wire, Portland's own nationally-syndicated radio variety show airing on over 65 public radio stations around the country. She is also a screenwriter, a playwright and a columnist whose projects include co-writing the satirical stage adaptations Roadhouse: The Play! and Lost Boys: Live!, and the Reluctant Adventurer column for GoLocalPDX. Her work can be found in McSweeney's, Oregon Humanities Magazine, Portland Monthly and some scathing emails to the customer service department at Macy's.
$10 off tickets to Twist Your Dickens using promo code "COURTENAY"
Close
Sep

26

We

Available

Sep

27

Th

A few seats

Sep

27

Th

Available

Sep

28

Fr

Available

Sep

29

Sa

Available

Sep

29

Sa

Available

Sep

30

Su

A few seats

Oct

02

Tu

Available

Oct

03

We

Available

Oct

04

Th

A few seats

Oct

04

Th

Available

Oct

05

Fr

Available

Oct

06

Sa

Available

Oct

09

Tu

Available

Oct

10

We

Available

Oct

11

Th

A few seats

Oct

12

Fr

Available

Oct

14

Su

Available

Oct

16

Tu

Available

Oct

17

We

Available

Oct

18

Th

A few seats

Oct

19

Fr

Available

Oct

20

Sa

Available

Oct

20

Sa

Available

Oct

24

We

Available

Oct

25

Th

A few seats

Oct

26

Fr

Available

Oct

28

Su

Available
A Life

Sep 29 – Nov 11
Sep

29

Sa

A few seats

Sep

30

Su

Available

Oct

02

Tu

A few seats

Oct

03

We

A few seats

Oct

04

Th

A few seats

Oct

05

Fr

A few seats

Oct

06

Sa

Available

Oct

07

Su

A few seats

Oct

09

Tu

Available

Oct

10

We

Available

Oct

12

Fr

Available

Oct

14

Su

A few seats

Oct

16

Tu

Available

Oct

17

We

Available

Oct

19

Fr

Available

Oct

20

Sa

A few seats

Oct

23

Tu

Available

Oct

24

We

Available

Oct

26

Fr

Available

Oct

28

Su

Available

Oct

31

We

Available

Nov

01

Th

Available

Nov

01

Th

Available

Nov

02

Fr

Available

Nov

03

Sa

Available

Nov

04

Su

Available

Nov

04

Su

Available

Nov

07

We

Available

Nov

08

Th

Available

Nov

08

Th

Available

Nov

09

Fr

Available

Nov

10

Sa

Available

Nov

10

Sa

Available

Nov

11

Su

Available
Performance Times
Evenings: Tuesdays – Sundays at 7:30 p.m.*
Matinees: Saturdays and Sundays at 2 p.m., Thursdays at noon*
Accessibility