Native Languages Happy Hour
Posted 03 January 2018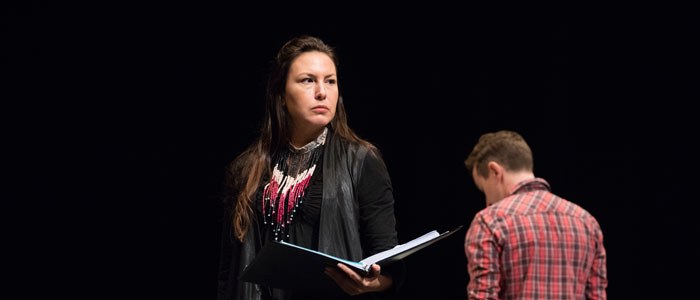 Join Native language expert Valerie Switzler and dialect coach Mary McDonald-Lewis in conversation.

Join us for a Happy Hour discussion between Astoria dialect coach Mary McDonald-Lewis and Native language expert Valerie Switzler as they examine the history and background of the Native languages used onstage in Astoria: Part Two, the second installment of the two-part stage adaptation based on the book ASTORIA: John Jacob Astor and Thomas Jefferson's Lost Pacific Empire: A Story of Wealth, Ambition, and Survival by adventure and exploration writer Peter Stark.
Tuesday, January 30
6:30-7:30 p.m.
FREE!
---
About Valarie Switzler
| | |
| --- | --- |
| | As Manager of the Culture and Heritage Language Department for the Confederated Tribes of Warm Springs, Valerie Switzler has a Master of Arts degree in Indigenous studies with a concentration on language documentation from the University of Kansas. She also attended Haskell Indian Nations University where she received her bachelor's degree in American Indian Studies and holds an associate's degree in business. Valerie takes great pride in family being the grandmother of ten grandchildren and having three beautiful daughters as well as one daughter deceased. Valerie has held several positions while working her way toward the position she now holds by starting as a computer programmer and patiently rising through each level. She has strived to make culture and heritage an advantageous place to work. She has supervised the Language Department staff and overseen culture and tradition preservation projects, budgets, and programs over the last 6 years. |
---
Use the code LANGUAGE, good for $10 off tickets for the run of Astoria: Part Two.
*Promotional code valid on seating areas 1-3 only. Not valid on previously purchased tickets, student tickets or in combination with other discounts. Subject to availability.
Attend this event for 250 points on PlayMaker! Look for a loyalty code to enter on PlayMaker to redeem your points. Sign up or sign in at pcsplaymaker.org

Close
Jan

23

We

Available

Jan

24

Th

Available

Jan

24

Th

Available

Jan

25

Fr

Available

Jan

27

Su

A few seats

Jan

29

Tu

Available

Jan

30

We

Available

Jan

31

Th

Available

Feb

01

Fr

Available

Feb

02

Sa

Available

Feb

03

Su

A few seats

Feb

03

Su

Available

Feb

05

Tu

Available

Feb

06

We

Available

Feb

07

Th

Available

Feb

07

Th

Available

Feb

08

Fr

Available

Feb

09

Sa

Available

Feb

09

Sa

Available

Feb

10

Su

Available
Jan

23

We

A few seats

Jan

24

Th

A few seats

Jan

25

Fr

A few seats

Jan

27

Su

A few seats

Jan

27

Su

Available

Jan

29

Tu

Available

Jan

30

We

Available

Feb

01

Fr

Available

Feb

02

Sa

A few seats

Feb

02

Sa

A few seats

Feb

03

Su

A few seats

Feb

05

Tu

Available

Feb

06

We

Available

Feb

07

Th

A few seats

Feb

07

Th

A few seats

Feb

08

Fr

Available

Feb

09

Sa

A few seats

Feb

10

Su

A few seats

Feb

10

Su

Available

Feb

12

Tu

Available

Feb

13

We

Available

Feb

14

Th

Available

Feb

14

Th

Available

Feb

15

Fr

Available

Feb

16

Sa

A few seats

Feb

16

Sa

Available

Feb

17

Su

A few seats

Feb

20

We

Available

Feb

21

Th

Available

Feb

21

Th

Available

Feb

22

Fr

Available

Feb

23

Sa

Available

Feb

24

Su

A few seats

Feb

24

Su

Available

Feb

27

We

Available

Feb

28

Th

Available

Feb

28

Th

Available

Mar

01

Fr

Available

Mar

02

Sa

Available

Mar

02

Sa

Available

Mar

03

Su

Available
Performance Times
Evenings: Tuesdays – Sundays at 7:30 p.m.*
Matinees: Saturdays and Sundays at 2 p.m., Thursdays at noon*
Accessibility