Hey there, time traveler!
Thanks for coming! Please enjoy, but be aware that the entry below is getting on in years and might have some out-of-date info or links. Be sure to visit our
home page
for the latest news and events at The Armory.
Reviews of "Our Town"
Posted 23 September 2015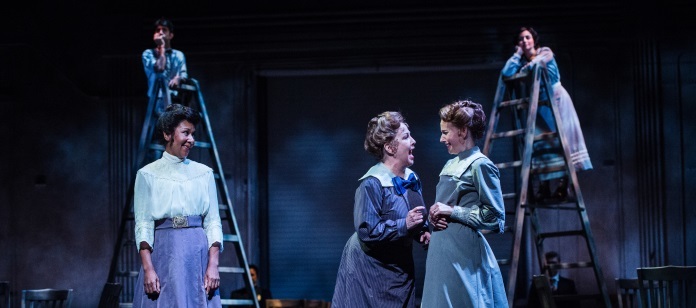 Our Town has critics raving and audiences gasping!
"Intimacy and universality blend to move us deeply in Thornton Wilder's Pulitzer Prize-winning play, Our Town. ... Simply put, the production is a glowing triumph for the company." -The Oregonian
"PCS's classic opening is surprisingly fresh ... [the production] soars in the caliber of its performance. ... When the curtain rose on Act 3, the audience gasped." -Willamette Week

"There are a handful of works of art I would put on my "must see or hear" list, works that move me to the point of understanding; Beethoven's Symphony No. 9; Jamie Wyeth's The Red House; Franz Kafka's The Penal Colony; the movie Harold and Maude. And now I must add Our Town to this list, specifically the performance by this cast at this theatre under this director. Art can make us understand ourselves better, and at its finest, can make us appreciate life as the brief, precious gift that it is. Our Town is that kind of art, and in this telling, is a gift. Take advantage of the opportunity to see it while you can." -EDGEMedia
"Theaters always have a big choice to make as far as whether to produce a classic exactly as written or to give it some twist to make it their own. The twist Portland Center Stage employs is equal parts subtle and bold and is very effective. ... While the actors give us subtlety and realness, Rose Riordan's staging gives us beautiful theatricality. ... And then there's the moment when the curtain goes up on act three. I'm not going to give it away, but what I saw was stunning. The staging in this final leg of the show is beautifully haunting and worth the price of admission. -Ut Omnia Bene
"There is nothing like a great stage production of Our Town to make a person a believer. Portland Center Stage will make you one with its stunning production of the Pulitzer Prize winner ... So what makes this a great play in 2015? Let's start with great directing. Rose Riordan nails it. Timing. Humor. The perfect innocence and honesty of the characters. She and the cast not only capture some of life's sweetest moments, but also make them ours." - Judy Nedry

Close
Sep

26

We

Available

Sep

27

Th

A few seats

Sep

27

Th

Available

Sep

28

Fr

Available

Sep

29

Sa

Available

Sep

29

Sa

Available

Sep

30

Su

A few seats

Oct

02

Tu

Available

Oct

03

We

Available

Oct

04

Th

A few seats

Oct

04

Th

Available

Oct

05

Fr

Available

Oct

06

Sa

Available

Oct

09

Tu

Available

Oct

10

We

Available

Oct

11

Th

A few seats

Oct

12

Fr

Available

Oct

14

Su

Available

Oct

16

Tu

Available

Oct

17

We

Available

Oct

18

Th

A few seats

Oct

19

Fr

Available

Oct

20

Sa

Available

Oct

20

Sa

Available

Oct

24

We

Available

Oct

25

Th

A few seats

Oct

26

Fr

Available

Oct

28

Su

Available
A Life

Sep 29 – Nov 11
Sep

29

Sa

A few seats

Sep

30

Su

Available

Oct

02

Tu

A few seats

Oct

03

We

A few seats

Oct

04

Th

A few seats

Oct

05

Fr

A few seats

Oct

06

Sa

Available

Oct

07

Su

A few seats

Oct

09

Tu

Available

Oct

10

We

Available

Oct

12

Fr

Available

Oct

14

Su

A few seats

Oct

16

Tu

Available

Oct

17

We

Available

Oct

19

Fr

Available

Oct

20

Sa

A few seats

Oct

23

Tu

Available

Oct

24

We

Available

Oct

26

Fr

Available

Oct

28

Su

Available

Oct

31

We

Available

Nov

01

Th

Available

Nov

01

Th

Available

Nov

02

Fr

Available

Nov

03

Sa

Available

Nov

04

Su

Available

Nov

04

Su

Available

Nov

07

We

Available

Nov

08

Th

Available

Nov

08

Th

Available

Nov

09

Fr

Available

Nov

10

Sa

Available

Nov

10

Sa

Available

Nov

11

Su

Available
Performance Times
Evenings: Tuesdays – Sundays at 7:30 p.m.*
Matinees: Saturdays and Sundays at 2 p.m., Thursdays at noon*
Accessibility