Storytelling Workshop with DeLanna Studi
Posted 01 March 2018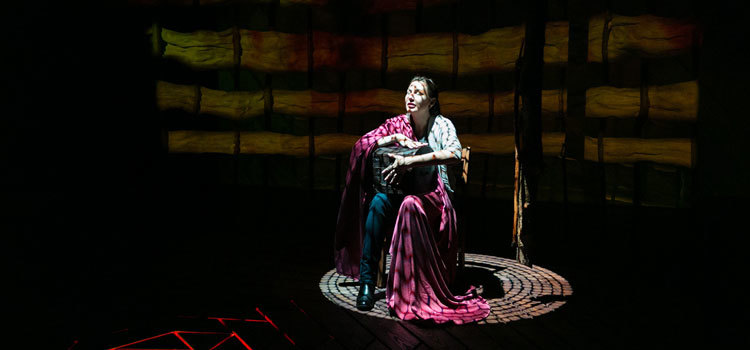 Learn to craft and hone a story from a master storyteller: DeLanna Studi, the writer and performer of And So We Walked.
Saturday, April 21
2 - 5 p.m.
About DeLanna Studi
| | |
| --- | --- |
| | Originally from Liberty, Oklahoma, DeLanna Studi is a proud citizen of the Cherokee Nation. As an actor, her theater credits include Off-Broadway's Informed Consent at the Duke Theater on 42nd Street, productions at major regional theaters such as Oregon Shakespeare Festival, Portland Center Stage at The Armory (Astoria: Part One and Two), Cornerstone and Indiana Repertory Theater, the First National Broadway Tour of the Tony Award and Pulitzer Prize-winning play August: Osage County, and work at numerous community settings across Indian Country. DeLanna has originated roles in over seventeen world premieres including fourteen Native productions written about and by Natives. Her television roles in the Hallmark/ABC mini-series Dreamkeeper and Chris Eyre's Edge of America have won her numerous awards. She has been an ensemble member of America's only Equity Native American Theater Company, Native Voices at the Autry, for over 15 years. She has served her community for over eight years as the chair of SAG-AFTRA's National Native Committee, where under her leadership they have produced an award-winning industrial film about American Indians in the entertainment industry and have created a "Business of Acting" workshop that tours Indian Country. DeLanna was the 2016 Butcher Scholar Award from The Autry Museum of the American West. She has been a mentor for the Mentor Artist Playwright Program, Young Native Playwrights and the American Indian Film Institute's Tribal Touring Program. She has been an artist-in-residence at the University of North Carolina, Chapel Hill, and the University of Wisconsin, where she co-taught Native American Oral Histories and Storytelling and American Indian in Film at the University of Wisconsin, Green Bay. Her most recent project, And So We Walked, is a frank, heartwarming and inspiring story about a contemporary Cherokee woman and her father who embark on an incredible 900-mile journey along the Trail of Tears to truly understand her own identity and the conflicts of her nation. |
Attend this class for 500 points on PlayMaker! A loyalty code will be sent out the week before the class date.
FAQs
What to Bring
Class participants will receive a welcome/introductory email the Wednesday before their class providing specific details of what to bring to class. Class participants are always welcome to bring bottled water, and coffee or other beverages with a lid are also permitted. Please ensure cell phones and other noise-making devises are placed on "Silent Mode" or Off during class hours. There is no need to bring a printed copy of your ticket.
Refunds and Exchange Policy
The Armory does not offer refunds on purchased class registrations; all sales are final. Class exchanges can be made within 24 hour notice prior to the first class meeting. In rare circumstances when a class may be cancelled (due to extreme weather, artist absence or other unavoidable situations) we will offer refunds or replacement registration for a future class.
Click here to Learn more about our weather policy.
Arts for All
The Armory is proud to participate in Portland's Arts for All program. This means those Oregonians receiving SNAP benefits or with an Oregon Trail Card can receive discounted tickets to Community Events and Classes, available in person at the Box Office. Please have your Oregon Trail Card with you at time of purchase.
Getting Here
The Armory is located at 128 NW Eleventh Avenue in the Pearl District of Portland, Oregon. We're exactly one block north of Powell's Books, between Couch and Davis.
Bus: The Armory is located in the heart of the Pearl District on NW Eleventh Avenue and Davis Street, just a short walk from most bus lines.
MAX: From the eastbound train, get off at the 9th Avenue/Library stop. From the westbound train, get off at the Tenth Avenue/SW Morrison Street stop. Walk to Tenth Avenue and turn right, follow Tenth Avenue to Davis (approx. 6 blocks) and turn right to corner of Eleventh Avenue or Walk to corner of Tenth and Yamhill and board the Portland Streetcar, get off at Couch Street stop and walk to corner of Eleventh Avenue and Davis Street.
Streetcar: The Armory is also conveniently located directly on the streetcar line. The Portland Streetcar runs on Tenth Avenue (to NW 23rd) and on Eleventh Avenue (to Portland State University) and stops on the corner of NW Couch Street respectively. The entrance to The Armory is on the corner of NW Eleventh and Davis (one block north of Couch).
For complete transit directions from your location use the trip planner at www.trimet.org.
Accessibility
The Armory is committed to making our facilities accessible to all of our patrons. For specific program questions and ticket information, or if you need assistance, please contact the Education Department at 503-445-3795 or email us at education@pcs.org.
Parking
The Pearl features 2-hour metered on-street parking around The Armory, from 8 a.m. - 7 p.m. Monday-Saturday and 1 p.m. - 7 p.m. on Sunday.
For a parking garage, we recommend The Brewery Blocks/Whole Foods Underground Parking Garage. It is the largest lot in Portland and it is located one block from The Armory. It's a well-lit, security-patrolled underground garage that houses 1,300 parking spaces. There are two entrances to this lot: NW Twelfth Avenue or NW Thirteenth Avenue, between Couch and Davis Streets. The elevators take you into the M Financial Building lobby (just around the corner from the Armory) or into Whole Foods on the corner of Couch and NW Twelfth Avenue.
Other questions?
If you have any additional concerns or questions, please contact the Education Department at 503-445-3795 or email us at education@pcs.org.