Teen Council
Posted 01 July 2016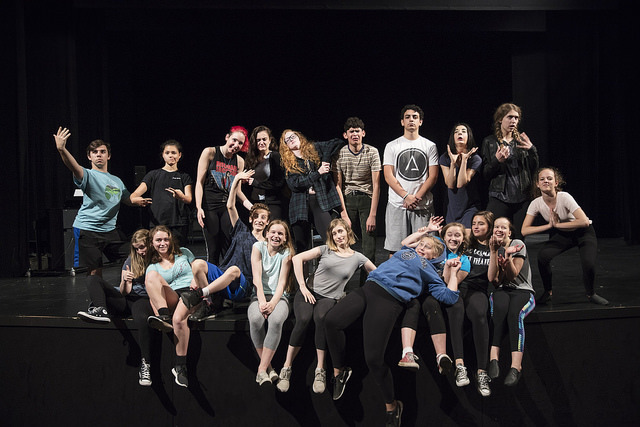 The Teen Council at The Armory is composed of high school students who want a deeper involvement with professional theater and opportunities to take part in advanced theater experiences. The council meets one Sunday of every month from September to June to take part in a masterclass from a local theater professional. Past classes have covered everything from acting for film, stage combat, and improvisation. After the class, Teen Council members are invited to attend a matinee performance, free of charge.


Upcoming Meetings:
The first meeting will be held Sunday, September 30th.
Kick off party 10 a.m. - 1 p.m., attend The Color Purple at 2 p.m.
Please email Clara at to sign up for Teen Council and RSVP for events.

October meeting: Sunday, October 14, Workshop TBD, attend A Life at 2 p.m.
This year, Teen Council members will have the opportunity to extend their love of theater to their friends, by inviting them to see productions. By purchasing The Armory Card for $50, Teen Council members buy an additional five tickets to any production throughout the season. The Armory Card holders can see shows again, invite five friends to a show or any combination that works for you. Cards do not expire and can be reloaded until the holder turns 36.
For more information email or call 503-445-3795.
Close
Sep

23

Su

A few seats

Sep

23

Su

Available

Sep

25

Tu

Available

Sep

26

We

Available

Sep

27

Th

A few seats

Sep

27

Th

Available

Sep

28

Fr

Available

Sep

30

Su

A few seats

Oct

02

Tu

Available

Oct

03

We

Available

Oct

04

Th

A few seats

Oct

04

Th

Available

Oct

05

Fr

Available

Oct

06

Sa

Available

Oct

09

Tu

Available

Oct

10

We

Available

Oct

11

Th

A few seats

Oct

12

Fr

Available

Oct

14

Su

Available

Oct

16

Tu

Available

Oct

17

We

Available

Oct

18

Th

A few seats

Oct

19

Fr

Available

Oct

20

Sa

Available

Oct

20

Sa

Available

Oct

24

We

Available

Oct

25

Th

A few seats

Oct

26

Fr

Available

Oct

28

Su

Available
A Life

Sep 29 – Nov 11
Sep

30

Su

Available

Oct

02

Tu

A few seats

Oct

03

We

A few seats

Oct

04

Th

A few seats

Oct

05

Fr

A few seats

Oct

06

Sa

Available

Oct

07

Su

A few seats

Oct

09

Tu

Available

Oct

10

We

Available

Oct

12

Fr

Available

Oct

14

Su

A few seats

Oct

16

Tu

Available

Oct

17

We

Available

Oct

19

Fr

Available

Oct

20

Sa

A few seats

Oct

23

Tu

Available

Oct

24

We

Available

Oct

26

Fr

Available

Oct

28

Su

Available

Oct

31

We

Available

Nov

01

Th

Available

Nov

01

Th

Available

Nov

02

Fr

Available

Nov

03

Sa

Available

Nov

04

Su

Available

Nov

04

Su

Available

Nov

07

We

Available

Nov

08

Th

Available

Nov

08

Th

Available

Nov

09

Fr

Available

Nov

10

Sa

Available

Nov

10

Sa

Available

Nov

11

Su

Available
Performance Times
Evenings: Tuesdays – Sundays at 7:30 p.m.*
Matinees: Saturdays and Sundays at 2 p.m., Thursdays at noon*
Accessibility