The Oregon Symphony's "Reinventing Perséphone"
Posted 25 April 2017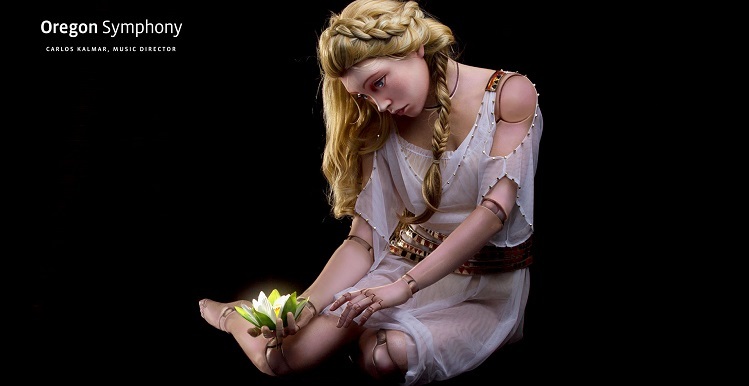 In May, the Oregon Symphony presents Stravinsky's Perséphone, the timeless myth of sacrifice and renewal, told through music and dance. It is the third concert in the Symphony's visual, three-part SoundSights series and features internationally-acclaimed designer Michael Curry, known for his work with Disney, Cirque du Soleil, and the Olympics. Perséphone will be assistant directed by Brandon Woolley, the director of Mary's Wedding, which is running at The Armory through May 28. Through symphonic music and theatrical design, Oregon Symphony will transform the stage of the Arlene Schnitzer Concert Hall in the world premiere of this inventive production.
Join Oregon Symphony Music Director Carlos Kalmar, Portland Center Stage Artistic Director Chris Coleman, and Designer and Staging Director (and PNCA alumnus) Michael Curry for a one-of-a-kind panel on the convergence of music and stagecraft, with a spotlight on this upcoming reinvention of an age-old story.
"Reinventing Perséphone" Panel
Tuesday, May 2, 6–8 pm
PNCA Mediatheque
511 NW Broadway
5:30 pm Doors and Cash Bar Open
6 pm Discussion Panel (streamed on Facebook Live)
7:30 pm Reception
This event is available free of charge, but space is limited and tickets are required. Limit two per household. Call the Oregon Symphony's Ticket Office (503-228-1353) or reserve your tickets online .
Perséphone is the final production in the Oregon Symphony's three-part SoundSights series, which is generously sponsored by the Oregon Community Foundation.

Close
Oct

21

Su

Sold out

SOLD OUT

Oct

23

Tu

Sold out

SOLD OUT

Oct

24

We

A few seats

Oct

25

Th

Sold out

SOLD OUT

Oct

26

Fr

Available

Oct

28

Su

A few seats
A Life

Sep 29 – Nov 11
Oct

21

Su

Available

Oct

21

Su

Available

Oct

23

Tu

Available

Oct

24

We

Available

Oct

26

Fr

Available

Oct

27

Sa

A few seats

Oct

28

Su

A few seats

Oct

31

We

Available

Nov

01

Th

Available

Nov

01

Th

Available

Nov

02

Fr

Available

Nov

03

Sa

A few seats

Nov

04

Su

A few seats

Nov

04

Su

Available

Nov

07

We

Available

Nov

08

Th

Available

Nov

08

Th

Available

Nov

09

Fr

Available

Nov

10

Sa

Available

Nov

10

Sa

Available

Nov

11

Su

Available
Performance Times
Evenings: Tuesdays – Sundays at 7:30 p.m.*
Matinees: Saturdays and Sundays at 2 p.m., Thursdays at noon*
Accessibility