Twist Your Giving: A Holiday Bazaar
Posted 23 November 2015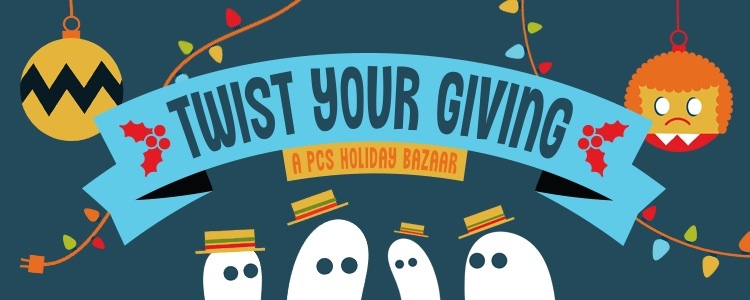 We invite you to attend
Twist Your Giving: A PCS Holiday Bazaar!
Sunday, December 13 | 12 — 5 p.m. | Free!
Armory Lobby
Shop locally this holiday season by supporting the PCS-affiliated artisans, who will be on hand to sell handmade crafts and goods on the mezzanine throughout the day. Visitors will also enjoy free hot chocolate, cider and cookies, holiday liqueur tastings from Eastside Distilling (for the 21+ crowd!), live comedy and holiday music, a festive photo booth, and an Armory scavenger hunt. The grand prize winner of the scavenger hunt will receive two tickets to any production in the 2015 - 2016 season, a $100 gift certificate to Popina Swimwear, a $50 gift certificate to Mabel and Zora ladies boutique, four(4) OMSI passes and a $50 gift card to Isabel Cantina in the Pearl District. Everyone who attends the bazaar will be entered to win a pair of tickets to any of our 2015-2016 productions. Prizes galore!
PCS will also serve as a drop off location for p:ear giving tree. Please help less fortunate families during the holidays by donating at the holiday bazaar!
Coming to see one of our two holiday offerings on the afternoon of December 13th? Our Holiday Bazaar goes from 12pm - 5pm so come by early to grab your tickets and hear comedian Amy Miller and musician Emily Overstreet before the show, take a photo with your family in our festive photo booth, and then stay late to check out our artisans, who will be there all day with their beautiful and eclectic wares -- great for holiday giving!
The Armory Cafe will be open for more delicious food and beverages for you to purchase.
Want to get to know the musicians and artisans a little better before the event? Read on!
MUSICIANS
SOCIAL HOUR: Comedian Amy Miller, Portland's Funniest Person in 2015, has been seen at the San Francisco Sketchfest, Bumbershoot, Noise Pop Festival, SF Punchline, Cobb's Comedy Club, Harvey's Comedy Club Portland, Helium Comedy Club, The All Jane Festival, The Siren Nation Festival, and in the Bridgetown Comedy Festival. You may also have heard her on NPR. Head over to her website for more info amymillercomedy.com
Daughter Talk is an electro-pop solo project by Emily Overstreet of Portland, Oregon. It began as a personal challenge to write, sing, and play everything in her recorded tracks herself. She likes how it's going so far. Emily will be playing music on her 1960s Wurlitzer during Amy Miller's Social Hour from 1pm-2pm. Check out her music and more at daughtertalk.com
BelloVoci features three singers, each with professional classical, musical theatre, concert and cabaret experience. The BelloVoci Holiday Concert features classical settings and exquisite arrangements of holiday standards all performed in three-part harmony with Matthew Hayward, Norman Wilson and Tim Suenkel. This evening of beautiful music is sure to conjure warm holiday feelings.
Pamela Jordan's singing has been called "honey-hued, meltingly sensual, arresting, sensitive, powerful…" Audiences often compare her vocals to everyone from pop singers Sade and Des'ree to the legendary jazz vocalist Sarah Vaughn. For the past few years, Pamela Jordan has carved out a niche for herself as a jazz chanteuse playing clubs and coffee houses – and working as the featured vocalist for the Woody Hite and Dr. T. Big Band Orchestras. On her latest CD, The Fall of Love, Jordan uses her stellar vocal talent to perform expertly crafted original songs. Working with lyricist and author Brian Christopher (a frequent collaborator with internationally renowned Canadian singer Gino Vannelli), Jordan has written tunes that cross musical genres. http://pamelajordan.com/
ARTISANS
Cynthia Nawrocki is the Marketing Manager for the Perkins Coie law firm here in the Pearl District neighborhood. She creates unique and timeless jewelry that ranges from professional to whimsical. She loves making jewelry and seeing how each completed piece has an individual personality and can be used for personal expression. Cynthia's original designs feature natural stones, crystals, pearls, chain and found objects. These elements combine to create elegant statement pieces, or express a classical style, that will make the wearer feel beautiful for years to come.

Rachel Peterson Schmerge is a professional maker who currently works as the Lead Props Artisan at Portland Center Stage. With a background in sculpture, she enjoys using a variety of media in her artistic practice. Most recently, she has been experimenting with fiber arts and designed a series of Oregon-inspired ornaments using Pendleton wool. She will be selling a variety of festive décor, including Christmas stockings and handmade birch candleholders. www.PSrachel.com

Maarja Paris has been felting for over ten years and has had her work in Local 14, as well as at the Japanese Garden. She loves to work with textiles, and also likes the serendipity of felting, which is a bit like magic and alchemy together from which emerges a beautiful item. She is connected to PCS through our Education Program Coordinator, who is her niece, Clara Hillier, and her sister, who is a Volunteer Usher, as well as having been an audience member and community supporter.
Judy Richards makes glass lampwork beads and jewelry. She combines beads with turquoise and other precious stones. She has ushered at PCS for 5 some years and was a theatre major in college at the University of Minnesota, where she received an award for excellence in scenery and properties. She learned to make glass beads here in Portland and also does bead weaving (off loom), and is a member of the Portland Bead Society. www.catldy99.etsy.com
Sharonlee McLean moved to Portland in 1994 from Los Angeles. She makes her living as an actor in film, television and live theatre. She has performed at Portland Center Stage since 1995, her last project being Our Town. She learned her knitting skills from fabulous crew members backstage during one of the five productions of "The Christmas Carol" she did 10 years ago. She has created her own style of double quality knitting and really enjoys creating unlikely color palettes that are uniquely original. www.etsy.com/shop/GarbogeKnits
Eastside Distilling has been producing high-quality, master-crafted spirits in Southeast Portland's Distillery Row since 2008. The holidays are upon us once again, so we're bringing back our limited edition Holiday Liqueurs to help you celebrate the season! Your favorite flavors are all here, Holiday Spiced Liqueur, Peppermint Bark Liqueur and Egg Nog "Advocaat" Liqueur. A limited number of bottles are available, so make sure to grab yours at the Bazaar. Click here to find out more about their locally-produced spirits: www.eastsidedistilling.com
Chris Murray is an actor and educator at Portland Center Stage. His most recent foray with PCS was in Our Town, as well as 10 years with the JAW Festival, and you'll see him in January's Great Expectations. Chris started candle-making as a way to make opening night presents for his cast and crew. Eventually it turned from a hobby into a passion. Sigil Candles is devoted to bringing the highest quality boutique candles at a fraction of the cost. These candles are handmade, and feature organic soy wax, hand braided wicks, and essential oil scents. Sigil uses recycled Mason Jars, and as a business, produces zero waste.


Liliana Thirdgill is a mother, and about two years ago let the mad chemist come out to play. The soaps that she and her daughter create are handcrafted and hand cut, so each is special. They use only essential oils and natural colorants with oils and lye to create soap, along with a blend of oils and beeswax to make the lotion bars. The soaps are: Lemon Salt Spa bars, Coffee exfoliating bar, Peppermint, and Lavender.
Jessica Bania believes the best breakfasts are both salty and sweet, and she thinks ornaments should be both shiny and soft. Jessica's ornaments combine ceramics and fiber to so you can dress your tree in shimmery softness. There will also be a selection of handmade wreaths of various sizes. Jessica worked for PCS for three years in administration and production, but the Armory is still her second home. Her workspace is covered in boxwood, gold leaf and fuzzy twine, mainly for the excuse to spend another day with the good folks at PCS.
Bill Wessinger builds modern wood furniture from a local sustainable forestry project. Bill Wessinger is a sixth generation Portlander. He is inspired by his grandfather, whom his mother described as "someone who could just see something and know how to build it," and also through a love of the material and the challenges of building something as perfect as possible with a material that is inherently imperfect. Over the past three years, he has built wooden boats; a series of whale sculptures utilizing steam bent oak; and other furniture items in his less-than-one-year-old business. www.wessingerwoodworks.com
Jennifer Kapnek is inspired by color; she saturates the field with many layers of acrylic paint. Her paintings are on wood, primarily recycled. She consistently introduces three dimensional elements, rough or broken edges, branches and texture in her work.Everpresent, the tree, is our foreground and backround. Her work is purposefully uncomplicated, yet very intentional. She is driven by line, obsessed with the transition of color, and consumed by the honing and refining of my approach to detail. Her intention is to find the perfect blend of process and product, yielding works that are instinctively pleasurable. jenniferkapnek.com
Chuck Bloom is a surrealist artist that has been living and showing in the Portland area for over ten years. His work has been described as a cross between Salvador Dali and Tim Burton. www.chuckebloom.com
Teena Kunkel's TandT Creations does custom and stock fine wood crafts and toys, with items ranging from garden benches and picnic tables, to welcome signs and wooden play swords. They also carry a wide variety of fair trade items such as leather bound journals from Poetic Earth, glass flowers from fire house glass, and Dover coloring books. They have been in business since 2008, selling their first toys at SCA events and Renaissance fairs, and have since expanded to include what you will see at the bazaar.
Jake Ryder has lived in the Pacific Northwest his whole life. Professionally, he has worked as a Furniture Designer, Blacksmith, Glass Artist, and Travel Writer/Photographer. Often Jake can be found in his Artist's Studio in Southeast Portland where he designs and builds furniture with inlaid glass he casts himself, and builds custom cargo bicycles. These handmade candle holders have a fabricated steel base and a kiln-cast glass lens. They are certainly seasonally-appropriate but add warmth and color to a room year-round. Jake will also be featuring some of his popular "Upcycled Skateboard Hooks". Made using recycled skateboards these hooks give a colorful place to display your skateboard (and keep the clutter off the floor); a perfect present for the skater in your family. Catch him on Instagram: @j_ryde
Karen Van Hoy Vintage kimono and haori (short silk jackets worn over the top of a kimono) hand-picked from the markets of Kyoto. All pieces are hand sewn, lined and were custom made to fit the owner's body. As haori are straight front, loose fitting open garments and they fit a variety of sizes. The surface design on these pieces can be quite complex, utilizing centuries-old processes that are no longer produced. Come learn a bit about the culture behind the garments.