Visions and Voices
Posted 01 July 2016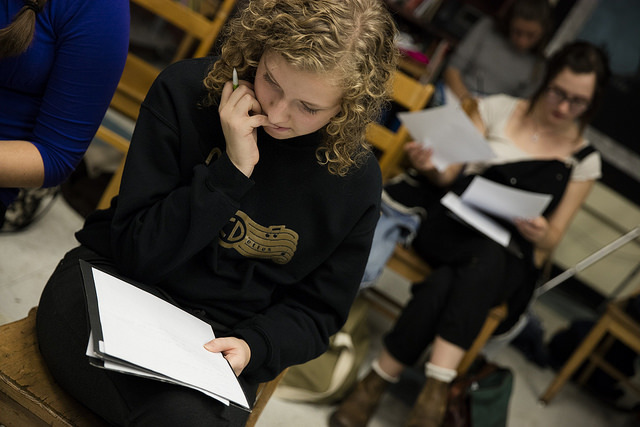 Join us for the Visions & Voices 2018 Showcase this May: Tuesday, May 22 and Wednesday, May 23.
Visions & Voices 2018 Showcase: Night One

Visions & Voices 2018 Showcase: Night Two
The Visions & Voices student playwriting and performance residencies each bring professional teaching artists into public high school classrooms for intensive, month-long residencies during which students learn about the basic elements of theater.
Designed to meet Oregon benchmarks for Arts and English/Language Arts, the Visions & Voices playwriting curriculum addresses theatrical conventions and dramatic structure, as well as acting, writing, and constructive critical response. The program culminates at the end of the school year with free, public readings of plays selected from all residency sites, performed by professional actors.
Every summer, up to six Visions & Voices graduates are chosen to participate in JAW: A Playwrights Festival, which is recognized nationally for its role in developing new works for the stage. Promising Playwrights write original short plays from start to finish in the span of two weeks, under the mentorship of nationally recognized artists and our resident teaching artist. Their plays are then performed by professional actors at the festival's kick-off event in the Ellyn Bye Studio.
The Visions & Voices Performance Residency is designed to engage the creativity and imagination of students through acting and improvisation exercises. Students discover the confidence and empathy-building power of performance as they find physical ways to embody different characters. The residency culminates in a performance of piece of theater written and performed by the students.
For more information, or to bring a Visions & Voices residency to your school, email or call 503-445-3785.