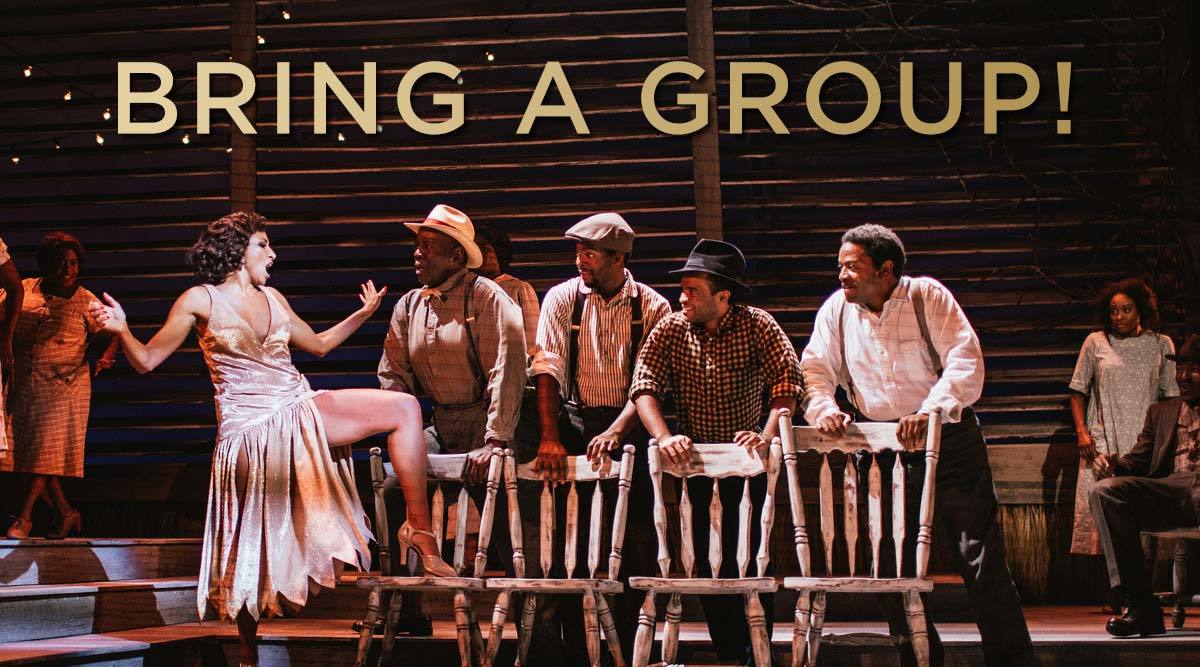 Gather a group of 10 or more and save!
Do you know 10 or more people who would enjoy an evening or afternoon at the theater? Well, gather them up and prepare to save big! Groups receive a great discount, flexible payment options, free bonus tickets to top-notch professional theater, and other perks; not to mention an unforgettable experience together!
Contact
Email:
Call: 503-445-3794 (Monday - Friday, 10 a.m. - 5 p.m.)
Note: K-12 school groups, please contact us at or 503-445-3795.
Free Tickets and Great Perks
20% OFF the price of adult tickets to any production in the 2019-2020 season (excludes Area 4).
One free ticket with every 20 tickets purchased.
Special pricing for adult student groups: 50% off the regular full-priced ticket.
No fees!
Reserve now and pay later. We ask for a $50 deposit within 10 days of your reservation date, or a 25% deposit for groups of 50 or more. Final payment and group count are due 30 days prior to the show.
FREE bonus tickets for group leaders when you book 2+ shows.
Preferred seating and personalized service.
Promotional materials by request (posters, electronic flyers, etc.) to increase interest and awareness in your group.
Special educational programs, backstage tours, private receptions, and catering options are available to your group at a discounted price.
Need something to make your trip to the theater even more memorable? Just ask!
The Armory Birthday Bash
Bring 10 of your friends to the show of your choice to celebrate your birthday and receive these great benefits:
One FREE drink voucher for the person celebrating the birthday.
All your guests will receive a 20% discount on adult tickets (or the group student rate).
A birthday gift from Portland Center Stage at The Armory to remember your special birthday event.
A special birthday message displayed in the lobby.
Contact 503-445-3794 or to book your birthday bash.
Group Ticket Policy
Group sales are based on a minimum of 10 tickets purchased to a single production date.
Groups receive 20% off the regular adult ticket rates. Group discount does not apply to Area 4 seating.
Groups of 10 may purchase tickets online and the 20% discount will be applied to all adult tickets in the order upon checkout. Larger groups should email or call 503-445-3794.
Group prices may not be combined with any other discounts or coupons.
Groups receive one complimentary ticket for every 20 tickets purchased, and one complimentary standby ticket for a bus driver, if applicable. Complimentary tickets are applied to the lowest-priced tickets in the order.
A $50 deposit per production is requested within 10 business days of placing an order. Groups of 50 people or more pay a 25% deposit.
Complete payment and minimum number in the party is required 30 days prior to the selected performance.
No refunds or cancellations are given once full payment has been made.
Groups may switch their performance date or exchange into another production entirely with no penalty, if it is done at least 4 weeks out from the original performance date. If the performance is less than 4 weeks away, exchanging up to 10 tickets to a different date of the same production is allowed, but exchanging a block of more than 10 tickets will incur a $10/ticket exchange fee.
Tickets may be mailed or picked up at the box office prior to the performance date. In the event you do not wish to have your tickets mailed, or if time is short, your entire ticket order may be picked up at will call by a designated representative.
Electronic tickets may be issued to the group leader upon request. Electronic tickets are issued in the form of a PDF, and every ticket in the order will be a separate page in the PDF.
No patrons under six years of age are allowed at any performance at The Armory.
Seating is subject to availability.
Tips for Gathering Your Group
Post the show description and the group discount information on your intranet/internal website.
Send an email out to your entire group/company with information on how to reserve a spot with the group.
Post flyers or posters in shared spaces such as cafeterias, elevators, mail rooms, etc. Please note: We can provide you with custom posters! Upon request, we can create an electronic poster that you may print/email to distribute.
Include a memo with employee paycheck stubs/checks.
Add information about the group theater outing to your email signature.
Have a group newsletter? Don't forget to promote your group trip to the theater in your newsletter.
Include the show, discount and ordering information on your group's social media sites.
Don't forget to give your group members a deadline for ordering tickets!