Tiny Beautiful Things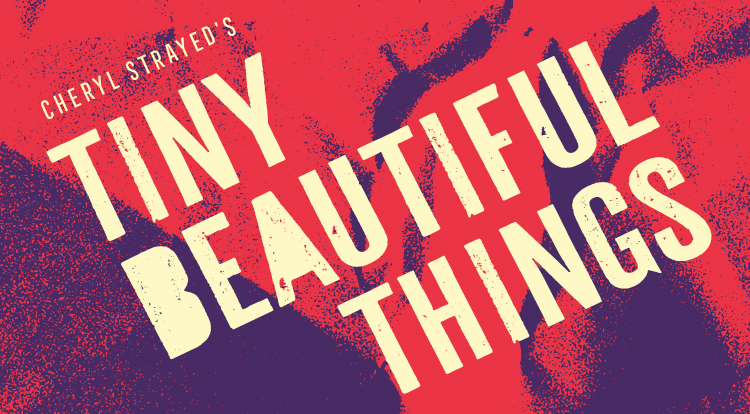 Listen harder. Love endlessly.
On the U.S. Bank Main Stage
Previews Feb. 23–28 | Opening night Mar. 1
Based on the book by Cheryl Strayed
Adapted for the stage by Nia Vardalos
Co-conceived by Marshall Heyman, Thomas Kail, and Nia Vardalos
Directed by Rose Riordan
"A heart-tugging, emotionally rewarding evening." —The Huffington Post
A celebration of the simple beauty of being human, this funny and deeply touching exploration of resilience is based on Cheryl Strayed's (Wild) journey as the beloved anonymous advice columnist for "Dear Sugar." Over the years, thousands of people turned to Sugar for words of wisdom, compassion and hope. At first unsure of herself, Sugar found a way to weave her own life experiences together with the deep yearning and heartrending questions from her readers. Brilliantly adapted for the stage by Nia Vardalos, the Academy Award-nominated writer of My Big Fat Greek Wedding.
West Coast premiere!
Run Time
Approximately 80 minutes, no intermission.
Playbill
Explore the Program
Prologues
Join us for brief informational talks at 6:55 p.m. before every weeknight performance. Does not include preview performances.
Q&As
Post-show discussions with cast and crew follow matinee performances March 7, 9, 14, 21, 23, and 28.
Access Dates
Audio Described - March 10, 2 p.m.
Sign Interpreted - March 14, 7:30 p.m.
Open Captioned - March 23, 2 p.m.
Note
Recommended for ages 16 and up. Contains mature language and adult situations. Children under 6 are not permitted at any production at The Armory.

Resource Guide:
Please look for the resource guide here closer to this show's opening date.
Performance Times
Evenings: Tuesdays – Sundays at 7:30 p.m.*
Matinees: Saturdays and Sundays at 2 p.m., Thursdays at noon*
*Schedule may vary for some shows. Please check our season calendar to confirm.
Photos & Artwork
Please check back here closer to this show's start date for casting news, related features and more.
Close
Performance Times
Evenings: Tuesdays – Sundays at 7:30 p.m.*
Matinees: Saturdays and Sundays at 2 p.m., Thursdays at noon*
Accessibility