Shakespeare's Amazing Cymbeline
January 31 — April 8
In the Ellyn Bye Studio
By William Shakespeare
A new adaptation by Chris Coleman

Based on legends about early Celtic kings, Cymbeline is one of Shakespeare's most fantastical creations—familiar Shakespearean themes of jealousy and innocence wronged are joined by a piano-playing wit who becomes our guide through an ancient landscape. A lovely princess, an evil queen, a misguided king and a thoroughly rotten clown people this fairy tale-like story of life, and love, renewed.

One of Shakespeare's charming romances, this production of Cymbeline marks two firsts—our first production of the Bard in the Ellyn Bye Studio, and the first production of this fresh adaptation by Artistic Director Chris Coleman.

Performance times:
Tuesday - Sunday evenings at 7:30 p.m
Saturday and Sunday matinees at 2 p.m.
Thursday matinees at noon

A full list of performances and dates will appear when you enter the ticketing section of the website.

Shakespeare's Amazing Cymbeline runs approximately two hours and 30 minutes with one intermission.

View the cast and creative team bios

View the playbill for Shakespeare's Amazing Cymbeline

Learn more about accessibility options at PCS

Background information and a synopsis of Cymbeline

---
Portland Center Stage's production is part of Shakespeare for a New Generation, a national program of the National Endowment for the Arts in cooperation with Arts Midwest.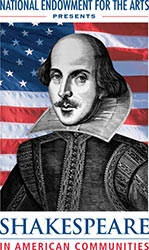 Reviews and Features
Katie | Notes from a Shakespeare Nerd [Review 20 Mar 2012]
I will admit to being extremely skeptical of Portland Center Stage's Shakespeare's Amazing Cymbeline. First of all, anything that's an "adaptation" puts me a little on edge; those tend to be the ones where the people with strange agendas, incomprehensible "concepts" and artsy ambitions crop up. And then, when I got there and realized that it was going to be done with a grand total of six actors – one of them being the piano-playing storyteller – I was even more concerned. On top of all that, when I saw that the part of the evil stepmother Queen was to be played by a guy, I started sharpening my wit and my tongue in preparation for tearing the whole production apart.
I was wrong. Utterly, completely and totally wrong. The entire production was brilliant, and I loved every moment of it.
read more
Richard Wattenberg | The Oregonian [Review 15 Feb 2012]
"Cymbeline" isn't one of Shakespeare's most popular works, but this rather unwieldy fun-filled romance, history, fairy tale of a play does seem to be having a kind of renaissance in the Northwest.
Having been performed last spring at Northwest Classical Theatre Company and slated for the Oregon Shakespeare Festival's 2013 season, it is now being lovingly revisited by Portland Center Stage in a form that is both accessible and entertaining.
read more
Join the conversation! We invite you to share your comments with us on our Facebook page.
Production blog

Accessibility