Corporate Giving
Why Give?
Our sponsorships and business partnerships at Portland Center Stage at The Armory offer organizations a variety of opportunities to become directly involved in the process of making theater. Along with the stewardship of enriching our community through inspired story telling, our partners receive benefit packages directly tailored to each organization.
Questions? Please contact us at for more information about sponsorships and business partnerships at The Armory.
Benefits and Ways to Engage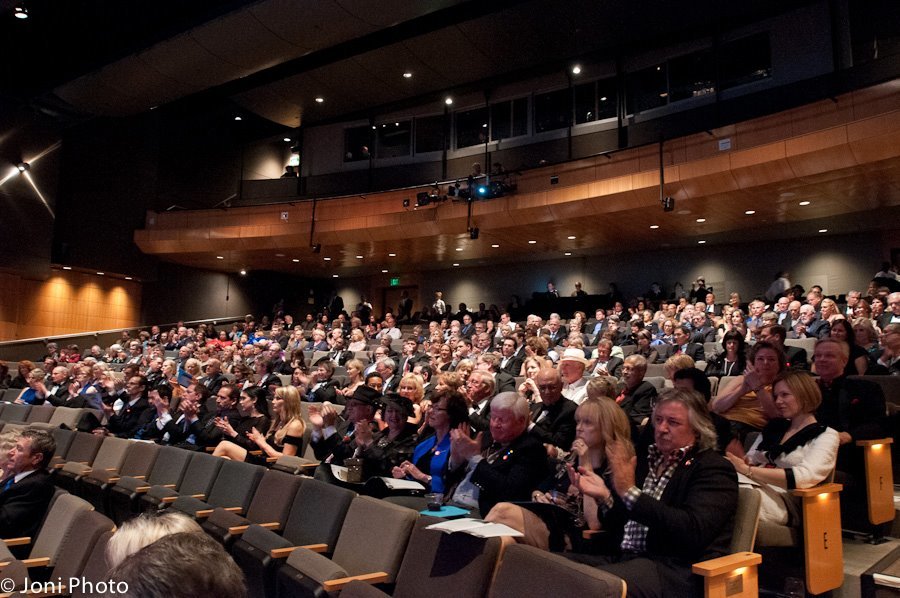 Prestigious association with Portland's own internationally recognized theater.

The vision began in 2002 when Gerding Edlen Development was looking for a solution to the last piece in its Brewery Blocks development puzzle. What would be the best use of the Portland Armory Annex? When Mayor Vera Katz and Artistic Director Chris Coleman agreed that it would make a fantastic home for Portland Center Stage, Bob Gerding stood behind the concept and personally drove the effort to make it a reality.

Originally built in 1891, the building was reborn as The Armory on October 1, 2006, with a community celebration and block party attended by a throng of thousands. Shortly after opening, the building was certified by the US Green Building Council as exceeding the requirements for designation as LEED Platinum.

During its first year as the home of Portland Center Stage at The Armory was mentioned in The Wall Street Journal and nominated for the Portland Downtown Rotary Club's Environmental Excellence Award and the Portland BEST Award for Green Building. It was also recognized by Forbes magazine as one of the top 12 green buildings in the country. Alongside the William J. Clinton Presidential Center, the Gerding Theater at the Armory received honorable mention from the American Institute of Architects Council on the Environment's Top Green Projects Awards. In April 2007 the Urban Land Institute selected the The Armory from among 170 nominees spanning two continents for its Award for Excellence, the Americas.
High-profile visibility as a corporate partner in the Portland metropolitan area.
Exclusive access to world-class theater artists such as directors, playwrights, designers and actors.
Access to a diverse, educated, loyal and professional audience.
Visibility in an aggressive and targeted advertising campaign including radio, TV, print and web, as well as internal playbill exposure.
Potential category exclusivity for your company when sponsoring the art on stage.
Complimentary tickets to the Portland Center Stage season and special ticket offers.
Exclusive entertainment opportunities for business development and employee rewards. Including but not limited to:

Theater and Business Education Superior Access
Employees of partner organizations receive discount rates on all adult classes throughout the PCS season.

Ticket Discounts
Employees of partner organizations receive discounted ticket offers (announced via e-mail). Many of our partner organizations have enjoyed discounts such as half-price tickets, 20% off, or "buy one, get one free" deals throughout the PCS season.

Priority Ticket Handling
All partner organizations have a private ticket concierge to help facilitate the very best seats possible for each production.

Premier Social Media Access
PCS is continuing to set the standard with our utilization of social media. Partner organizations have exclusive access to blog, post marketing links and cross pollinate via our Facebook, Twitter, Flickr, Vimeo and YouTube pages.

Private Armory Tours
As the first Platinum LEED theater in the nation, The Armory is a wealth of cutting-edge architectural and sustainability information. We offer private VIP tours for our business partners and their guests.

Invitations to Exclusive High-End Donor Events
Throughout the season there are many opportunities for client appreciation and social networking.
Ways to Give
ShowBiz Membership
As a seasonal partner of The Armory at a level of contribution of $2,500, partner organizations receive many benefits throughout the year, including:
Ten (10) complimentary tickets for the 2018-19 season (subject to availability).
Recognition in The Armory's playbill corporate donor listings throughout the 2018-2019 season. The playbill is distributed to more than 10,000 season subscribers and 125,000 total audience members.
Recognition as a ShowBiz Partner on the multimedia wall in the lobby of the The Armory.
Invitations to special Producer events throughout the season.
An invitation for two guests to attend the exclusive VIP party at the 2019-2020 season announcement party.
Access to 2-for-1 tickets to the first two weeks of each regular production throughout the 2018-2019 season for the organization's employees (excludes special engagements).
Gala Sponsorship
Join 350 of Portland VIPs, including Portland Center Stage's most important sponsors and patrons, for a night of amazing food, drink, entertainment, and outpourings of generosity. This is an evening unlike any other you will find in Portland!
Production Sponsorship
By supporting an individual production, each organization has the opportunity to associate its logo and brand with the inspiring work on stage. The organization also receives numerous client entertainment and exposure opportunities during the production run. Each production sponsorship is custom tailored to best suit the needs of each organization.
Sponsorship Levels:
Contributing Sponsor (Ellyn Bye Studio only) Sponsorship Level: $10,000
Supporting Sponsor (U.S. Bank Main Stage) Sponsorship Level: $15,000
Major Sponsor (U.S. Bank Main Stage) Sponsorship Level: $25,000
Presenting Sponsor (U.S. Bank Main Stage) Sponsorship Level: $50,000+
Corporate Council
Portland Center Stage's Corporate Advisory Council expands relationships in the community by enabling access to business leaders and their company employees sharing the values of PCS as a community partner. We have a diverse group of council members from a variety of industries who build a stronger bridge between the business community and PCS by securing contributions from their companies and attracting new corporate support in the form of cash and in-kind donations, while gaining access to valuable networking opportunities and exclusive behind-the-scenes events.
School of Theater Education Program
Our strong commitment to education and outreach has resulted in a growing array of activities tailored to students, teachers and other interested patrons.
Employee Involvement/Volunteer Opportunities
There are multiple opportunities for team building, social networking, and involvement with the behind-the-scenes aspects of producing theater.
A Round of Applause for our Valued Sponsors
$25,000 AND ABOVE
Umpqua Bank
Curtis T. Thompson, M.D. and Associates, LLC
The Standard
U.S. Bank
The Vista
$10,000–$24,999
AHA!
GBD Architects Gerding Edlen
KeyBank
Moda
NW Natural
Stoel Rives LLP
Wells Fargo
Davis Wright Tremaine LLP
Bank of America
Classic Sash & Door
D A Davidson & Co.
D'Amore Law Group
Farleigh, Wada & Witt
Global Incentive Group
Klarquist
Michael Allen's Clothier
PCC Structurals, Inc.
Best Buy
Boeing Company
Cambia Health Foundation
Hewlett-Packard Company
Iberdrola Renewables
IBM Corporation
Intel Corporation
Kaiser
KeyBank
Macy's
Meyer Memorial Trust
NW Natural
Pacific Power Foundation
Portland General Electric
Tektronix Foundation
The Standard
US Bank
Al's Garden Center
Argyle Winery
Art of Catering
Artemis Foods
ChefsTable Catering
Columbia Sportswear
Delta Airlines
Devil's Food Catering
Diana Gerding
Hunt & Gather Catering
Market of Choice
McCleskey Cellars
McDonalds Jacobs, PC
Mike Golub
Pearl Catering
Performance Promotions
Tanner Creek Tavern
Umpqua Bank
Vibrant Table