JAW: A Playwrights Festival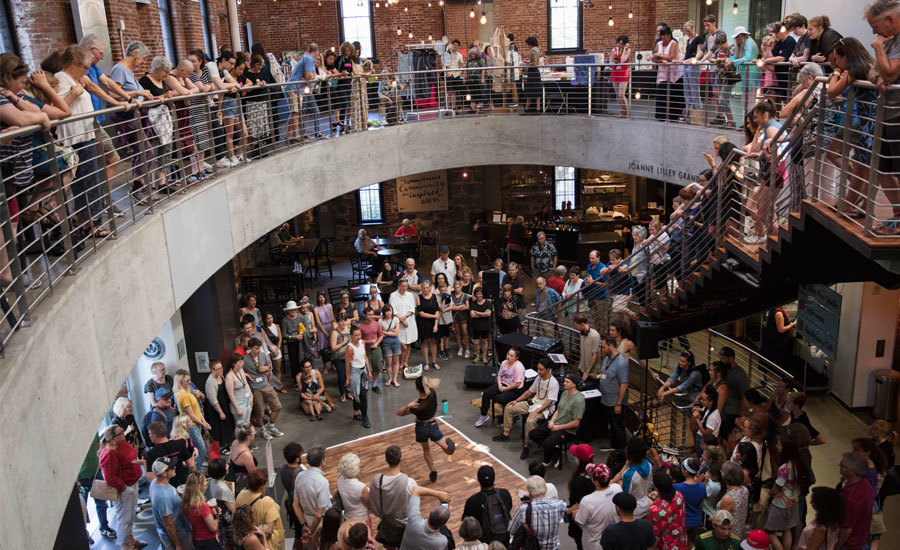 Every July, Portland Center Stage at The Armory bursts at the seams with new play energy. JAW (short for Just Add Water): A Playwrights Festival gathers artists from all over the world and fills the building with playwrights, actors, directors, dramaturgs, stage managers, production assistants, and sometimes even dogs and babies. At the end of this hurricane of new play development, we open the doors to share it all with the public. During the JAW Big Weekend, audiences are treated to staged readings of brand new scripts and a kickoff event featuring work from our Promising Playwrights, a collection of 10-minute plays written by local high school students. Free workshops, eclectic performances, and other exciting events round out the weekend.
"JAW is a play development oasis chock full of the kindest, smartest and most talented people in the American theater. It allowed me the room and freedom to explore whatever path I thought was necessary for the process. It was simply fantastic." -Adam Szymkowicz (Kodachrome, formerly titled Colchester, JAW 2015)
JAW is free and always at the end of July.

The Big Weekend Schedule
Friday, July 26
Saturday, July 27
Sunday, July 28
JAW events are FREE, no tickets required.

*Lab entrance lottery has officially closed
​Friday, July 26​
8:15 p.m. in the Ellyn Bye Studio — JAW Promising Playwrights Kickoff Event
JAW: A Playwrights Festival kicks off with staged readings of new scripts from JAW Promising Playwrights. Come ready to celebrate, socialize, and enjoy a selection of 10-minute plays written by some of the freshest voices in American theater. JAW Promising Playwrights are local high school students who were selected from Portland Center Stage at The Armory's Visions & Voices playwriting residency program, which brings the confidence and empathy-building power of theater to Portland-area students throughout the school year.
---
Saturday, July 27
4 p.m. on the U.S. Bank Main Stage — Otto Frank by Roger Guenveur Smith
Otto Frank
Roger Guenveur Smith has been inspired by Otto Frank, father of diarist Anne Frank, to create a solo performance informed by both tragedy and triumph. As a steward of his daughter's legacy, Frank navigated loss, adolescent ambition, and the criticism of those who questioned his motivations, the authenticity of the diary, and even the Holocaust itself. How does one simultaneously serve the living and the dead, and at what cost? Smith interrogates our present moment through a rigorous examination of our not-so-distant past.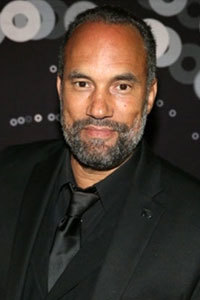 Roger Guenveur Smith
Roger adapted his Obie Award-winning solo show A Huey P. Newton Story into a Peabody Award-wining telefilm, and his Bessie Award-winning Rodney King is currently streaming on Netflix. For the 2018 Douglass Bicentennial, Smith toured his signature show Frederick Douglass Now. This season, he created and performed Portrait of Charles White for the White Centennial Retrospective at the Los Angeles County Museum of Art. Also among his history-infused performances for the stage are studies of iconoclast artists Jean-Michel Basquiat and Simon Rodia, baseball greats Juan Marichal and John Roseboro, Christopher Columbus and Bob Marley, as well as intimate travelogues of Iceland and Philadelphia. With New Orleans native Mark Broyard, he created and continues to play the acclaimed Inside the Creole Mafia. Roger studied at Yale University and Occidental College, and has taught at both institutions, as well as CalArts, where he directs his Performing History Workshop.
8 p.m. on the U.S. Bank Main Stage — Howards End by Caroline Hewitt, based on the novel by E.M. Forster, Adapted by Caroline Hewitt, Created by Autumn Dornfeld and Caroline Hewitt
Howards End
Margaret and Helen Schlegel are savvy, intellectual women struggling to be heard over the stubborn dominance of England's early 20th century social strictures. When their lives intersect with two very different men, the sisters' relationship to each other, themselves, and the way they see the world, changes forever. Four actors play 20 characters learning how to connect with each other in a landscape of changing values and alliances. Howards End will have its world premiere next spring as part of our 2019-2020 season!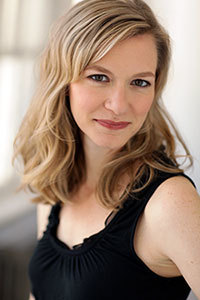 Caroline Hewitt
Caroline is an actress, adaptor, and translator. She has appeared on Broadway twice, in Junk and The Front Page, and has worked extensively Off-Broadway and regionally. Recent television work includes recurring roles on The I-Land and When They See Us, as well as roles on New Amsterdam and The Black List. Caroline's adaptation of Howards End was part of the What's Next Fest at The Theater at Monmouth in 2018. She has an M.F.A. in acting from American Conservatory Theater, and a B.A. in French from Vassar College. She is currently adapting The House of Mirth into a play for five actors.
---
Sunday, July 28
2 p.m. on the U.S. Bank Main Stage — What Are You Worth? by Kara Lee Corthron
What Are You Worth?
Value. A definition: the regard that something is held to deserve; the importance, worth, or usefulness of something. Have you ever thought about your value? Follow a ragtag group of friends/lovers/slaves/slavers as they grapple with the meaning of human value through 800 years of people owning other people.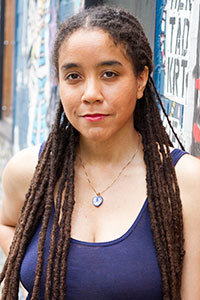 Kara Lee Corthron
Kara is a playwright, author, and TV writer based in Los Angeles. Her plays include AliceGraceAnon (New Georges, New York); Holly Down in Heaven (Forum Theatre, Washington, D.C.); Listen for the Light (Know Theatre of Cincinnati); and Welcome to Fear City (CATF, Shepherdstown, WV, and Kansas City Repertory Theatre). She is the author of the young adult novel The Truth of Right Now and the forthcoming Daughters of Jubilation (both from Simon & Schuster) and she currently writes for the Netflix show YOU. Her awards include the 2019 Otis Guernsey New Voices in Playwriting Award, Parents' Choice Gold Award, Vineyard Theatre's Paula Vogel Award, Princess Grace Award, Helen Merrill Award, and residencies at MacDowell, Camargo (France), Bogliasco Foundation (Italy), Skri∂uklaustur (Iceland), Hawthornden (Scotland), Djerassi, and the Millay Colony. She is a proud member of New Dramatists. (Photo: Jody Christopherson)
5 p.m. in the Meyer Memorial Trust Lobby — Portland Playwright Slam
Ready for some fast-paced, high-energy theatrical hijinks? Join our Portland Playwrights Slam, where anyone can be an actor or a playwright!
Here's how it works: Anyone is welcome to bring a brief script — no longer than 3 pages — that will be read out loud by actors chosen from audience volunteers. Our challenge is to see how many scripts we can perform in exactly 90 minutes! Not a writer? Not an actor? Come anyway! These nuggets of theatrical gold are going to need a robust audience, so come cheer on your local community. Let's make a raucous ruckus together!
Guidelines for playwrights: The prompt is simply "Just Add Water," so go wild! You must drop off your 1-to-3 page script with us between 4:30 p.m. and 4:50 p.m. on Sunday, July 28. It's up to you to bring enough copies for each performer your script requires, as well as an extra copy for a stage directions reader. If we receive a high volume of scripts, we will assign each one a number and pick selections by lottery. Bring the mayhem, bring the fun! We'll put 90 minutes on the clock, wind it up, and see what happens ... come play with us!
---
Community Artist Labs
Artists from across the nation will be on hand to conduct educational labs for our local community, covering a variety of topics. Admission is FREE, but in order to maintain a high level of quality, attendance for each lab is limited and determined by lottery. To enter the lottery, email with your preferred lab choice(s).
Please note: The entrance lottery for all labs below has officially closed.
Saturday, July 27, from 12 p.m. to 3 p.m.
Goodbye Writer's Block: Finding inspiration when the well seems dry, with Kara Lee Corthron
Stuck on a project? Have a great idea, but can't seem to get going? Or are you just feeling paralyzed? In this workshop, we'll play writing games, do some exercises, chat about what we love to see on stage, and you'll gain tools to get you going when you're in a rut. This lab will re-inspire you, and help you put the "play" back in playwriting.
Sunday, July 28, from 10 a.m. to 1 p.m.
Performing Multiple Characters, with Caroline Hewitt
Many plays require one actor to perform multiple characters. In this lab, we will work on creating nuanced and distinctive characters and transitioning fluidly between them. We will discuss finding specific anchors for each character — through vocal, physical, and emotional qualities that immediately allow for full character embodiment. We will do physical and vocal work to get to the essence of the distinctions between characters. Participants should be prepared to work in a group, and individually, on three distinct characters during the lab, and should come wearing clothes that will allow them to move freely.
Speak/Sing! with Matthew B. Zrebski
In this lab, we'll investigate musical theater writing techniques, specifically: when and why to sing. Writers will also practice transforming the spoken word to the sung word by adapting their own monologues and duet scenes into lyrics. Techniques for how to deliver strong lyrics to composers will also be discussed. No preparation is required. All material will be developed and written in class. Bringing an electronic device that can connect to the internet may be helpful, so as to access online tools during the lab.
---
All Weekend Long
Press Play
A series of dynamic performance pieces and events hand-selected for JAW that animate the building and engage audience members before every reading. Dancers, musicians, and more may pop up throughout the building adding to the vibrant festival spirit of JAW. Be sure to watch for the return of the ever popular JAW Maker Fair.
View a List of Scheduled Events
---
JAW History
---
Accessibility Info
Portland Center Stage at The Armory is committed to making our performances and facilities accessible to all of our patrons. Wheelchair seating, accommodation for service animals, sign interpretation, sound amplifying devices, and large print programs are available for JAW. For more information about these services, please visit our accessibility page.
---