JAW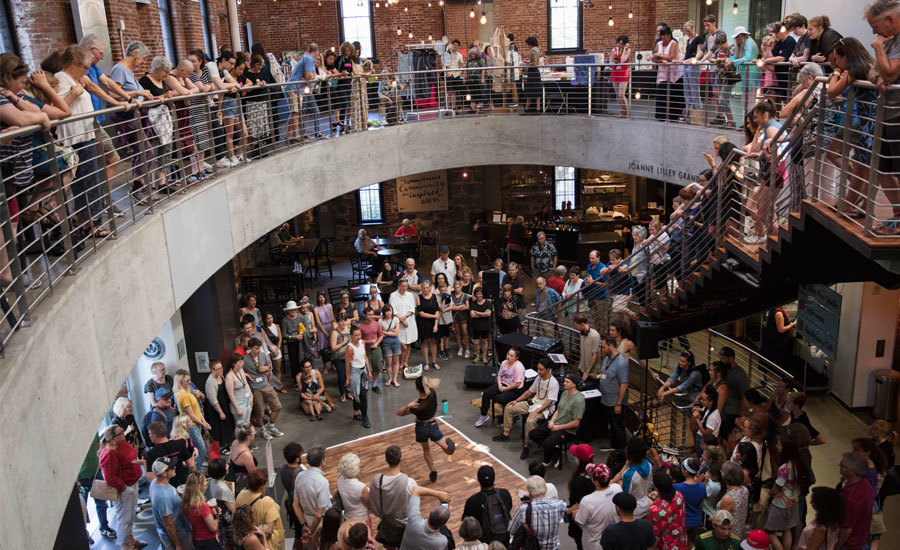 Every July, Portland Center Stage at The Armory bursts at the seams with new play energy. JAW (Short for Just Add Water) gathers artists from all over the world and fills the building with playwrights, actors, directors, dramaturgs, stage managers, production assistants, and sometimes even dogs and babies. At the end of this two-week hurricane of new play development, we open the doors for Promising Playwrights, a collection of 10-minute plays written by local high school students, and staged readings of brand new works. Free workshops, eclectic performances and events for all round out the most fun weekend of the year.
"JAW is a play development oasis chock full of the kindest, smartest and most talented people in the American theater. It allowed me the room and freedom to explore whatever path I thought was necessary for the process. It was simply fantastic." - Adam Szymkowicz (Kodachrome, formerly titled Colchester), JAW 2015
The Big Weekend is free and always the final weekend of July.

Script Submissions 2019: A Message from the Director
Dear JAW Community,

As you may have seen from our enthusiastically pink messaging, we celebrated the festival's 20th season in July. Each year, we renew our commitment to champion innovative new plays and bring urgent theatrical storytelling to Portland. Reflecting on this summer's milestone galvanized our team to deeply consider the next steps in the evolution of JAW.

Our discussions are ongoing, and I look forward to sharing further updates in the coming months. In the meantime, however, I'm writing to notify playwrights about a change we're implementing during this year of transition, which is that we will not be accepting script submissions for consideration in next summer's festival.

I want to thank everyone who continually supports and invigorates JAW—the future looks bright, and we're looking forward to the next 20 years!

Sincerely,
Rose Riordan
Festival Director
JAW History
JAW Staff
Just a few of the hardworking folks behind the JAW festival.
Rose Riordan – Festival Director

Kelsey Tyler & Will Cotter – Festival Producers
Benjamin Fainstein - Festival Literary Manager & Lead Dramaturg

Meagan Mulgrew - Company Manager
Clara-Liis Hillier & Jonas Angelet - Education & Community Programs
Matthew B. Zrebski - Mentor and Dramaturg, Promising Playwrights

Accessibility Info
Portland Center Stage at The Armory is committed to making our performances and facilities accessible to all of our patrons. Wheelchair seating, sound amplifying devices and large print programs are available for JAW. For more information, visit our accessibility page.