JAW New Play Festival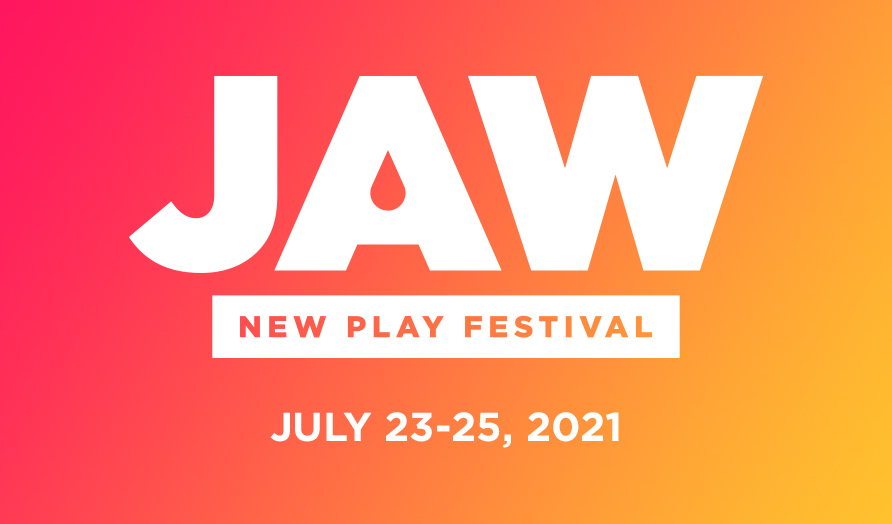 We are beyond thrilled to announce the return of our JAW New Play Festival! Please join us for readings of new scripts, our Teen Playwrights Showcase, plus performances from dynamic local artists, community labs, and more.
All events are FREE and will be available to watch in person or online.
NOTE: Some free events require a ticket to attend in person or stream online. Learn more below.
This year's readings feature:
"We are honored to support the buoyant, exciting work of these four incredible writers with our 2021 JAW New Play Festival. This hybrid festival of in-person and virtual offerings is a profound way to celebrate new plays as an essential part of PCS's future." –PCS Artistic Director Marissa Wolf
There is so much to explore! Scroll down for all the details!
Tickets and Information
All JAW events are FREE and can be attended in person at The Armory, or online. You are encouraged to reserve your general admission tickets in advance for the JAW Play Readings; in-person walk ups will be welcome based on availability. The Press Play performances surrounding the readings don't require a ticket. Masks will be required in all areas (performers will be unmasked). Food and beverages will not be served in The Armory. (Please visit our friends at Deschutes just across the street for a tasty snack or beer.) Capacity at The Armory will be limited to 250 people. Scroll down for the full schedule and links to reserve tickets.
Schedule of Events
Expand each section to see all events for that day.
About JAW
Since launching in 1999, JAW has created a space for playwrights to have complete creative control and the resources to work on whatever they want to develop in their scripts. To date, 87 scripts have been developed at JAW and 19 JAW plays have received fully staged productions at PCS, giving Portland a strong national reputation for not only incubating new work, but helping to see that work to successful fruition. JAW plays have gone on to receive world premiere productions at professional theaters across the country and beyond, including New York Theater Workshop, Steppenwolf Theatre, and Berkeley Repertory Theatre.
Accessibility Info
Portland Center Stage at The Armory is committed to making our facilities accessible to all of our patrons. Wheelchair seating, accommodation for service animals, sign interpretation, and sound amplifying devices, and large print programs are available for JAW. For more information about these services, please visit our accessibility page.
Portland Center Stage at The Armory is committed to identifying & interrupting instances of racism & all forms of oppression, through the principles of inclusion, diversity, equity, & accessibility (IDEA).
Teen Playwrights Sponsors

Season Producing Sponsors
Ellyn Bye
Ray & Bobbi Davis
Ronni Lacroute