About The Armory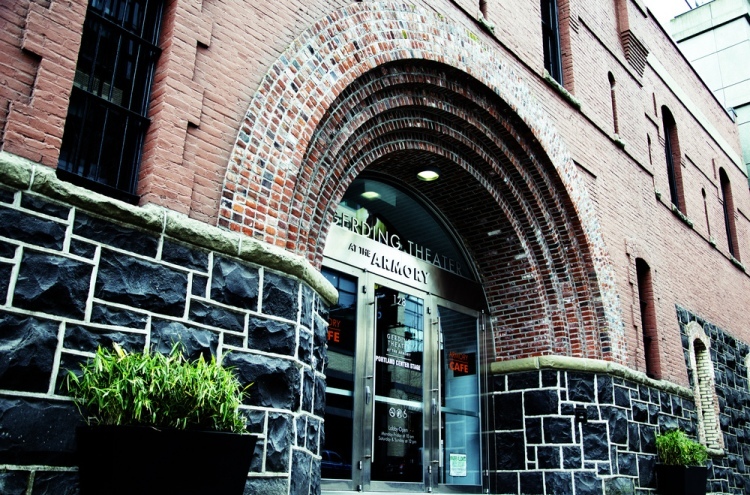 The Home of Portland Center Stage
Widely noted as the "crown jewel" of the Brewery Blocks redevelopment, The Armory's renovation has contributed to the revitalization of the Pearl/River District, providing both a near-term economic benefit of $14.7 million to the community and a projected long-term impact of $100 million in new economic activity over the next decade.
Recognized by:
Forbes Magazine as one of the greenest buildings in America.
The Urban Land Institute as one of the eleven developments chosen from among 167 nominees to receive the Award for Excellence in the Americas.
The American Council of Engineering Companies Oregon as the recipient of their Grand Award for Engineering Excellence.
Since The Armory became the first building in the Cascadia region – and the first historical renovation of a performing arts venue in the world – to achieve a Platinum LEED certification, it has drawn groups of people interested in sustainable design from across the country, as well as international delegations from Russia, Belgium and Hungary.
"It is a quintessential Portland project — ambition and idealism packaged in something old — a champagne version of what might be called the "Bottle Bill Era" of Portland architecture."
— Randy Gragg, The Oregonian
"Portland Center Stage's new home, carved out of the city's old armory building, is a wonder."
— Terry Teachout, Wall Street Journal
"…a sparkling showplace of leading edge technology and responsible building practices…"
— Eric Bartels, Portland Tribune
"Inserted within the shell of a national landmark Armory saved from the wrecking ball, PCS's "ship in a bottle" facility serves as a distinctive vessel for the arts that is quintessentially Portland. In the end, the Gerding Theater at the Armory is a shining example of an American regional theatre finding relevance in the life of its particular community."
— Keith Gerchak, American Theatre

Rent The Armory
The Armory is available for performances, parties, meetings, presentations and community events. Contact us at 503-445-3824, or email .
Find out more about renting The Armory.
Tour The Armory
On the first and third Saturdays of each month during the regular performance season, The Armory hosts free public tours. Get the full story of how the Armory Annex transformed from an 1891 military drilling site to public meeting space to beer storage facility to one of the world's most sustainable performing arts centers. See the inner workings of Portland's largest professional theater company, while learning about our one-of-a-kind LEED (Leadership in Energy and Environmental Design) Platinum facility. Tours are from noon to 1 p.m. and meet at the concierge desk inside the lobby of the building.
For more information about public tours, call the concierge at 503-445-3727.