One City/Many Futures: The Portland We Are Making
Posted 01 February 2018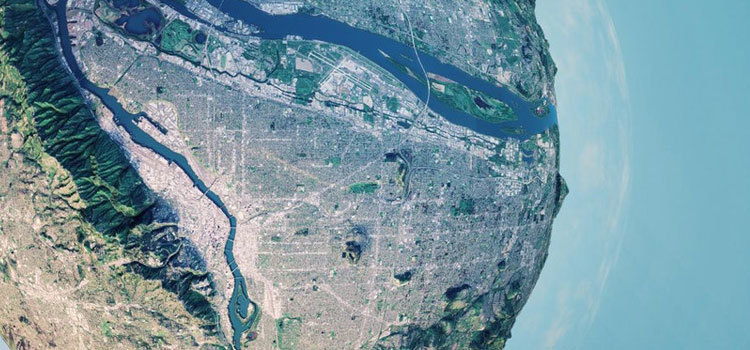 Buildings are rising everywhere. Streets are clogged. Maybe you've heard there is a new Portland Plan or that half a billion will be spent to "widen" I-5. How many bioswales and bike lanes are enough? How many highrises? There's lots of talk about equity, but is anyone creating it? Is Lents the new Pearl?
How do all the changes to Portland fit together? Do they?
One City: Many Futures will offer a panoramic view of the next Portland with an unprecedented line-up of the people and projects defining the city's future: top city officials, developers, architects and community activists shaping the places that we live, work and play.
Hosted by longtime Portland journalist Randy Gragg, each evening will be a fast-paced, lively show-and-tell of active plans and projects on the horizon, by the people guiding from the top and working and agitating at the grassroots — an unprecedented gathering of leaders on a public stage. Presented in association with Business for a Better Portland and NextPortland.com.
Mondays, March 12, 19 and 26
6 - 7:30 pm, followed by a reception
Admission: $5-20 each evening; students free
March 12: What are we building?
The Big Plans: Kimberly Branam, director, Prosper Portland; Joe Zehnder, director of Bureau of Planning and Sustainability
The People's Plan: Joy Alise Davis, Portland African American Leadership Forum
Sharing the Wealth: John Haines, director, Mercy Corps Northwest
Portland Timbers Get Higher: Allied Works Architecture
East Portland Rising: Mustapha Finney, co-director East Portland Action Plan
A Kinder, Gentler Infill: Madeline Kovaks, 1000 Friends of Oregon
March 19: How will we move?
The Big Plans: Leah Treat, director of Portland Bureau of Transportation; Eric Hesse, director of strategic planning, TriMet
Mobility Across the Ages: BandanaShrestha, Director of Community Engagement, AARP Oregon
Portland's Next Bridge: John Breshears, architect
Revolution in the Streets: Ryan Hashagen, Better Block; Jillian Detweiller, Street Trust
The New Portland Airport: Curt Robinhold, director, Port of Portland
Plus: What's $500 million buying I-5 and the Rose Quarter?
March 26: Greening Portland
The Big Plans: Mike Abbate, director of Portland Parks and Recreation; Jonathan Blasher, director of Parks and Nature, Metro
A New Willamette Riverfront — OMSI and Willamette Falls: Michelle Delk, Snohetta
An Industrial Transformation: Charlene Zidell, Zidell Yards
Beyond Bioswales: Dawn Uchiyama, Bureau of Environmental Services
Plus: Grassroots green in East Portland; a new master plan for Washington Park; a gateway to Forest Park
Use the code "ONECITY" for $10 off your ticket to a show at The Armory.
*Promotional code valid on seating areas 1-3 only. Not valid on previously purchased tickets, student tickets or in combination with other discounts. Subject to availability.
About Design Week Portland
| | |
| --- | --- |
| | Design Week Portland, now in its fifth year, explores the process, craft, and practice of design across all disciplines. Our mission is to increase appreciation and awareness about design and its far-reaching effects on matters of cultural and social relevance. Randy Gragg is a longtime Portland critic, journalist, and curator on architecture and planning. This series of programs is an outgrowth of his longstanding onstage talk show, Bright Lights: Conversations on Portland's Future and is one part of Design Week's strategic push into year-round programing. |
About Business for a Better Portland
| | |
| --- | --- |
| | Business for a Better Portland is a membership organization that combines the strength of business advocacy with the power of technology and grassroots social change. BBP's goal is to ensure Portland is an equitable city where prosperity can be shared by all. In its first year as a membership organization, BBP engaged over 200 Portland companies in critical issues of tenant protections and state tax reform and provided members the opportunity to support and participate in events such as Pitch Black, Vanport Mosaic Festival and holiday efforts to support Street Roots vendors. |
View All Entries