Shakespeare's Amazing Cymbeline
January 31 — April 8, 2012
In the Ellyn Bye Studio
By William Shakespeare
A new adaptation by Chris Coleman

Based on legends about early Celtic kings, Cymbeline is one of Shakespeare's most fantastical creations—familiar Shakespearean themes of jealousy and innocence wronged are joined by a piano-playing wit who becomes our guide through an ancient landscape. A lovely princess, an evil queen, a misguided king and a thoroughly rotten clown people this fairy tale-like story of life, and love, renewed.

One of Shakespeare's charming romances, this production of Cymbeline marks two firsts—our first production of the Bard in the Ellyn Bye Studio, and the first production of this fresh adaptation by Artistic Director Chris Coleman.

Performance times:
Tuesday - Sunday evenings at 7:30 p.m
Saturday and Sunday matinees at 2 p.m.
Thursday matinees at noon

A full list of performances and dates will appear when you enter the ticketing section of the website.

Shakespeare's Amazing Cymbeline runs approximately two hours and 30 minutes with one intermission.

View the cast and creative team bios

View the playbill for Shakespeare's Amazing Cymbeline

Learn more about accessibility options at PCS

Background information and a synopsis of Cymbeline

---
Portland Center Stage's production is part of Shakespeare for a New Generation, a national program of the National Endowment for the Arts in cooperation with Arts Midwest.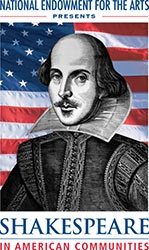 Performance Times
Evenings: Tuesday - Sunday at 7:30 p.m.
Matinees: Saturday and Sundays at 2 p.m.,
Thursdays at noon
*Note: These are general performance times. Certain productions may have exceptions. View the season calendar for more information.
This show's run time will be posted below the synopsis at left near the date of the first performance.
Production blog