Adult Classes
Taught by a diverse pool of talented professionals from throughout the region and beyond, our Adult Classes provide recurring opportunities for anyone interested in learning more about the living stage and other storytelling art forms.
Upcoming Classes
"Fun Home" Sound Design Master Class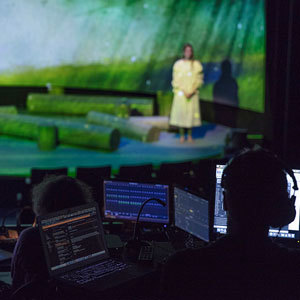 What is the sound of crickets in midsummer, exactly? Or a crowd on the street outside? And how does one seamlessly engineer live music from dozens of sources to bring out the best in each part while serving the story being told? These questions and more are all in a day's work for a Sound Designer.
Learn how our in-house Sound Designer Casi Pacilio uses sound in our productions to produce dramatic effect in Fun Home and beyond. Whether it's a specific sound effect, such as Audrey II taking over Peoria, or more subtle, like the intonations in Constellations, or even downright practical (live mixing a musical production with dozens of actors, band members, and countless other moving parts), Casi will show you how it's done. Through demonstrations and descriptions of equipment and techniques, you'll walk away with a deeper understanding and appreciation of one of the most subtle magic makers in the theater.

Sunday, October 1
4:00 - 6:00 p.m.
$20
---
Building Blocks of Improv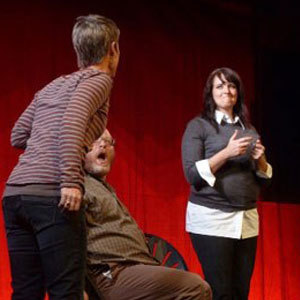 Grow beyond, "Yes, and…" and build toward playful and daring improvised choices onstage. Learn to dive into scenarios without planning, and build hilarious scenes together. Heighten the best of your experience, and develop new tools for launching improv scenes from the very first line.
Sunday, October 15
10:00 - 1:00 p.m.
$30
---
Greek Adaptation: From Aristotle to Alfaro, Greek Drama Then & Now
Taking in an evening of Greek tragedy probably doesn't rank highly among most people's casual weekend plans. Yet numerous forms of performance, storytelling, and poetry find their foundation in the theatre of the ancient Greeks. Their stories of divine wonder and human woe are ingrained in our cultural lore and have engaged other artists for millennia.
Luis Alfaro's Mojada is a new version of Euripides' Medea set in present-day Los Angeles. The play both harnesses and confounds the codified "rules" of Greek dramatic structure to tell a story of immigrants facing perilous choices. This community artist lab, led by dramaturg and PCS Literary Manager Benjamin Fainstein, will engage participants in a discussion of the salient characteristics of ancient Greek drama and how Alfaro used them to make Mojada resonate for our time.
No experience necessary, but advanced reading required.
Sunday, November 12
10:00 a.m. - 1:00 p.m.
$15
Refunds and Exchange Policy
The Armory does not offer refunds on purchased class registrations; all sales are final. Class exchanges can be made within 24 hour notice prior to the first class meeting. In rare circumstances when a class may be cancelled (due to extreme weather, artist absence or other unavoidable situations) we will offer refunds or replacement registration for a future class.

---
Click here to Learn more about our weather policy.
Accessibility