Youth and School Programs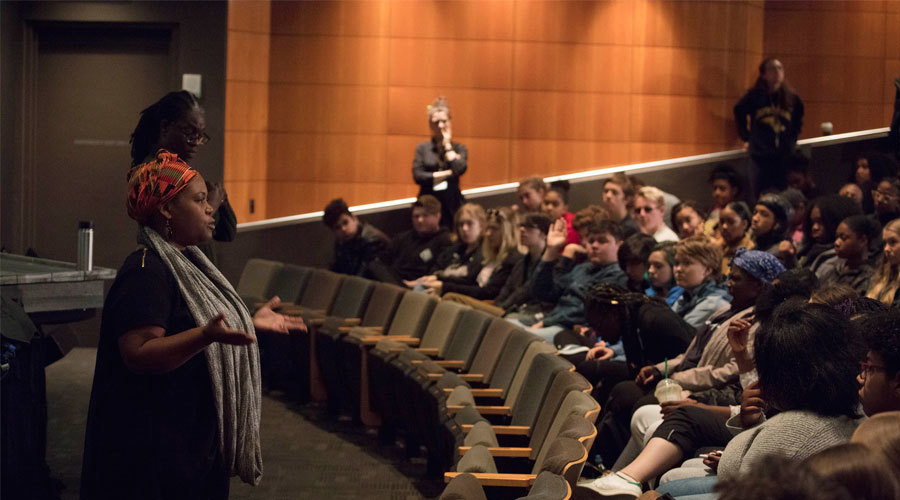 We are dedicated to serving students and educators through workshops and residencies led by an amazing team of professional theater practitioners and teaching artists. Choose from the list of offerings below, or contact us to build a custom experience to meet your goals.
Programs are available both online and in the classroom; we offer the ultimate flexibility needed to meet all health and safety standards.
Workshops
Available for FREE to all middle school and high school students. Designed for one class period.

Performance — Exercises exploring how to use the body and voice to create a character.
Improvisation — Explores the critical improvisation skill of "yes, and" with exercises to encourage risk taking and celebrate failure!
Teamwork and Collaboration — Uses creative skills and theater exercises to encourage groups to work together toward a common goal.
Q&A with Theater Professionals — Let us connect you with our strong network of professionals working in the field, from Directors to Actors, Stage Managers to Designers, and provide your students a backstage view of the industry from those living it.
Or contact us to build a custom experience — Musical Theater Dance Styles? Audition Techniques? Stage Combat? We've got you covered. Let us know what might best serve your students, and we will work to make it happen!
For more information or to schedule a workshop, email , or fill out our Workshop or Residency Request Form.
Residencies
WRITING AND PERFORMING BIOGRAPHY
One-week residency available for high school students.
This special one-week residency exploring identity through inquiry, writing and performing, is designed for two synchronous class periods and two asynchronous class periods (four class periods total). Or four in-person class visits when health guidelines allow.
VISIONS & VOICES
Four- to five-week residency available for high school students.
The Visions & Voices student playwriting residency connects professional teaching artists with high school classrooms for intensive, month-long residencies during which students learn about the basic elements of playwriting. The Visions & Voices playwriting curriculum addresses theatrical conventions and dramatic structure with writing prompts and constructive critical response. The program culminates at the end of the school year with free, public readings of plays selected from all residency sites performed by professional actors.
Residencies are free of charge to schools with over 50% of students qualifying for free or reduced lunch. For all other schools, one-week residencies are $200 and four- to five-week residencies are $1,000. Availability is limited. To book a workshop or residency email , or fill out our Workshop or Residency Request Form.
Teaching Artists
Sara Jean Accuardi, Orion Bradshaw, Clara-Liis Hillier, Kristen Mun, Anya Pearson, Yasmin Ruvalcaba, Josie Seid, and Ithica Tell
Script Recommendations
With the high number of requests for script recommendations from both teachers and young people, our Literary Department has compiled this list of scripts we highly recommend for reading, exploration, and production. Unfortunately, we are unable to provide copies, but all of these scripts are published and available to purchase with a quick internet search.
THE BROTHERS SIZE by Tarell Alvin McCraney
THE BUBBLY BLACK GIRL SHEDS HER CHAMELEON SKIN by Kirsten Childs
DANCE NATION by Clare Barron
THE ELABORATE ENTRANCE OF CHAD DEITY by Kristoffer Diaz
FAIRVIEW by Jackie Sibblies Drury
AN OCTOROON by Branden Jacobs-Jenkins
IS GOD IS by Aleshea Harris
PIPELINE by Dominique Morisseau
SWEAT by Lynn Nottage
WILD GOOSE DREAMS by Hansol Jung
CAMBODIAN ROCK BAND by Lauren Yee
9 PARTS OF DESIRE by Heather Raffo
INDIA PALE ALE by Jacklyn Backhaus
CAUGHT or PASSAGE by Christopher Chen
THE WOLVES by Sarah DeLappe
MOON MAN WALK by James Ijames
SCISSORING by Christina Quintana
DRAW THE CIRCLE by Mashuq Mushtaq Deen
TOPDOG/UNDERDOG by Suzan-Lori Parks
MANAHATTA by Mary Kathryn Nagle
THE HOMECOMING QUEEN by Ngozi Anwanya
PASSOVER by Antoinette Nwandu
SCHOOL GIRLS by Jocelyn Bioh
FAMILIAR by Danai Gurira
UNTIL THE FLOOD by Dael Orlandersmith
MOJADA by Luis Alfaro
THE INHERITANCE by Matthew Lopez
CHINGLISH by David Henry Hwang
SOJOURNERS by Mfoniso Udofia
AUBERGINE by Julia Cho
PEERLESS by Jiehae Park
DO YOU FEEL ANGER? by Mara Nelson-Greenberg
Student Matinees
Portland Center Stage is thrilled to provide young people an unforgettable opportunity to experience professional theater in a context that supports their education. Targeted toward students ages 12 to 18, we are proud to provide:
Deeply subsidized $15 tickets to Thursday 11 a.m. matinees and weekday evening performances for students and chaperones.
FREE tickets for schools with a free or reduced lunch percentage of more than 50% and social service agencies to Main Stage and Studio productions (space is limited in the Ellyn Bye Studio for each performance).
FREE in-school workshops, providing additional background about the play and theatrical craftsmanship.
FREE post-show discussions with the cast following each Thursday matinee performance.
FREE backstage tours of the The Armory.
Resource Guides containing informative content designed to spark conversation in the classroom before and after the theatrical experience.
We are currently unable to offer student matinees, but we hope to see you here at the theater again very soon!
Portland Center Stage at The Armory is committed to identifying & interrupting instances of racism & all forms of oppression, through the principles of inclusion, diversity, equity, & accessibility (IDEA).