School Groups & Programs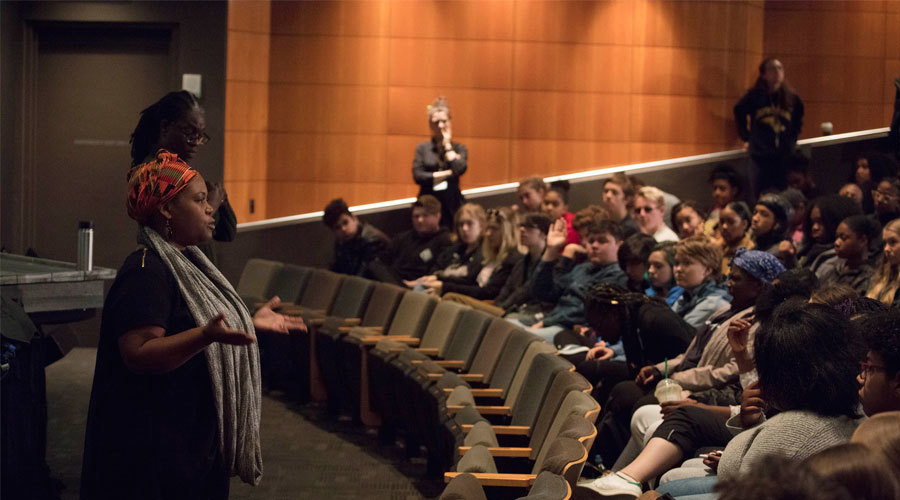 School Workshops
While we await the opportunity to host school groups at our student matinees, we continue our dedication to serving students and educators through workshops led by an amazing team of professional theater practitioners and teaching artists. Choose from the list of offerings below, or contact us to build a custom experience to meet your goals. Most workshops are available both online and in the classroom; we offer the ultimate flexibility needed to meet all health and safety standards.
Available Workshops:
Acting
Improvisation
Teamwork & Collaboration
Writing & Performing Biography
Q&A with Theater Professionals
Or contact us to build a custom experience!
Teaching Artists:

Orion Bradshaw, Charles Grant, Clara-Liis Hillier, Kristin Mun, Yasmin Ruvalcaba, & Ithica Tell
For more information or to schedule a workshop, email us at or call 503-445-3793.
Visions & Voices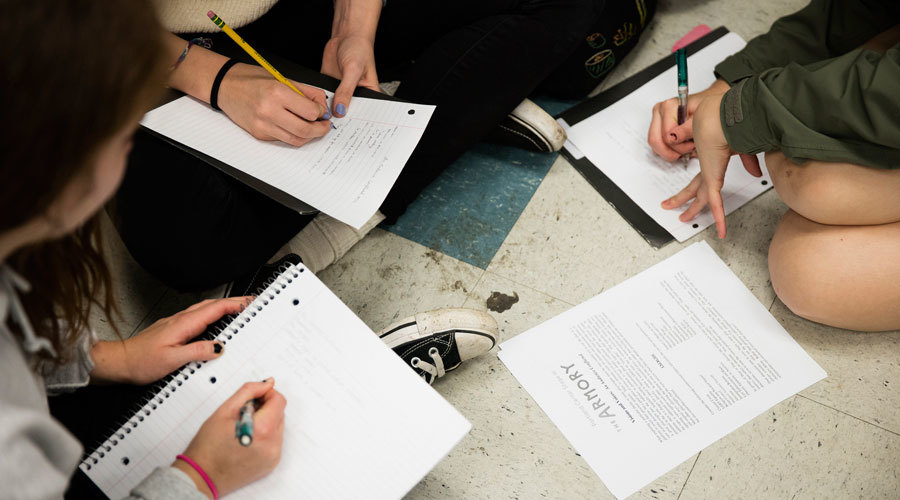 The Visions & Voices student playwriting residency brings professional teaching artists into public high school classrooms for intensive, month-long residencies during which students learn about the basic elements of theater.

Designed to meet Oregon benchmarks for Arts and English/Language Arts, the Visions & Voices playwriting curriculum addresses theatrical conventions and dramatic structure, as well as acting, writing, and constructive critical response. The program culminates at the end of the school year with free, public readings of plays selected from all residency sites, performed by professional actors.
Every summer, up to six Visions & Voices graduates are chosen to participate in JAW: A Playwrights Festival, which is nationally recognized for its role in developing new works for the stage. Promising Playwrights write original short plays from start to finish in the span of two weeks, under the mentorship of celebrated national artists and our local teaching artists. Their plays are then performed by professional actors at the festival's kickoff event.
For more information on how to bring a Visions & Voices residency to your school, email or call 503-445-3793.
Student Matinees
Portland Center Stage is thrilled to provide young people an unforgettable opportunity to experience professional theater in a context that supports their education. Targeted toward students ages 12 to 18, we are proud to provide:
Deeply subsidized $15 tickets to Thursday 11 a.m. matinees and weekday evening performances for students and chaperones.
FREE tickets for Title 1 schools and social service agencies to Main Stage and Studio productions (space is limited in the Ellyn Bye Studio for each performance).
FREE in-school workshops, providing additional background about the play and theatrical craftsmanship.
FREE post-show discussions with the cast following each Thursday matinee performance.
FREE backstage tours of the The Armory.
Resource Guides containing informative content designed to spark conversation in the classroom before and after the theatrical experience.
We are currently unable to offer student matinees, but we hope to see you here at the theater again very soon!