"Crazy Enough" After-Party Featuring DJ Mami Miami
Join us for a special Crazy Enough after-party featuring DJ Mami Miami of Noche Libre, a multi-genre Latinx DJ collective. The Armory Bar will be open late to keep the good times rolling!
Wednesday, June 26, 2019
9 p.m. – 10 p.m.
Main Lobby
This event is in the past.
View Upcoming Events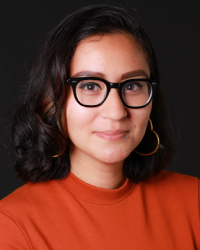 About DJ Mami Miami
DJ Mami Miami is the alias of Emilly Prado, a Chicana writer, journalist, and DJ based in Portland, Oregon.
As the former co-host of Is Butter a Carb? on XRAY.FM, Emilly played a wide range of genres from cumbias and spanish punk rock to hip hop, neo-soul, and oldies. She plays songs of her childhood and music that she's stumbled upon later in life. Her sets are always mood-driven.
In 2017, she co-founded Noche Libre, a multi-genre Latinx dance party turned DJ collective. You can learn more about her at www.emillyprado.com and on Instagram at @emillyp.