Happy Hour with Freddy Vilches
Event Details
Friday, September 20, 2019
6:30 p.m. – 7:30 p.m.
Alan J. Beard Mezzanine
Join us for a pre-show happy hour with Freddy Vilches, Portland musician and Lewis & Clark College Assistant Professor of Hispanic Studies, featuring live music with instruments from the Latin America diaspora and discussions about specific rhythms and musical traditions utilized in our production of In the Heights.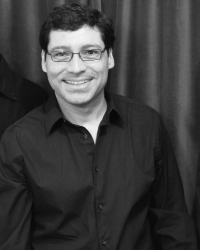 Meet Freddy Vilches
Freddy O. Vilches joined the faculty of Lewis & Clark College as Assistant Professor of Hispanic Studies in 2006. He received his PhD in Romance Languages at the University of Oregon, specializing in Latin American Literature of the 20th and 21st Centuries. His principal research interests include Southern Cone literature, connections between literature and popular culture, Latin American testimonial writing, and detective fiction. His teaching experience covers all levels of language instruction and Latin American Literature, as well as an interdisciplinary course on Music in Latin American Cultures. He has published articles on Latin American poetry and fiction. Currently, he is working on a manuscript on the use of poetry in the Chilean New Song Movement, and articles on the Chilean and Latin American detective novel.