Heartbeat Silent Disco
Event Details
Sunday, July 28, 2019
4 p.m. – 5 p.m.
Main Lobby
Join us as we celebrate The Big Weekend of JAW with a special edition of the Heartbeat Silent Disco for the community. We will provide headphones and music for guests to dance to the genre of their choice in our Main Lobby while they wait for the playwright readings to begin. 
The Heartbeat Silent Disco will be hosted by Jesus Rodales of Find A Way and North West Reign dance crews.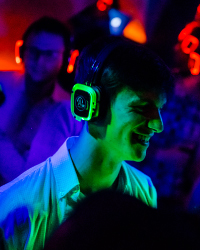 About Silent Disco Experience
A silent disco or silent dance party is an event where people dance to music listened to on wireless headphones. Rather than using a speaker system, music is broadcast via a radio transmitter with the signal being picked up by wireless headphone receivers worn by the participants. Each headset has multiple channels of music to choose from for each dancer ranging from house music, hip hop, to top 40, etc.