Visions & Voices 2019 Showcase: Night One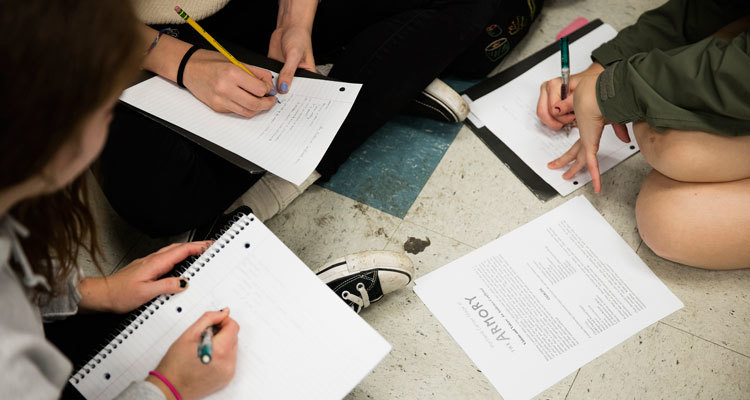 Monday, May 13, 2019
7:00 p.m. – 8:30 p.m.
Ellyn Bye Studio
** This event is in the past. **
View Upcoming Events
Join us for an evening of plays written by students from our Visions & Voices program and showcased by professional actors. Visions & Voices 2019 Showcase: Part One features students from Franklin High School, Grant High School, Liberty High School, and Lincoln High School. 
These are challenging times for everyone, but especially for our younger generation. They express to us how stifled they often feel in a system that expects so much. Test scores. Colleges. Careers. Social pressures. Family pressures. It goes on and on. So beyond offering tools with which to write plays, the larger goal is to provide an outlet; to give permission to express their ideas, passions and desires; to allow the difficult questions; and to exercise empathy and embrace the chaos that is "growing up."
Night One features the Following Students and their Original Plays: 
Like, Babe! by Natalia Bermudez from Lincoln High School 
Smoke Gets in Your Eyes by Lucy Walker from Franklin High School 
 The Girl Named Rose Tries to Eat a Boy Named Charlie by Ryan Samson from Liberty High School 
 Time's Up by Django Boletus from Franklin High School 
 A Romance for the Books by Claire Richards from Lincoln High School 
 The Warm Colors of a Cold Heart by Aubrey King from Franklin High School 
 Shadows of Mind by Grace Curley from Franklin High School 
 Can I Be Honest With You? by Liam Krug from Grant High School 
  Changing Patterns by Claire Churchill from Grant High School
 Antithetical Matrimony by Max Nevers from Liberty High School 
The Fixed by Amanda Valeur from Lincoln High School 
 Crow-Munication by Zachary Goldsmith from Lincoln High School 
Cast
Charles Grant 
Kelly Godell*
Chris Murray*
Cecily Overman 
*Member of Actors' Equity Association, the Union of Professional Actors and Stage Managers in the United States.

About Visions & Voices
Since 1999, the Visions & Voices student playwriting program has been bringing theater professionals into public high school classrooms to conduct residencies. The program culminates each year with an exciting showcase of original pieces selected from all the residency sites. This free public performance at The Armory's Ellyn Bye Studio features professional actors performing staged readings of plays and monologues. Visions & Voices is offered free of charge and relies upon community support to bring the playwriting experience into the classroom.
Playwriting Instructors: Matthew B. Zrebski & Clara-Liis Hillier
View All Events