An Interview with Jillian Snow and David Saffert
PCS Literary Manager Kamilah Bush spoke to the creators and performers of Liberace & Liza Holiday at the Mansion (A Tribute) about their collaboration, their creative backgrounds, and their obsessions with the larger-than-real-life celebrities who inspired their stage personas.
---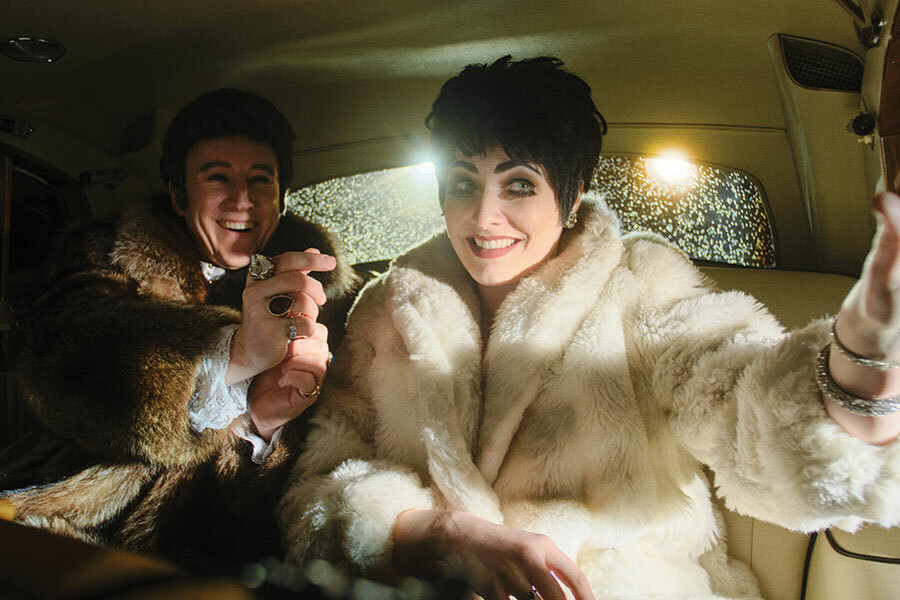 Kamilah Bush: When do you first remember encountering Liza and Liberace?
Jillian Snow: My obsession began with Judy Garland and Dolly Parton and really just all the divas. And my mom used to go to the Goodwill Outlet, you know the Bin Store –
KB: Love a bin store.
JS: And she found a VHS copy of Stepping Out starring Liza Minnelli. In it, she plays a tap dance instructor and her students are just awful. But she teaches just for herself. She used to be a Broadway dancer. But my mom said, this is Judy Garland's little girl. Then as soon as I saw Liza Minnelli, I mean, I still love Judy, but I was obsessed. She just kind of marches to her own drummer. I was a really shy kid. She's this kooky, vibrant, colorful woman that just never apologized for anything. With her voice, I found my own a little bit. Just impersonating her and other people that I admired kind of helped me to start becoming a real human.
KB: And David, when did you come to The Mister, himself?
David Saffert: The Muppet Show! I love The Muppet Show. It's how I learned who Carol Channing was. Victor Borgia. Liza.
JS: Bernadette.
DS: Bernadette! And, yeah, Liberace was on there and played the piano, and I really enjoyed that. And then there was this two part mini series called Special People that was about The Famous People Players, a theater company from Canada. And they did this black light puppet show called Aruba Liberace. For the last 10 minutes of this series, there was Liberace. I just remember how sweet and genuine he was. This is maybe the first time I've ever thought about this, but I never gravitated to Liberace as a piano player because I grew up in such a homophobic town of about 2000 people in the middle of Wisconsin. And so the name Liberace would be like a slur in a way, but I was so in awe of him. Then it wasn't really until about ten years ago when I was doing my own variety shows at the Curious Comedy Theater in town that I started to embrace him.
KB: So about ten years ago, is that when you two started working together?
JS: Yeah! I think maybe after your birthday show, David.
DS: I used to do this birthday variety show, and I'd seen Jillian do Liza, and I was like, "Good Lord, she's got to be in this." But I think the act was honestly maybe 30 minutes long. I mean, Liza was in it like 15 or 20 minutes.
JS: We got such a strong reaction, especially with those two characters, because I was doing a lot of other characters too.
DS: So the first time we ever performed it was really just a small chunk. And I think you did "Back in Business," and "Maybe this Time." You did "Single Ladies." Liza does "Single Ladies" in the Sex and the City movie.
KB: Oh yes, I know. I'm gay too!
JS: Well that has to go in the interview! A room full of gays!
DS: Talking Broadway! The first holiday show we did though, was at CoHo Theatre. They had a show drop out, and they called us and asked "Have Liberace and Liza ever wanted to do a holiday show?" And that was when?
JS: 2016.
DS: We put a one act, like 75-minute holiday show together, just Liberace and Liza, and it was huge! People would come up to us after the show and say "we needed this so bad" because of all that was happening in the world.
KB: Are there any iconic performances of Liberace's or Liza's that you return to? I spend a lot of time on YouTube with my divas. Do you do the same?
DS: I think that we both, while we're getting into the makeup and hair, like to watch videos of them. I like the old black and white TV specials that he did in the 50s. Him at the Hilton Hotel when his lover, Scott Thorson, drives him on to the stage in a very rare Rolls Royce. I love watching that. There's a whole performance of him with the London Philharmonic that I really enjoy. He's got all the costumes, and he's I think he's at his peak there. And our music director, Bo Ayars, he's conducting in that one. So it's very special to me to watch that video.
JH: There's a dance sequence in Stepping Out that I probably watch at least once a month that Liza does. It's this big solo number that she does and so powerful and Fosse, and she doesn't think anyone's looking or watching.
DS: Is it the one with the mirrors?
JH: Yes! There's a student that comes in, and she's kind of hiding, and Liza's just letting everything out. And then she does this big pose at the end and sees her students, she goes "Oh God! I didn't know anybody was there." She's got sweat dripping. It's a beautiful, beautiful scene.
KB: These people are larger than life! Do you have one favorite quirk of theirs?
DS: Just one? They are the quirkiest people that ever lived.
JH: My favorite Liza quirks are when she's singing a song, but she'll add a little laugh or something. She listens to the lyrics. She sells it so well that I think that she's picturing something that maybe correlates with the line that she's singing. And so you can see her searching for something. Then she just giggles.
DS: I think Liberace's speech pattern is so interesting because you wonder sometimes if he's forgotten the next word. He'll say, "you know, this next piece of music is…by Tchaikovsky." And you're like, did he forget?
KB: The pause.
DS: The pause! The other thing, which makes him really opposite of Liza, I think is fun because Liza is so trained is that he's kind of a klutz! He's got great stage presence, definitely, but you'll see videos of him with his cape wrapped around the microphone stand. Which gives me permission on stage if I, if something happens, if I trip or if part of my costume gets caught, I go, well, I've seen that happen to him on stage before.
KB: It is true that they never performed together, right?
JH: That's correct. They knew each other, but they never performed together.
KB: But you two have been doing this show for a long time, and on the road! Do you have any fun road stories?
JH: We went to Birdland, and we got to perform for Jim Caruso–
DS: And Billy Stritch! We got to do "Back in Business," which Billy Stritch arranged for Liza at the Carnegie Hall celebration of Sondheim.
JH: So Nervous Nellie, me. You know, when you're like, I'm like, I'm literally impersonating one of their best friends!
DS: That she's been on Broadway with!
JH: And I think that I definitely held back a little bit, and I remember Billy Stritch said "you can go you can go harder! I love her but she's a kook!"
KB: Last question. What is currently bringing you joy?
JH: I think for me, this right now, this show. I've really missed rehearsing. I really miss learning new material and getting back into the routine of that is really fulfilling.
DS: We didn't know if people wanted Liberace and Liza, we just had a ball doing it. And the fact that this year, we'll have had this incredible residency here at Portland Center Stage, and the first residency that Feinstein's at the Nikko has ever had, and 54 Below. It really feels nice to know that we're not just like doing this because we think it's funny. People actually enjoy it and want it. That brings me joy.
Portland Center Stage is committed to identifying & interrupting instances of racism & all forms of oppression, through the principles of inclusion, diversity, equity, & accessibility (IDEA).