Dael Orlandersmith Is a Poet of Life's Complexity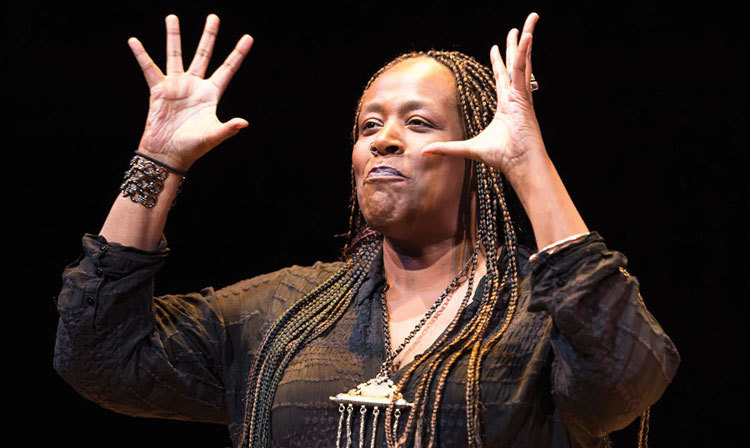 American Theater Magazine's Stuart Miller sat down with Forever playwright and performer Dael Orlandersmith.
Dael Orlandersmith prefers to focus on one play at time, delving deeply into her research and writing. "I hate multitasking," she says.
Yet as she sat down this fall for lunch in the East Village, Orlandersmith was in the midst of work on a one-woman play about a young Danish girl's life-changing encounter with Billie Holiday, on another one-woman play about last year's police shooting and subsequent unrest in Ferguson, Mo., and on a young adult show about surviving adolescence. Oh, and she's also prepping for a Portland, Ore., production of her one-woman memoir play, Forever, which earned acclaim in Los Angeles, New Haven, and New York.
Life, it turns out, doesn't afford the luxury of one project at a time to an artist who stubbornly refuses to pursue more commercial options.
"The reality of it is that there's no money in what I do, so I've got to keep going," Orlandersmith says. And so she does. "I've got to finish a draft of my Ferguson play this weekend, and then do some twisting and turning on my Billie Holiday play."
Orlandersmith, who was a Pulitzer Prize finalist and Drama Desk nominee in 2002 for her first two-hander, Yellowman, says "I could keep writing a variation of Yellowman, but I wouldn't be able to live with myself." When people suggest she mix in commercial projects with her more challenging personal work she says, "I can't just turn it on and off like that. I don't seek to challenge myself; this is just the way blood beats. It's in my DNA."
Her singlemindedness is something people who work with her are extremely grateful for.
"There aren't that many artists that have her kind of commitment, and she does it all so singularly and beautifully," says Jim Nicola, artistic director of New York Theatre Workshop, where Orlandersmith performed Forever as well as her earlier one-woman shows Monster and The Gimmick. "She is such a powerful presence onstage physically and spiritually, so you want to know who that is and what she has to say. And then she turns out to be an extraordinary poet of the complexities of life."
Listen to Orlandersmith detail the complexities of her own biography in Forever and you'll realize that nothing ever came easy for her. But despite—or because of—that, nothing ever stopped her. Her earliest one-woman plays, such as the Obie-winning Beauty's Daughter, had plenty of autobiographical details. But in Forever she forced herself to directly confront her rape as a teenager, and most significantly, her turbulent relationship with her mother.

Forever evolved out of a conversation with Neel Keller, associate artistic director at Center Theatre Group. Keller had flown up to Berkeley Rep where Orlandersmith was performing Black n Blue Boys/Broken Men, her show about men who had suffered abuse. Keller had known Orlandersmith since she was a poet performing with the Nuyorican Poets Cafe and had commissioned her play Bones.
They were discussing a new CTG commission over a glass of wine when Keller pointed out that "her audience was hungry to see the real Dael—that they would want to know about the formation of who this woman is and how did she get to this stage," Keller says. Her initial reaction was skepticism, he recalls: "She said, 'Do you mean the dreaded first person?'"
But they began discussing a story of her visit to Père Lachaise Cemetery in Paris, where she communed with the artistic family that provided the support she never got at home: Richard Wright, Oscar Wilde, Colette, and Jim Morrison. As she says in the show, these artists helped people like her "give birth to ourselves."
Growing up in Harlem, Orlandersmith got grief from her peers for listening to "white" music like the Doors and the Who, but such tastes helped propel her beyond her immediate world. In Forever, she credits Morrison for leading her to poets ranging from Blake to Rimbaud.
(Rock music remains central in her life. Our interview frequently veers off topic to musical matters; at one point she talks about how much she really wants to meet Pete Townshend, and at another point we start recommending new bands to each other. Orlandersmith's suggestions include Warpaint and Hooray for the Riff Raff.)
In Forever, Orlandersmith framed the cemetery visit with her mother's funeral and a reckoning of their deeply conflicted relationship. It had clearly been on her mind when Keller mentioned it; soon after that first meeting, she sent him hundreds of pages she had written about her childhood.
From there, she began writing the play over several years, across retreats and workshops and readings. "It was a lazong road but without a lot of wrong turns," Keller says. The process not only reshaped the play but also Orlandersmith's feelings about her mother. "It forced her to come to terms with their relationship, and she finished in a different place," Keller says.
Orlandersmith agrees. "I had to make her understandable so she could be written fully, she had to be fully realized as a human being."
To Nicola, this is quintessential Orlandersmith. "She doesn't ever tell a tale just to tell you the wounds and arrows of fate that have befallen her characters. There's a sense of redemption and healing, a journey from darkness to some kind of transcendence. She takes us out of our fears and transforms them."

Still, despite her unconventional plays and personal topics, Orlandersmith emphasizes the basics.
"Theatre works by storytelling and character," she says, recalling the time she sat in the audience for Death of a Salesman with Brian Dennehy and noticed a Hasidic Jew and a Sikh sitting next to each other. "They didn't know each other, but after the show both were weeping and saying, 'That was my father.' That's what I'm talking about."
That essence will serve Orlandersmith in what she calls the "tricky" task of creating a play out of the killing of Michael Brown and all that followed in Ferguson. She says that when Seth Gordon, associate artistic director of the Repertory Theatre of St. Louis, approached her about the topic, she knew that she didn't want to follow the Anna Deavere Smith model of reportage. She went to St. Louis and talked to Brown's father, stepmother, and plenty of others, but says she is creating composite figures "that come out of my head: a guy in a barbershop, a kid. I'm not free to tell this any way I want, but I am free to use the truth of imagination."
Portland Center Stage is committed to identifying & interrupting instances of racism & all forms of oppression, through the principles of inclusion, diversity, equity, & accessibility (IDEA).