Origins & Inspirations for It's a Wonderful Life
Charles Dickens' A Christmas Carol
In February 1843, the English Parliament released a report on child labor. The report, which included three years of research and firsthand accounts of thousands of child laborers, sparked outrage in British society leading to the creation of several pivotal pieces of legislation. All of this inspired Charles Dickens, who had spent many of his young years in a Blacking factory, to pick up the pen. His original idea was to create a pamphlet that would extol the horrors of child labor titled "An Appeal to the People of England on Behalf of the Poor Man's Child" but decided instead that his form of protest needed a more human and touching element — something more personal than a pamphlet that would appeal to the humanity of the English people.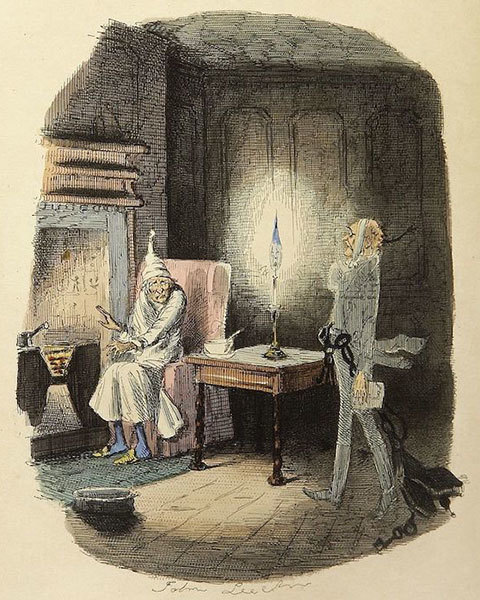 During this time, Dickens was at a turning point in his personal life. The success of his serial novel Martin Chuzzlewit was waning, his publishers were threatening to reduce his wages, and his family was growing. He began to write A Christmas Carol on October 7, 1843, and the manuscript was complete by the end of November. The novella hit the streets on December 19 and was met with universal praise. On June 9, 1870, the day that Dickens died, it is rumored that a woman said "Dickens dead? Then will Father Christmas die too?" Because of Carol and his four subsequent publications, which collectively became known as the Christmas Books, Dickens had solidified himself as the Founder of the Feast. Reaching across continents and oceans, A Christmas Carol became an instant success.
Soon after it was published, Dickens embarked on a public reading tour — bringing his literature to the illiterate, with audiences in England and America packing the houses in which he performed. It was not a simple, droning reading as we are now used to, but rather a performance of sorts, with the author taking on the voices, physicality, and traits of all the characters. Having been a long-time fan of the theater and a bit of a failed theater artist, he called on his theatrical experiences to craft an exciting and enchanting evening. This, perhaps more than anything, gave Carol the popularity and success it earned from the masses.
Success, however, would have to be its own reward, as the financial return from A Christmas Carol was next to nothing. This was Dickens' own fault. He insisted that the book be printed on lavish, gold-trimmed paper, bound in gold stamped coverings, and printed with colored illustrations and color-printed end pages — which he changed from red and green to red and blue two days before it hit the stands. By the next year, Carol had sold 15,000 copies, but Dickens had only made 726 pounds (less than $1,000 USD).
Philip Van Doren Stern's The Greatest Gift

A Christmas Carol has been adapted and retold in nearly every genre and medium — movies, television, animation, stage, books, and even in comics. One such, very loose, adaptation was a short story published in 1943 called The Greatest Gift by Philip Van Doren Stern. The story came to Van Doren Stern one morning in 1938 while he was shaving. Inspired by the novella style of A Christmas Carol and the fantastical elements within it, he said, "The idea came to me, complete, from start to finish — a most unusual occurrence, as any writer will tell you, for ordinarily a story has to be struggled with, changed around and mixed up." But the author, who had primarily been a historian and magazine editor, was new to fiction writing, and the first draft of it was — in his words — "pretty terrible."
"Fortunately, I knew it was, so I had the sense to put it away." It sat for a few years before he tried again, but he ended up with similar results. Eventually, in 1943, he tried again and created something he felt strongly enough about to share with his agent. His agent liked it but felt that it was unlikely that a fantasy story would be published in any magazine. Van Doren Stern insisted she try anyway and after being turned down by "everything from The Saturday Evening Post to farm journals," he decided to publish the story himself.
By Christmas of 1943, Van Doren Stern had 200 copies printed on his own dime and sent them out as Christmas cards to his friends, family, and other members of the community. His daughter, Margarite, who was in the 3rd grade at the time, recalled handing them out to teachers and friends from school. One copy, inexplicably, landed on the desk of RKO Pictures, and producer David Hempstead invited actor Cary Grant over to his house to read it. They were convinced that it would make a wonderful movie, and one day in March 1944 the Stern family phone rang. Margarite answered and, knowing that a Western Union operator calling usually meant bad news from the war front, she worriedly handed her father the phone. He fell over, yelling to his wife "Hold me up! I can't believe it!" The rights to The Greatest Gift had been sold to RKO Pictures for $10,000. After at least five drafts and two different writing teams, being sold to a new production company — director Frank Capra's newly-formed Liberty Films — and a new leading man in Jimmy Stewart, It's a Wonderful Life premiered in 1946.
Portland Center Stage is committed to identifying & interrupting instances of racism & all forms of oppression, through the principles of inclusion, diversity, equity, & accessibility (IDEA).