Guys and Dolls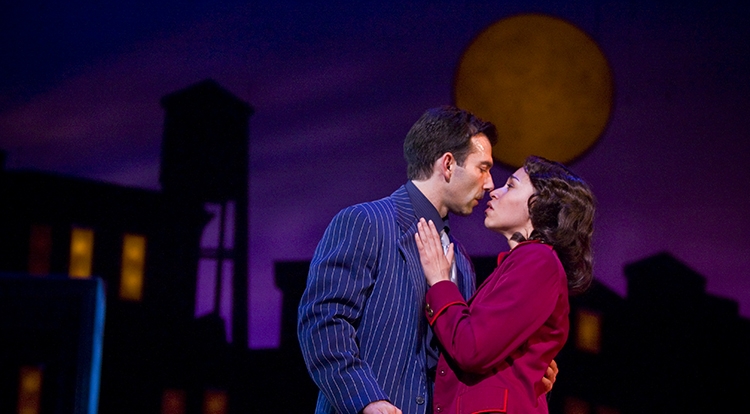 September 23 — November 2, 2008
On the U.S. Bank Main Stage
Based on a story and characters by Damon Runyan
Music and Lyrics by Frank Loesser
Book by Jo Swerling and Abe Burrows
Directed by Chris Coleman

Set in a Manhattan stuffed with petty criminals and semi-respectable cabaret performers, Guys and Dolls tells the tale of one Nathan Detroit, a guy who needs a venue for his "permanently established floating craps game." Nathan's best venue has just fallen through and he needs a chunk of change to underwrite an alternative option. For this he turns to Sky Masterson, a high roller who will bet on anything if the bet is fair and the stakes are high enough. Desperate for a sure thing, Nathan bets Sky that he can't get a date with Sarah Brown, the earnest proprietor of the Save-a-Soul mission.
Things don't quite go as planned, of course, though everything turns out just fine (as long as you consider two marriages, a trip to Havana, some saucy hot box numbers and a church mission turned into a gambling den to be "just fine"). Along the way you are treated to some of composer Frank Loesser's most memorable Broadway tunes, including "Adelaide's Lament," "I've Never Been in Love Before," and the show-stopping "Luck be a Lady."
Performance Times
Evenings: Tuesday - Sunday at 7:30 p.m.
Matinees: Saturday and Sundays at 2 p.m.,
Thursdays at noon
*Note: These are general performance times. Certain productions may have exceptions. View the season calendar for more information.
This show's run time will be posted below the synopsis at left near the date of the first performance.
Production blog
No related blog posts.