Renewing Your Season Tickets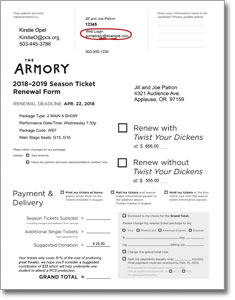 It's easier than ever to renew your season tickets online. For reference, have your season ticket renewal form handy. You should have received this in the mail along with a booklet announcing the 2018-2019 season.


Start by logging in to your account. Your subscriber WEB LOGIN can be found in the upper right corner of your season ticket renewal form (see example at right).
Once logged in, you can select the same season ticket package you've had this year, or choose a different series. When you complete your order, we'll send you a confirmation via email immediately, and your full season ticket packet will be sent to you in August.
---
Need help logging in?
Be sure to use the email address next to "Web Login" on your mailer. Only that login email will work, even if you have multiple emails on file with us.
If you have the right email, but can't remember your password, please click the login link and use the Forgot Password function.
If the space next to "Web Login" on your renewal form is blank, or if you have any questions or concerns, please contact your Patron Services Representative, whose phone number and email address are also on your renewal form.
Or you can call the box office at 503-445-3700, open daily noon – 6pm, and anyone can assist you.
Close
Dec

11

Tu

Available

Dec

12

We

Available

Dec

13

Th

Available

Dec

14

Fr

Available

Dec

18

Tu

Available

Dec

19

We

Available

Dec

21

Fr

Available

Dec

23

Su

A few seats
Dec

11

Tu

Available

Dec

12

We

Available

Dec

13

Th

A few seats

Dec

13

Th

Available

Dec

14

Fr

Available

Dec

19

We

Available

Dec

21

Fr

Available

Dec

23

Su

Available

Dec

28

Fr

Available

Dec

29

Sa

Available

Dec

29

Sa

Available

Dec

30

Su

Available
Performance Times
Evenings: Tuesdays – Sundays at 7:30 p.m.*
Matinees: Saturdays and Sundays at 2 p.m., Thursdays at noon*
Accessibility