Volunteer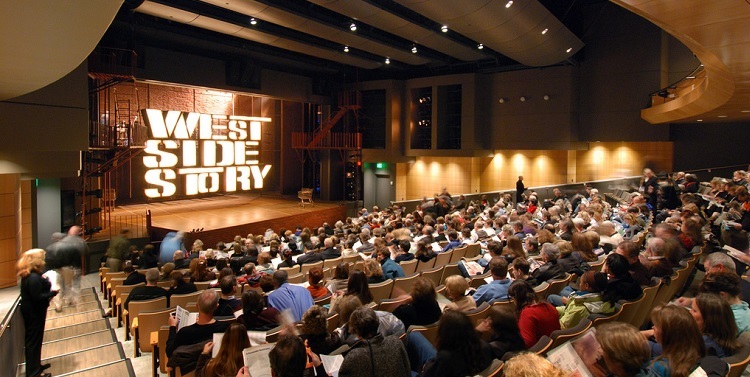 Portland Center Stage at The Armory's mission is to inspire our community by bringing stories to life in unexpected ways. We need your help in bringing these stories to life for our community. We're looking for friendly, outgoing and reliable volunteers to work with us in a variety of areas. If you love the arts and want to support great theater, we want to hear from you!
Benefits to volunteering at The Armory:
Invitations to attend some dress rehearsals for free
Experience working side-by-side with theater professionals
Access to special events and workshops
Student volunteers may be able to earn high school or college credit
Potential for your workplace to provide matching grants to The Armory based on your volunteer hours
---
Volunteer Opportunities
Ushers

Ushers are the face of Portland Center Stage at The Armory during performances. Ushers are responsible for scanning tickets, helping patrons find their assigned seats and handing out complimentary programs. As an usher, you will be part of the team that ensures that every patron has the best experience possible, and have the opportunity to watch the performance with the patrons.
Office Assistants
Office assistants provide clerical support for the staff, such as data entry, bulk mail preparation and other administrative projects as needed. Our office volunteers gain valuable first-hand experience working at a professional regional theater company.
Entertainer's Committee
Entertainers provide food and beverages for the cast, crew and staff at two separate events for each production: afternoon snacks at the "Meet and Greet" on the first day of rehearsal and a "Tech Dinner" prior to the evening dress rehearsal. Working as an entertainer not only provides the cast and crew with a great meal, it is also a wonderful opportunity to meet the amazing artists who bring our productions to life.
Supporting Cast
This volunteer group transports guest artists and designers to and from the airport, train station, local schools and other destinations as needed.
Armory Ambassadors
The Armory Ambassadors are docent tour guides who lead regularly scheduled tours (usually the first and third Saturday of the month) throughout The Armory for patrons of the theater, tourists and other interested parties.
---
Time Commitment: We understand that life is busy, which is why we offer a variety of opportunities that allow you to volunteer on a schedule that works for you.

---
Contact
Questions? RaChelle Schmidt at .