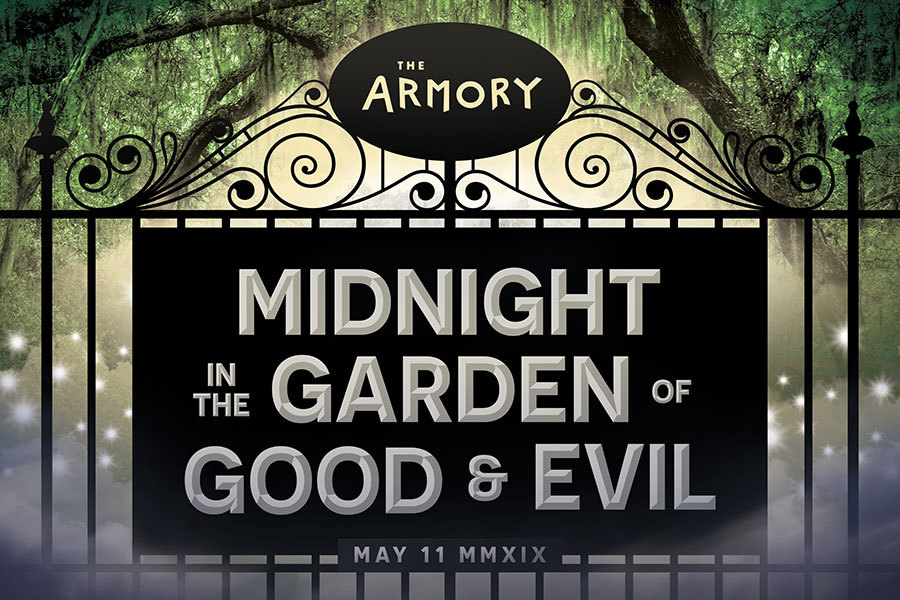 Portland Center Stage at The Armory 2019 Gala
May 11, 2019
This is not your typical gala. Portland Center Stage brings stories to life in unexpected ways, and our 2019 gala will transform The Armory into an atmospheric journey through Savannah's most famous and notorious landmarks.
---
5:30 p.m.
Arrive at the front door of The Armory for check in and find yourself in Savannah Park. Come early to discover the many secrets of the garden. A map and friendly local docents, including The Sisters of Perpetual Indulgence will guide your adventure:

Sit in the park savoring mint juleps and hors d'oeuvres.
Drop by the Pirates House Tavern, made famous by Robert Louis Stevenson's book Treasure Island for some specialty rum-infused libations.
6:00 p.m.
Explore the mystical destinations throughout The Armory.
You won't want to miss the Coca-Cola-glazed ham on mini homemade biscuits and the crispy fried chicken bits while you test your knowledge of Savannah party etiquette in the opulent Mercer House on the Alan J. Beard Mezzanine.
Join the Jim Williams Holiday Party on the third floor, Savannah's annual A-list event with Brandy Milk Punch and Jim's renowned buffet.
Check out the scene and premium pours at Joe's Whiskey Club in the Julie S. Vigeland Rehearsal Hall.
Pay your respects — bourbon in hand — at Billy's grave on the gallery floor level, a quiet refuge amidst the bustle of Savannah.
Have your picture taken with Poison Waters, Darcelle XV, and other local celebrities down deep in Savannah's lower street where you'll find Lady Chablis' Lounge in what was once the Ellyn Bye Studio lobby. Lady Chablis insists on a gin cocktail, old-fashioned Mac & Cheese Squares and lots of deviled eggs in her lounge.
8:00 p.m.
Congregate for the main event: a lively auction in the U.S. Bank Main Stage hosted by Poison Waters and peppered with theatrical entertainment and surprises.
New this year: Reserved seating so you can be with your friends!
9:30 p.m.
Dance the evening away at the after-party in the garden with DJ Eric Wright of All Wright Music, while indulging in champagne and ice cream.
New this year: The after-party will be open to additional community members to increase the fun and reach a broad range of The Armory supporters.

Dress: Southern elegance, provocative glamour (naughty or nice?)
Ample seating and staffed elevators will provide easy accessibility for all.

---
Admission into the Garden: $500*
Contact Jack Ridenour at jackr@pcs.org or 503-445-3744 for more information
*Fair-market value $250
---