Thank you for your support! Our gala was a success!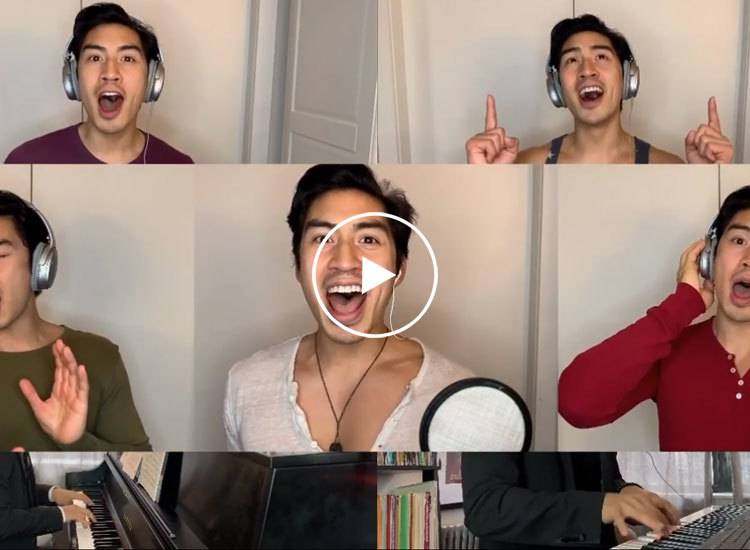 We were absolutely thrilled to feature Broadway star Devin Ilaw at our virtual gala on May 9. For those who missed his performance, or are dying to watch it again and again, here is the dazzling video he created with the help of Gabriel Demartine. It features two songs from Hair, "I Got Life" and "Let the Sunshine In."
Watch Video
If you weren't able to attend and would still like to support Portland Center Stage, all donations are greatly appreciated. Your support is incredibly meaningful to us.
I can can-can; can you can-can?
Just because the Gala is over, that's no reason to stop the party at home! Check our our ultimate gala-shaking playlist, then share your dance moves on social media using #pcsgala and #pcsproud!
The greatest thing
You'll ever learn
Is just to love
And be loved
In return

–Lyrics to Nature Boy by eden ahbez, as performed by John Leguizamo, Ewan McGregor and others for Baz Luhrman's Moulin Rouge!
---
Special Thanks to our Honorary Co-Chairs and Gala Sponsors

Honorary Co-Chairs
Linda & Scott Andrews
Mary & Tim Boyle
Satine's Sparkling Diamonds
Glenn Dahl & Linda Illig
Pat & Trudy Ritz
Toulouse-Lautrec's Bohemians
Linda & Scott Andrews
Sharon & Keith Barnes
Cynthia Fuhrman
Tasca & Paul Gulick
Jim & Morley Knoll
Cindy & Keith Larson
CTA Labs
The Standard
US Bank
Contact Jack Ridenour at or 503-445-3744 for more information