The Body of an American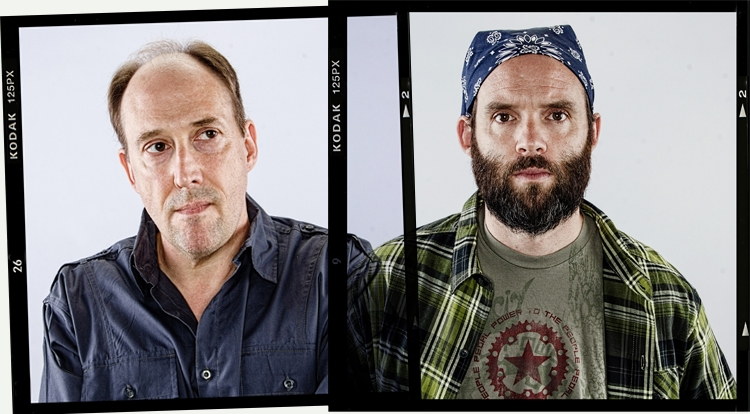 October 2 — November 4
In the Ellyn Bye Studio
By Dan O'Brien
Directed by Bill Rauch
Inspired in part by the book Where War Lives by Paul Watson

World Premiere
War reporter Paul Watson has witnessed some of the most devastating scenes in modern history, and created perhaps the most disturbing image of modern warfare: the photograph of a dead American soldier being dragged through the streets of Mogadishu. As the ghosts of the tragedies he's recorded bear down on him, his story catches the attention of playwright Dan O'Brien, who's battling ghosts of his own. In locations as varied as Kabul, Los Angeles and the Canadian High Arctic, the two men form a tentative friendship in a quest for absolution. The Body of an American is the story of their relationship, and the roles each take in helping the other process the responsibilities, and the damages, of bearing witness.

The Body of an American was a highlight at JAW in 2011; PCS is pleased to welcome Oregon Shakespeare Festival Artistic Director Bill Rauch for his first show here, part of our 25th Anniversary celebration.
Performance times:
Tuesday - Sunday evenings at 7:30 p.m
Saturday and Sunday matinees at 2 p.m.
Thursday matinees at noon

A full list of performances and dates will appear when you enter the ticketing section of the website.

The Body of an American runs approximately two hours and 30 minutes with one intermission.

View the cast and creative team bios.

View the playbill for The Body of an American.

Learn more about accessibility options at PCS.

Reviews and Features
Marty Hughley | The Oregonian [Review 10 Oct 2012]
Dan O'Brien's play "The Body of an American," in its world premiere by Portland Center Stage, is a story of war and war reportage, inspired by the experiences of Paul Watson, who won a Pulitzer Prize for a photo of a dead U.S. Army Ranger in the 1993 Battle of Mogadishu. Its strength—in many ways, but not all—is that it deals less with battlefield maneuvers and casualties than with wars within, the fight each of us in some way wages against private hurts and fears and alienation.
Given a spare yet fluidly theatrical production by Bill Rauch, the play recounts some of Watson's journalistic exploits in Somalia, Rwanda, Bosnia, et al, but mostly tracks the fits and starts of the creative collaboration between Watson and O'Brien. William Salyers as Paul and Danny Wolohan as Dan each reveal subtle layers of discomfort, worry and sadness beneath adventure-man exteriors, even as both actors also shift in and out of numerous other roles, sometimes both portraying the same character in a given scene. Stark yet striking design work by James Ingalls (lighting), Eamonn Farrell (sound and projections) and Casi Pacilio (sound) vividly evoke a variety of places and moods.

read more
Barry Johnson | Oregon Arts Watch [Review 10 Oct 2012]
A couple of years ago, David Shields wrote a book called "Reality Hunger: A Manifesto." Some of it aggravated me quite a bit, especially when he insisted that "Hamlet" should be reduced to the soliloquies. Nonetheless, even a couple of years ago, I could tell he was onto something, because the explosion of memoirs, a manifestation of reality hunger, had already begun.
And it has continued, this desire for the real deal, the truth, subjective as it is. In these precincts we need only mention Cheryl Strayed's "Wild" and Lidia Yuknavitch's "The Chronology of Water," yes? Especially "Wild," Strayed's account of her hike along the Pacific Crest Trail, which was #1 for several weeks on the NYT's best-seller list?
But this is actually a review of Portland Center Stage's world premiere of Dan O'Brien's "The Body of an American," which opened over the weekend at Portland Center Stage, starring (and I do mean starring) Danny Wolohan and William Salyers, an interesting entanglement of memoir and biography brought to the stage. We've seen performance memoirs before, from Spalding Gray to Mike Daisey, not to mention "memory plays" and autobiographical plays, "The Body of an American" is different in my experience: more explicitly memoir than the memory plays, more theatrical (in the traditional sense) than Gray or Daisey.
read more
Join the conversation! We invite you to share your comments with us on our Facebook page.
Production blog

Accessibility