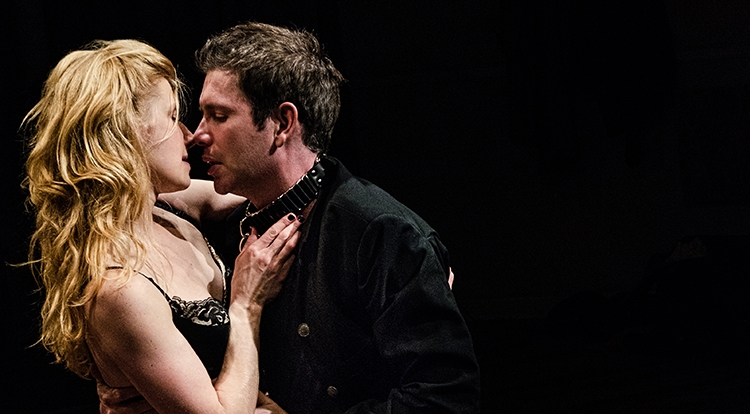 January 29 — March 10
In the Ellyn Bye Studio
By David Ives
Directed by Nancy Keystone

"Wickedly entertaining…one of the theater season's most remarkable performances." —The Oregonian
When a young actress shows up hours late for her appointment, she knows she may have blown her chances at the role. But when her emotionally charged audition for the demanding playwright/director becomes an electrifying game of cat and mouse that blurs the lines between fantasy and reality, seduction and power, love and sex—well, the rules may have all just changed.

Nominated this season for the Tony Award for Best Play.
Performance times:
Tuesday - Sunday evenings at 7:30 p.m
Saturday and Sunday matinees at 2 p.m.
Thursday matinees at noon
A full list of performances and dates will appear when you enter the ticketing section of the website.

The running time for Venus in Fur is one hour and 50 minutes, with no intermission.

View the cast and creative team bios.

View the playbill for Venus in Fur.

Learn more about accessibility options at PCS.

Reviews and Features
Marty Hughley | The Oregonian [Review 19 Feb 2013]
"We're looking for somebody a little different," says Thomas, a writer/director, anxious to end an audition by an actress who seems to exemplify the undesirable qualities he's been seeing all day. But he finds out soon enough just how different this late-arriving actress, Vanda, really is, as reading and role playing turn into a tense, erotically charged game.

A Tony nominee from its 2011 Broadway run, David Ives' "Venus in Fur" plumbs sexual and psychological (and, for that matter, theatrical) power dynamics with devilish wit and intelligence.
But however sharp the writing, the play depends heavily on its two actors, in particular the woman playing Vanda. In the wickedly entertaining production that opened Friday at Portland Center Stage, directed by Nancy Keystone, willowy blonde Ginny Myers Lee's Vanda is mercury in a leather mini. Continually shifting personas, accents, moods, expressions and apparent (and not-so-apparent) intentions, she's a marvel of plasticity—off-putting, intriguing and alluring, first by turns, then somehow all at once. It's one of the theater season's most remarkable performances.

read more
Gigi Little | Ut Omnia Bene Blog [Review 19 Feb 2013]
When I told Stephen I was getting tickets to the Portland Center Stage production of Venus in Fur, he said, "I hope it's not so sexy it embarrasses me."
I hadn't thought about that. I'd just heard that Venus in Fur is a play about a playwright / director who's auditioning actresses for his own play Venus in Fur, based on the nineteenth century novel Venus in Furs (notice the s) by Leopold von Sacher-Masoch. That sounded innocent enough. Then, working, as I do, at Powell's, I decided to make a see-the-play-read-the-book shelf tag to post along with copies of the novel in the stores, and I looked up which section the book is kept in.
Erotica.
So: yipe. Sexy embarrasses me when I'm all by myself - I hated to think about what it would do to my wussy self in public.
Come Saturday night, Stephen and I were two prudes off for a night of saucy theater - but the play about the play about the novel that gave masochism its name turned out to be a smart, funny and fascinating study on the subject of power.
Yes, it was also sexy.
read more
Join the conversation! We invite you to share your comments with us on our Facebook page.
Production blog

Accessibility