"Astoria" Marathon Day Happy Hours
Posted 18 December 2017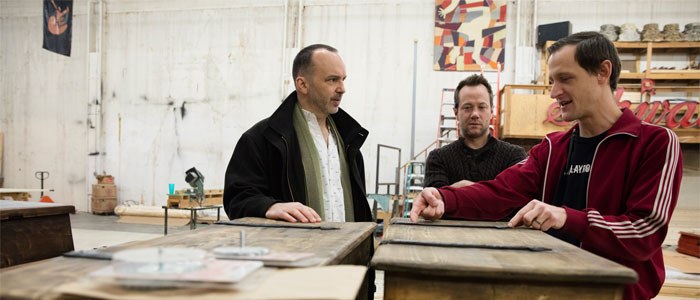 On select dates in February, we're featuring marathon presentations of Astoria: Part One and Astoria: Part Two back to back. In between shows on these marathon days, we're showcasing the artisans who helped create this elaborate production. Our props department will be featured on February 11 and our costume department will be featured on February 17. This is your chance to see their work up close and learn how they created what you see on stage. Free, no reservations required.
Stick around between the shows and enjoy some Northwest-inspired cuisine at The Armory Cafe. February's dinner special features baked Northwest Salmon with wild rice and roasted zucchini and squash. The appetizer special is mini baked clam dip.
Props Department

Sunday, Feb. 11 | 6:00 - 7:30 p.m.

From firearms to trunks, from canoe paddles to period knapsacks, our props department had the props for the show built from the first day of rehearsal, allowing the creative team to incorporate them into the staging process. Meet the team that made it happen.

Featuring music by the UkeLadies.

Costume Department

Saturday, Feb. 17 | 6:00 - 7:30 p.m.

Among the many costume pieces required for the production were eleven period coats that were built from scratch, each requiring 60-80 hours of work. The coats will be on stage, but come meet some of the incredibly talented artisans that built them.

Featuring music by Trashcan Joe.
Use either the code UKELADIES or TRASHCAN, good for $10 off tickets for the run of Astoria: Part Two.

*Promotional code valid on seating areas 1-3 only. Not valid on previously purchased tickets, student tickets or in combination with other discounts. Subject to availability.
---
Attend this event for 250 points on PlayMaker! Look for a loyalty code to enter on PlayMaker to redeem your points. Sign up or sign in at pcsplaymaker.org.
---
Don't miss Astoria: Part One.
Running January 13 to February 17 on the U.S. Bank Main Stage.
---
Don't miss Astoria: Part Two.
Running January 20 to February 18 on the U.S. Bank Main Stage.
Feb

11

Su

Sold out

Sold out

Feb

15

Th

Available

Feb

17

Sa

Available
---
Feb

03

Sa

A few seats

Feb

04

Su

Available

Feb

06

Tu

A few seats

Feb

07

We

A few seats

Feb

08

Th

Sold out

Sold out

Feb

09

Fr

Sold out

Sold out

Feb

10

Sa

A few seats
Accessibility