Playwriting Classes
Posted 19 December 2017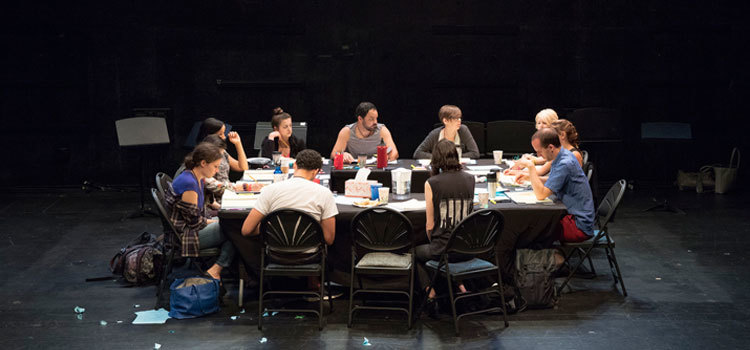 Playwriting Toolbox
Designed as an intro for the beginner or as a brush-up for the seasoned writer, this course focuses heavily on tools that will spark ideas on both what and how to write. Writer's block will never again be an excuse as numerous prompts and techniques get introduced to keep the pen flowing and the key-strokes going. Each writer will end this course with a minimum of three ten-minute plays. They will also walk out with a notebook of exercises for future reference.
June 2, 9, 23 and 30
10 a.m. - 1 p.m.
About Matthew B. Zrebski
| | |
| --- | --- |
| | Matthew B. Zrebski is a founding member of Playwrights West and has had numerous original plays produced locally and nationally. As The Armory's Resident Teaching Artist, Matt serves as lead instructor for the Visions & Voices high school residency program and frequently leads adult playwriting workshops. He is a two-time recipient of the Rosenfield Playwriting award and has won Drammy Awards for his scripts To Cape and Ablaze: an a cappella musical thriller. He has been a guest instructor for Portland Actors Conservatory and Literary Arts' Writers in the Schools program. He holds a BFA in Acting, Directing, and Playwriting from Southern Methodist University. |
What Other People Are Saying...
"The feeling of being creative in a safe environment: Matt did that perfectly, he has a great sense of humor and excellent student rapport. Whether we were experienced or not, it felt like the needs of each students' level could be met. It was nice to focus on playwriting in a space that produces players and sponsors and nourishes creativity. It's energy is in the walls!" - Playwriting Toolbox Participant
---
FAQs
What to Bring
Class participants will receive a welcome/introductory email the Wednesday before their class providing specific details of what to bring to class. Class participants are always welcome to bring bottled water, and coffee or other beverages with a lid are also permitted. Please ensure cell phones and other noise-making devises are placed on "Silent Mode" or Off during class hours. There is no need to bring a printed copy of your ticket.
Refunds and Exchange Policy
The Armory does not offer refunds on purchased class registrations; all sales are final. Class exchanges can be made within 24 hour notice prior to the first class meeting. In rare circumstances when a class may be cancelled (due to extreme weather, artist absence or other unavoidable situations) we will offer refunds or replacement registration for a future class.
Click here to Learn more about our weather policy.
Arts for All
The Armory is proud to participate in Portland's Arts for All program. This means those Oregonians receiving SNAP benefits or with an Oregon Trail Card can receive discounted tickets to Community Events and Classes, available in person at the Box Office. Please have your Oregon Trail Card with you at time of purchase.
Getting Here
The Armory is located at 128 NW Eleventh Avenue in the Pearl District of Portland, Oregon. We're exactly one block north of Powell's Books, between Couch and Davis.
Bus: The Armory is located in the heart of the Pearl District on NW Eleventh Avenue and Davis Street, just a short walk from most bus lines.
MAX: From the eastbound train, get off at the 9th Avenue/Library stop. From the westbound train, get off at the Tenth Avenue/SW Morrison Street stop. Walk to Tenth Avenue and turn right, follow Tenth Avenue to Davis (approx. 6 blocks) and turn right to corner of Eleventh Avenue or Walk to corner of Tenth and Yamhill and board the Portland Streetcar, get off at Couch Street stop and walk to corner of Eleventh Avenue and Davis Street.
Streetcar: The Armory is also conveniently located directly on the streetcar line. The Portland Streetcar runs on Tenth Avenue (to NW 23rd) and on Eleventh Avenue (to Portland State University) and stops on the corner of NW Couch Street respectively. The entrance to The Armory is on the corner of NW Eleventh and Davis (one block north of Couch).
For complete transit directions from your location use the trip planner at www.trimet.org.
Accessibility
The Armory is committed to making our facilities accessible to all of our patrons. For specific program questions and ticket information, or if you need assistance, please contact the Education Department at 503-445-3795 or email us at education@pcs.org.
Parking
The Pearl features 2-hour metered on-street parking around The Armory, from 8 a.m. - 7 p.m. Monday-Saturday and 1 p.m. - 7 p.m. on Sunday.
For a parking garage, we recommend The Brewery Blocks/Whole Foods Underground Parking Garage. It is the largest lot in Portland and it is located one block from The Armory. It's a well-lit, security-patrolled underground garage that houses 1,300 parking spaces. There are two entrances to this lot: NW Twelfth Avenue or NW Thirteenth Avenue, between Couch and Davis Streets. The elevators take you into the M Financial Building lobby (just around the corner from the Armory) or into Whole Foods on the corner of Couch and NW Twelfth Avenue.
Other questions?
If you have any additional concerns or questions, please contact the Education Department at 503-445-3795 or email us at education@pcs.org.