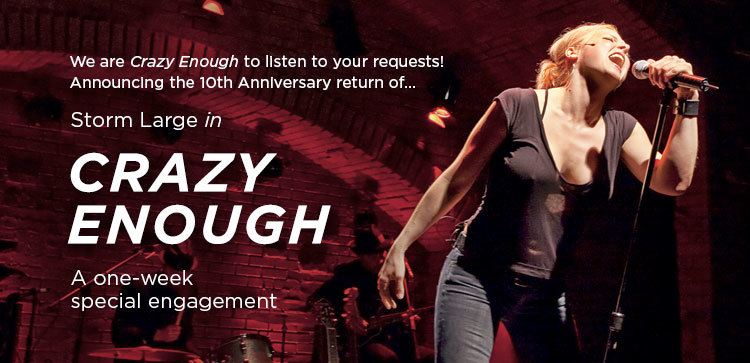 June 25 — 30, 2019
U.S. Bank Main Stage
Storm Large returns for only eight performances!
Crazy Enough became one of the biggest hits in the history of Portland Center Stage at The Armory when it played a record sold-out, 21-week run in 2009. It will return in 2019 for a special 10th anniversary engagement.

GET TICKETS to Crazy Enough before the general public!
A special private sale is happening now and is ONLY open to 2018-2019 season ticket holders. For eligibility, purchase or renew your season tickets today.
About the Private Sale: When you purchase 2018-2019 season tickets, you will receive an email receipt with a top secret code to buy tickets to Crazy Enough. If you do not receive the code, simply call the box office to get it. Ticket prices for Crazy Enough range from $85-$150, with prices varying based on seating area and date/time of performance. The box office is open from noon to 6 p.m. for season ticket holders who prefer to order tickets over the phone or in person. The box office number is 503-445-3700.
Renew Your Season Tickets
Buy New Season Tickets
"An empowering look at how one woman has managed, despite repeated heartaches and screw-ups, to stay aware of the preciousness of life." – The Oregonian
Please Note: Crazy Enough is a limited premier engagement outside of the regular 2018-2019 season. Special pricing will apply and vouchers, promotional codes, and discounts will not be accepted.
Photo: Owen Carey
Close
Dec

16

Su

A few seats

Dec

16

Su

Available

Dec

18

Tu

Available

Dec

19

We

Available

Dec

21

Fr

A few seats

Dec

22

Sa

A few seats

Dec

22

Sa

A few seats

Dec

23

Su

A few seats
Dec

16

Su

Available

Dec

19

We

Available

Dec

21

Fr

Available

Dec

22

Sa

Available

Dec

22

Sa

Available

Dec

23

Su

A few seats

Dec

28

Fr

Available

Dec

29

Sa

Available

Dec

29

Sa

Available

Dec

30

Su

Available
Performance Times
Evenings: Tuesdays – Sundays at 7:30 p.m.*
Matinees: Saturdays and Sundays at 2 p.m., Thursdays at noon*
Accessibility