The Second City's A Christmas Carol: Twist Your Dickens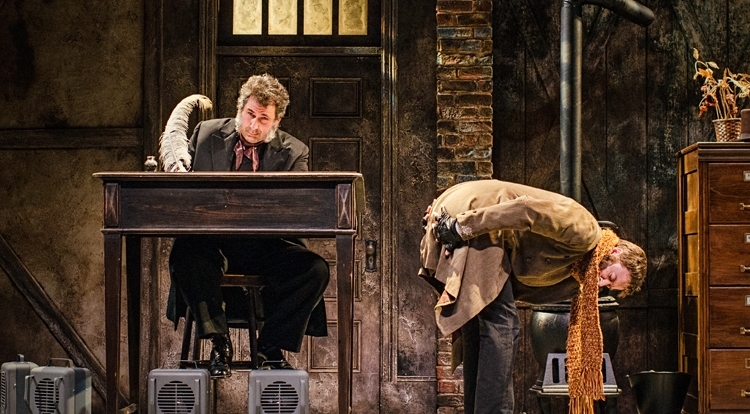 December 9 – 31, 2015
On the U.S. Bank Main Stage
A complete send-up of the holiday classic, this adult comedy is adorned with the improvisational genius of the legendary comedy troupe The Second City, and includes zany holiday sketches, an ever-changing list of drop-in local celebrities and uproarious improv based on audience participation— it's never the same show twice!
(Recommended for high school age and up.)
Run Time:
Approximately 1 hour and 50 minutes, including one intermission.
General Performance Times:
Evenings: Tuesday - Sunday at 7:30 p.m.
Matinees: Saturday and Sundays at 2 p.m.
Special showings: Thursday, Dec. 17 at noon and Thursday, Dec. 24 at 2 p.m.
View the season calendar.
Who's Who:
View the cast and creative team bios.
Playbill:
Explore the Playbill.
Note:
Twist Your Dickens is recommended for ages 14+. Contains mature content, explicit language, theatrical haze, strobe lighting, the use of one tobacco-free vapor e-cigarette and a Dalek on a conquest for universal extermination. Children under 6 are not permitted at any PCS production.
Better Than Ever
"There are plenty of wholesome choices for holiday entertainment. And then there's Twist Your Dickens ... this irreverent and hilarious adult version of this holiday favorite is back (and it's better than ever) ... If you need a laugh break (and who doesn't?), grab a date and a drink and check out Twist Your Dickens. The boisterous people behind me thought it was the funniest play they'd ever seen. Who am I to argue?" -BroadwayWorld
Full-of-surprises Holiday Sketch Spoof
"A brainchild of Chicago's world-famous improv brand The Second City, Twist uses the Dickens narrative as a very loose framework, but between the familiar Victorian hauntings, it also spoofs as many other Christmas classics as it can. ... Twist comes at humor from so many angles, with such irreverence and zeal, your amusement is practically guaranteed." -Oregon ArtsWatch
It Will Make You Laugh! A Lot!
"Twist Your Dickens lovingly lampoons all of the Christmas traditions we hold so dear. Unlike every other Christmas story ever told, Twist Your Dickens does not aim to reveal the true meaning of Christmas. But it will make you laugh! A lot! ... I saw and loved this show last year, and this year it was even better." -BroadwayWorld
Don't Miss Twist
"If you love adult comedy and a lot of laughs, you must get to Portland Center Stage ... The fact that you can see talent from The Second City here in Portland is worth the trip in and of itself. The adult comedy Twist Your Dickens is a complete send-up of the holiday classic featuring the improvisational genius of the legendary The Second City. Hilarity at its best. I laughed the whole time, as did most of the audience." -Merlot Mommy
Wit and Invention
"Part sketch comedy, part improv, part genre satire, the show was written by alums from 'The Colbert Report' and developed by Chicago's famed Second City troupe, the launching pad for countless 'Saturday Night Live' stars ... the play's most novel feature is its use of audience participation ... the fun was watching the cast spin and riff off the suggestions, energizing each other with their wit and invention." -PQ Monthly
Fun for the Whole Family
"Second City brings something fresh to the tired holiday fare in Portland. With pop culture humor aimed at a younger audience, the show is amusing for the whole family (excluding your snarky older sibling who's used to edgier sketch comedy), no matter the tangential structure. Come with an open mind, and don't take yourself too seriously. After all, look where that gets Scrooge." -Portland Monthly
Cast is Very Funny
"Twist Your Dickens is not a straight-up parody of Dickens' morality play, for which we should all thank PCS. Instead, writers Bobby Mort and Peter Gwinn (previously of The Colbert Report) have concocted a skeletal narrative framework around which the cast improvises, which means every performance of Twist Your Dickens will be slightly different. Its Chicago/Portland-based cast is very funny, and the show's improvised segments are its best. There's even some mild audience participation that, miraculously, works, plus an adorably cartoonish Grim Reaper. (You heard it here first!)" -Portland Mercury
A Wild Ride
"I can't say any more about Twist Your Dickens because I want you to discover its surprises as happily as I did. But I will make one recommendation: In the lobby of the theatre there is a booth where you are going to be asked to write your biggest misdeed on a piece of red or green paper. This may seem like an odd request, but trust me - you want to participate. Whatever you write on that paper might just end up being part of the show. The night I saw Twist Your Dickens, the funniest running gag arrived that way, and I wish I could shake the hand of the person who wrote it. And that's the great thing about improv." -BroadwayWorld