Basic Rights Oregon presents "Front & Center 2019"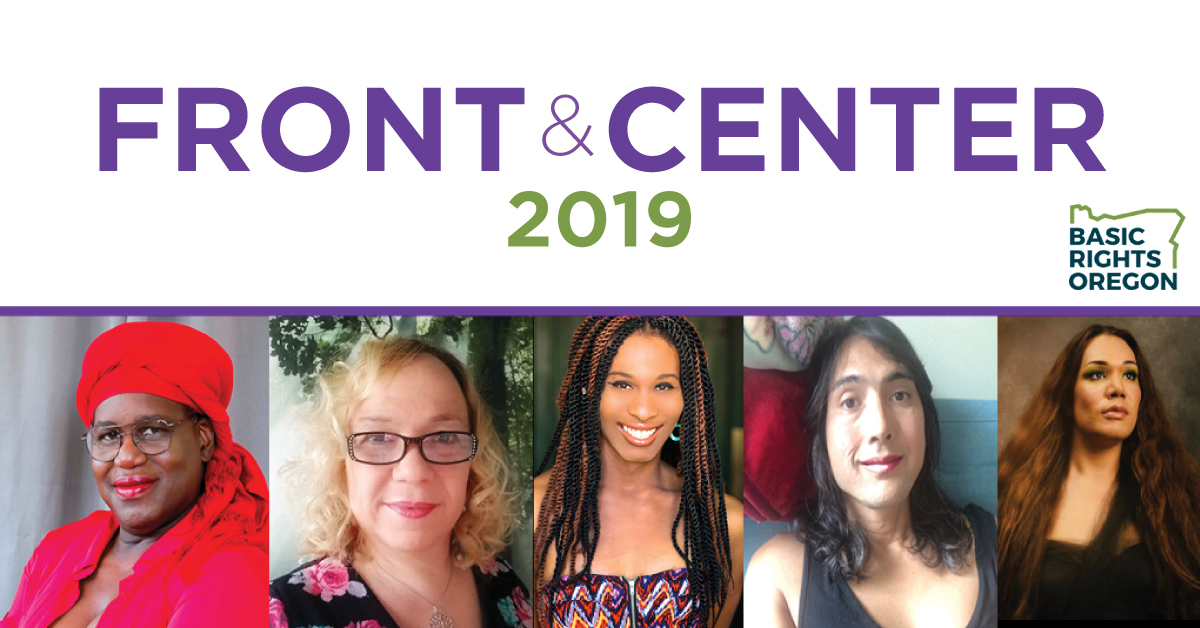 Event Details
Wednesday, August 7, 2019
7 p.m. – 9 p.m.
Ellyn Bye Studio
Join us for the Basic Rights Oregon (BRO) annual Front And Center showcase of Oregon's talented transgender artists of color. Come hear directly from these skilled storytellers, performance artists, dancers, and singers about what drives their passion and experiences. All proceeds from the evening fund the racial justice and transgender justice programs at Basic Rights Oregon.
This event is ADA accessible.
If you are a ticketed guest attending this event and have a disability that may require some accommodation in order to participate, please notify Basic Rights Oregon at 503-222-6151 extension 118 or email iden@basicrights.org as soon as possible.
Tickets are $20 in advance and $25 at the door, but no one will be turned away for lack of funds.

FEATURED GUESTS:
Lady Dane Figueroa Edidi
Dubbed the Ancient Jazz Priestess of Mother Africa, Lady Dane Figueroa Edidi is a Nigerian, Cuban, Indigenous, American Performance Artist, Author, Teacher, Choreographer, Oracular Consultant, Spiritual Life Coach, Priestess, Speech Writer, Writing Coach, Advocate, Healer, a Founding Member of Force Collision, and a 2x Helen Hayes Award Nominee (2016, 2018). She is also the founder of The Inanna D Initiatives, which curates, produces and cultivates events and initiatives designed to center and celebrate the work of TGNC Artist of Color. Currently, she is co-editor of the Black Trans Prayer Book. Additionally, she is the first Trans woman of color to be nominated for a Helen Hayes Award (2016).
Cassandra Brighter
Writer, public speaker, trans advocate, mother, activist and artist who has spoken at a number of conferences in addition to doing standup comedy and spoken word. Cassandra was born in Argentina, and her family migrated to the U.S. when she was a teen.
Christina Leilani Gabriel
A storyteller, a singer, a songwriter, and a performing artist. She's from the Pacific Islands, and the West Coast of the U.S. She's transgender, a family elder with her own children, and honors her citizenship. Her experiences shine through her music, and her intention is to create an atmosphere for all our ears to enjoy the expansion our awareness and consciousness of the life surrounding us.
 
Tatiana Kaʻuhane
Tatiana is from the beautiful islands of Hawaiʻi but she resides in Portland, Oregon. She is a Hawaiian culture/rights activist and also a transgender rights activist. She is a trans woman and the most important identity she holds is the identity of being an indigenous native Hawaiian.
 
Geeta Lewis
Queer, Trans Woman of Color, a visual artist, writer and storyteller. Her Oregon adventure began on the couch of a friend of a friend in 2006. She eventually made her way to Portland in 2015, where she's actively served within the LGBTQ community to help build a more equitable world.
---
About Basic Rights Oregon

Basic Rights Oregon ensures that all lesbian, gay, bisexual, transgender, and queer Oregonians experience equality by building a broad and inclusive politically powerful movement, shifting public opinion, and achieving policy victories.
---
Don't miss In the Heights 

Running August 31 to October 13 on the U.S. Bank Main Stage
Use promo code OUTFRONT for $10 off tickets!*
Buy Tickets for In the Heights
*Not valid on Area 4 seating, student tickets, special engagements or with other discounts. Subject to availability. If you need assistance, please call the box office at 503-445-3700.