Black Futures Ball: Presented by Mother and House of Olivier
Event Details
Sunday, February 23, 2020
8 p.m.
Main Lobby
Join us as we host the Black Futures Ball in our Main Lobby as part of Black History Month programming. The Ball will feature seven categories celebrating Black excellence and the Portland Ballroom community at large. Judges will be in attendance to award cash prizes for all categories and there will be a live DJ set by Father Fannie.
The first three categories of the Black Futures Ball will be Face, Future Fashion, and Mic Drop (see details below) and will feature only Black participants, while Runway, Old Way Vogue and Vogue Femme are open to all. All categories will have cash prizes!
Anyone who wants to walk but is not affiliated with a House, you're welcome to walk but would first need to register as a participant when you arrive the night of the show.
Categories include all of the following:
BUTCH AND FEMME FACE
2 Winners will be selected. Participants are Black only.
Incorporating natural skin, ancestral paints, or however each participant interprets the concept of the "true face".
BLACK FUTURE FASHION
Participants are Black only.
Incorporating Couture, street wear, and any fashion or outfit you envision for the year 2420 in the future.
MIC DROP
Participants are Black only.
Series of head-to-head one-minute battles. Participants are encouraged to bring a poem, freestyle, or short written song verse (acapella only).
RUNWAY
Open to all participants.
Participants are given a chance to walk the runway and exhibit dynamic outfits and accessories.
OLD WAY
Open to all participants.
Dedicated to the foundations of Vogue, all participants are encouraged to show how they honor the fundamental concepts and rich style and culture of the Ball community.
VOGUE FEMME
Open to all participants.
Final battle of the night. Everyone is encouraged to incorporate all five elements of Vogue Femme. Props encouraged.
For questions about the event, please contact: TheHouseOfOlivier@gmail.com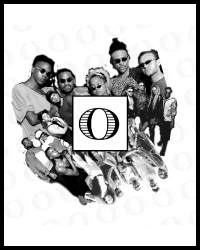 About House of Olivier
The House of Olivier is Portland's First All-Black Kiki House. As part of PDX's ballroom scene, we contribute the legacy of Black Queer, Non-Binary & Trans artist that have made this scene a global phenomenon while honoring local Black culture. Founded by David Debris Grandfield, a longtime civil servant to the City of Portland, The House of Olivier has won trophies in multiple states & serves as pillars to various club nights & art spaces.