Carla Rossi presents Rock Divas: A Drag Tribute to Hedwig
Event Details
Sunday, January 26, 2020
7:30 p.m. – 10 p.m.
Ellyn Bye Studio
Join us as we celebrate our production of Hedwig and the Angry Inch with Portland's premier drag clown Carla Rossi (Anthony Hudson) and friends. The Portland drag all-stars will pay tribute to Hedwig and the legendary rock divas that young Hansel grew up listening to in East Berlin: "Here's to Patti, and Tina, and Yoko, Aretha, and Nona, and Nico, and me!"
Featuring performances by Portland drag all-stars:

PEPPER PEPPER
VERA MYSTERIA
CLARE APPARENTLY & MARS
RITA LYNN
KOURTNI CAPREE
LIBERACE & LIZA
& MORE
$5 + tipping is highly encouraged!

This event is all ages, but does contain some language and adult themes. Parental discretion advised.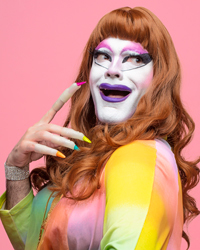 About Anthony Hudson / Carla Rossi
ANTHONY HUDSON (Confederated Tribes of Grand Ronde) is a multidisciplinary artist, writer, performer, and filmmaker perhaps best known as Portland, Oregon's premier drag clown CARLA ROSSI, an immortal trickster whose attempts at realness almost always result in fantastic failure. Anthony & Carla host and program Queer Horror bimonthly at the historic Hollywood Theatre. In 2018, Anthony was named a National Artist Fellow by the Native Arts and Cultures Foundation, a Native Launchpad artist by the Western Arts Alliance, and an Individual Artist Fellow by the Oregon Arts Commission in 2019. Anthony's first professionally-produced theatrical play, Looking for Tiger Lily, will make its world premiere with Artists Repertory Theatre in May 2020 in the Ellyn Bye studio at the Armory. Find out more at TheCarlaRossi.com.