Fringe Fashion Show and Photo Exhibit
Event Details
Saturday, July 27, 2019
3 p.m. – 4 p.m.
Main Lobby
Join us as we celebrate The Big Weekend of JAW with a pop-up fashion and runway show with the Portland-based, print magazine and inclusive fashion crew known as Fringe. Featuring unconventional designers showcasing their stunning collections on a diverse group of models that from all Portland communities, cultures and surrounding areas. 
There will also be a photo exhibit by Fringe photographer Tom Lupton on the Gallery Level.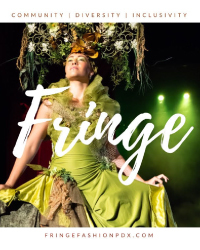 About Fringe
Fringe was borne from a single spark of inspiration between two creative soulmates. Designer Sloane White and photographer Tom Lupton recognized a need for a completely inclusive fashion show in Portland. They quickly assembled a team of other creatives and from there, the spark ignited into a wildfire of ideas.
Fringe features unconventional designers showcasing their stunning collections on the most diverse group of models that represent every aspect of our fair city. In addition to mind-blowing fashion presentations, the Fringe team will be launching a digital and print magazine, adhering to their mission of inclusivity and, to featuring in-depth interviews with other creatives in our city who share their ethics and values, and creating a foundation to give back even further to our community.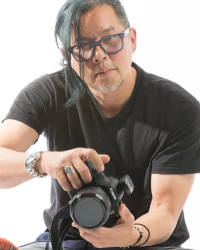 Meet Tom Lupton
Tom Lupton is a Filipino/American photographic artist who has called Portland home for about half his life. Tom is known more widely for his fashion editorial work, which has been featured in numerous fashion magazines, and garnered him a nomination for fashion photographer of the year. His love for theatrical, emotion-filled subjects also finds its way into everything he does - music videos, fashion editorials and shows, portraits, and album covers.
The Fringe exhibit runs from July 26-August 26, 2019. Open 10:00 AM to close every day.