Pre-show Happy Hour with Ghana Association of Oregon
Event Details
Sunday, January 19, 2020
6:30 p.m. – 7:15 p.m.
Alan J. Beard Mezzanine
Join us for pre-show reception with the Ghana Association of Oregon. The event will include a welcome by GHASO President Wentemi Kante, live music by Ghanaian multi-instrumentalist Okaidja Afroso, with light refreshments, cash bar as well as a few free selections of beer and wine until 7 PM.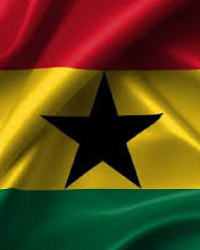 About GHASO
GHASO serves as a social and cultural support network for Ghanaians living in Oregon. To instill cultural awareness in the children and an appreciation of their cultural values and traditions. To take an active role in sharing Ghanaian culture within the wider communities. And, to function as the official mouthpiece of its members.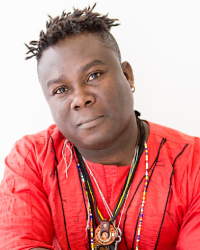 About Okaidja
Okaidja was born into a family of musicians and storytellers in the village of Kokrobite on the west coast of Ghana. He began his career as a dancer with the celebrated Ghana Dance Ensemble. As he toured internationally Okaidja expanded his artistic reach becoming a master multi-instrumentalist, singer-songwriter, and arranger.
His uncle was the town's notorious composer who spared no one with the songs he wrote about life in their small fishing village. Okaidja's mother was a colorful lead singer in her spiritual church. Her powerful songs of praise earned her the name "the spiritual singer." As a young boy Okaidja sang while he worked on fishing boats. The fishermen would sing a cappella songs as they worked, and Okaidja passed the long days learning the songs of the great sea.
At the age of 19, Okaidja was accepted as a professional dancer for the prestigious Ghana Dance Ensemble at the University of Ghana's Institute of African Studies. He became well known for his energetic stage presence and excelled in his performances of the Ga fetish dances. The Ghana Dance Ensemble gave Okaidja the opportunity to study with the best teachers in the country.
In 1997 Okaidja toured the Unites States with the Ensemble. Later on that year he traveled solo throughout Germany teaching Ghanaian music and dance before moving to the U.S. to join Okropong, a traditional Ghanaian music and dance group directed by Obo Addy.