136 Years of Holmes & Watson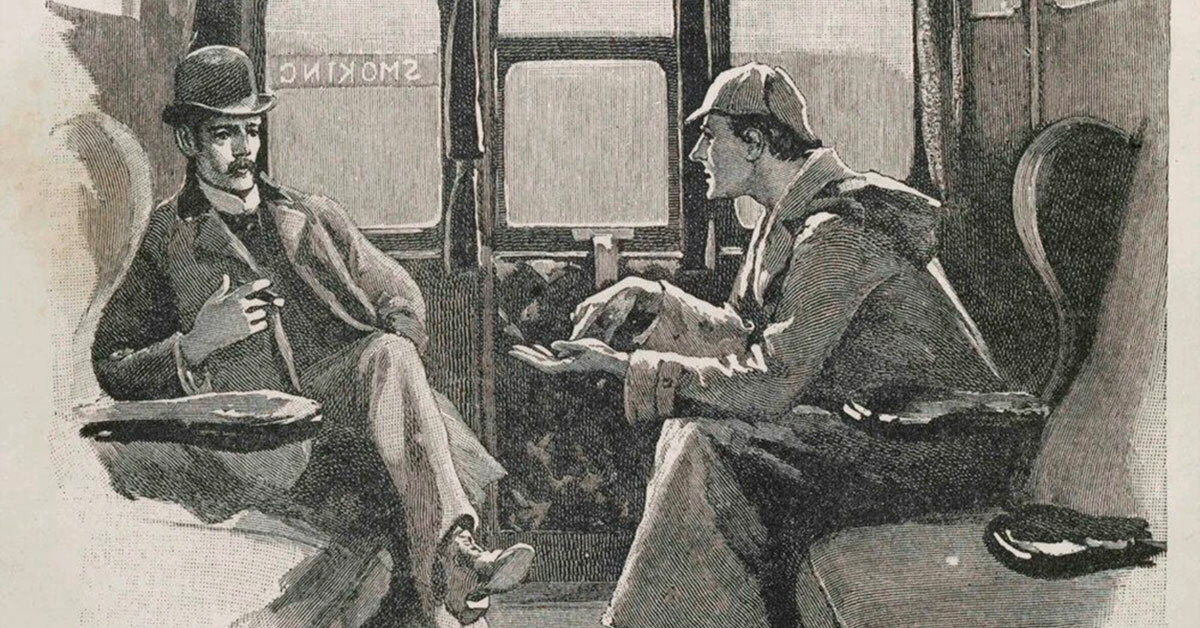 When Sherlock Holmes first hit the presses in 1887, the word "fan" had only been used to describe enthusiasts for less than a decade. To call Holmes readers "fans" however, feels a little light in our current context. These readers were more like what we might call "stans," or super fans, today. When Sir Arthur Conan Doyle announced the death of Sherlock in 1893, subscriptions to The Strand, the magazine in which these stories were serially published, fell by more than 20,000. Doyle's work created what many consider to be the first modern "fandom" and, feeling pressured by his followers, Doyle resurrected the people's hero in 1901. Though the author had called the character's death a "justifiable homicide," he could not have imagined the many celebrated rebirths that would occur in the century that followed.
The original adventures of Sherlock Holmes and Dr. John Watson were the culmination of several artistic movements. As Edgar Allen Poe perfected the macabre mystery and many other writers popularized serialized novellas, Doyle saw an opportunity to elevate both mediums. His stories were thrilling capers, written in such a way that it did not matter in what order they were read — giving readers the freedom to experience Holmes at their own pace. These stand-alone whodunits not only revolutionized storytelling, they innovated the world of criminal justice and influenced culture. Holmes was the first fictional detective to use a magnifying glass, a symbol now so ubiquitous it has become a cliché. Fingerprinting technology was being developed as Doyle was writing and his inclusion of it in the novellas made its use in real criminal investigations all the rage. Though never exactly uttered by Holmes in the original texts, phrases like "elementary, my dear Watson" and "the game is afoot" are part of many people's vocabularies.
Holmes and Watson were among the first fictional crime-fighting duos. Over the years, as time periods, genders, and environments have shifted, Doyle's skeleton has retained its shape: an exceptional but eccentric investigator teams up with an at least seemingly hapless sidekick to solve mysteries and face an elusive nemesis; a savant with a penchant for playing the violin and experimenting with substances meets an almost self-serious former doctor who documents their exploits.
Did you know?
Sir Arthur Conan Doyle decided to adapt his Sherlock Holmes stories into a play. Producers found his script lacking and suggested that actor William Gillette, who had been hired to play Holmes, rewrite it for him. When Gillette asked Doyle what liberties he may take with the story, Doyle responded, "You may marry him, murder him, or do anything you like to him." The play opened on Broadway on November 6, 1889, and after the show, Doyle congratulated Gillette both on his writing and performance saying "It's good to see the old chap again."
Holmes and his constant companion, Watson, are the most adapted characters in British literature — with thousands of pastiches across all manner of media. In film and television alone, more than 350 actors have portrayed Holmes over the years. In addition to named adaptations, we see Sherlock's shadow in some of our other favorite gentlemen — and in some cases, quite ungentlemanly — detectives: Agatha Christie's Poirot and Miss Marple, television doctor House, M.D., cartoon mouse Basil in The Great Mouse Detective. Even the many iterations of Dr. Who can be traced back to the basic elements of Doyle's original creations. There have been animated series that place Holmes and Watson in the 22nd century. A collection of graphic novels called Sherlock Bones turns Holmes into a pipe-smoking puppy. Celebrated television series like CBS' Elementary and the BBC's Sherlock bring Holmes and Watson into modern times. Franchises like Enola Holmes by Nancy Springer and Mycroft Holmes by Kareem Abdul-Jabar [you read that correctly, NBA All-Star Kareem Abdul Jabar] position Holmes and Watson as minor characters in a multiverse that envisions the detective's siblings as the stars. Almost no matter what someone plugs in for Y, Doyle's formula will always solve for X.
With little doubt, there exists a Holmes and Watson story out there for everyone. From blockbuster films to irreverent plays to understated limited series to weekly procedural dramas, the duo has endured and evolved. Sir Arthur Conan Doyle's world can bear the weight of 136 years of our imaginations and, in turn, we can reach back a century and pull Sherlock's peculiarities to the present. But why are we drawn to the pair, whether they are portrayed as teenagers in Victorian London or robots in a distant future? Elementary, dear reader — Sherlock Holmes and Dr. Watson remind us that there is mystery in the mundane, something deeper to unlock in the everyday details we take for granted, and great comfort to be found in a seemingly impossible puzzle solved.
Portland Center Stage is committed to identifying & interrupting instances of racism & all forms of oppression, through the principles of inclusion, diversity, equity, & accessibility (IDEA).