A Journey Through "Our Town"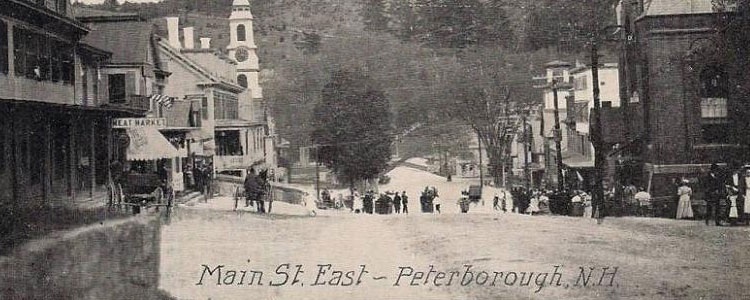 A Journey Through Our Town
with Production Dramaturg Mary Blair
What's in a Name?
Imagine Our Town had been called M Marries N. That's the title Wilder considered when he scribbled out a list of play ideas on July 2, 1935. Just two weeks earlier, the playwright had served as best man for his brother Amos and was struck by the wedding day custom of the groom not seeing his bride until the ceremony. If you listen closely, at the end of Act II, you'll hear the Stage Manager say "M. … marries N. … millions of them." It's speculated that this phrase is perhaps the oldest original wording in Our Town. In 1936, the play's working title was Our Village. It was not until 1937 that Wilder hit upon the now iconic Our Town. Speaking of names, the character of Emily Webb was called 'Amy' in earlier drafts.
Latitude 42 Degrees 40 Minutes; Longitude 70 Degrees 37 Minutes
Our Town's fictional village of Grover's Corners is actually Peterborough, New Hampshire. Wilder wrote major portions of his play there during the summer of 1937 while in residence at The MacDowell Colony, an artists' retreat. The forested colony was an ideal 'office,' as long walks were central to Wilder's writing process. He is quoted as saying that he couldn't work at a desk if he tried and one day's walk was productive of one fifteen-minute scene.
The People's Play
Despite mixed overnight reviews from the New York critics, 26 people were waiting in line when the box office opened the morning following Our Town's Broadway premier in 1938. By early afternoon, the police were called to control the crowds and allow the matinee audience to enter Henry Miller's Theatre. The box office take for that first day was $6,500 – quite a haul at a time when the minimum wage was 25 cents an hour and the average weekly paycheck was $33!
A Veritable Who's Who
Over the decades, a host of noted actors have played a part in Wilder's masterpiece. Paul Newman and Helen Hunt share the distinct honor of having played two of Our Town's chief characters during their careers. Newman portrayed George Gibbs in a 1955 televised musical version of Our Town (where the song "Love and Marriage" was first heard). He later served as the Stage Manager for the Westport County Playhouse production of 2002, also televised in 2003. Hunt took over the role of Emily Webb during the 1988 Lincoln Center revival and replaced Michael McKean as the Stage Manager in the acclaimed Off-Broadway production at Barrow Street Theatre in 2010. (Geraldine Fitzgerald is recognized as the first woman to play the role of the Stage Manager at Williamstown in 1976.)
Other Stage Managers of note include Frank Sinatra, Henry Fonda, Hal Holbrook and Spalding Gray, in addition to Thornton Wilder himself who played the role in seven different productions. William Holden and Montgomery Clift were both early Georges and, before she won numerous Academy Awards, Teresa Wright portrayed Emily as did Eva Marie Saint. Even the Wicked Witch of the West, Margaret Hamilton, John Houseman and William H. Macy made appearances as Grover's Corners residents over the years.
A Darker Our Town
The original Our Town book was published in March of 1938 by Coward-McCann, having gone to print before the Broadway premier on February 4 of that same year. During the rehearsal process, Wilder wrote a close friend to share that director Jed Harris was inserting revisions into the play which were wearing down the "edge of boldness" that he was trying to achieve. The Samuel French acting edition of Our Town, published in 1939 and based on the Broadway premier's heavily revised prompt script, was used for Our Town productions until Wilder himself revisited his Coward-McCann text and published his final version of Our Town in 1957. He did not re-insert many of the bolder elements or lines from the first script.
Fun Fact
$3,125: The asking price for a first edition of the original 1938 book of Our Town inscribed by Wilder (Bauman Rare Books).
Portland Center Stage is committed to identifying & interrupting instances of racism & all forms of oppression, through the principles of inclusion, diversity, equity, & accessibility (IDEA).