Anti-Asian Sentiment During the COVID-19 Pandemic
Throughout U.S. history, the AAPI (Asian American and Pacific Islanders) community has been scapegoated as threats to the country's national security and economic well-being, often being blamed for stealing jobs from White Americans or being spies. Myths such as the "yellow peril" or the "perpetual foreigner" have painted Asians as outsiders or threats to the Western world's existence, resulting in multitudes of innocent Asian Americans being arrested, killed, or having their reputations tarnished. With the rise of the COVID-19 pandemic, people of East Asian and Southeast Asian heritage and appearance have once again experienced a surge in acts against them including xenophobia, racism, prejudice, violence, discrimination, and harassment, not just in our country, but around the world. This comes in the form of anti-AAPI slurs, shunning, and physical violence, often occurring as people attempt to go about their daily lives and resulting in much-shared fear and trauma.
"A stranger pointed at me and my friend and told us that we were the ones responsible for bringing COVID to the U.S." –Anonymous
"I was on the uptown 6 train between Grand Central and 23rd St. A man said to me, 'Don't stand so close. You brought COVID into this country … I will drag you, your c----k husband, and your kids off the train and kill you.'" –Anonymous
"I was told to kill myself multiple times for causing COVID and told to go back to 'where I came from.'" –Anonymous
The Coronavirus was first reported in Wuhan, the capital of Hubei Province in China, in December 2019. Although the World Health Organization chose to name the virus "COVID-19" to avoid stigmatizing those connected to the geography where the virus emerged, derogatory phrases like "Chinese flu," "China virus," "Wuhan virus," and "kung flu" were spread by government officials and their supporters. During the early stages of the pandemic, worry over contracting the virus mixed with anti-pan-Asian attitudes, which resulted in Asians being viewed as sick and to be avoided, as well as targets to be attacked.
"China created a virus that killed hundreds of thousands of Americans." –Shelley Luther, a candidate who ran for and lost the 2022 Republican primary for a Texas House seat (tweeted in January 2022)
"CHINA GAVE US COVID." –Dr. Mehmet Oz, 2022 candidate for U.S. Senate in Pennsylvania (tweeted in March 2022)
Former President Trump used the term "China Virus" to describe COVID-19 in a posting to his Truth Social platform in July 2022.
On March 19, 2020, the Chinese for Affirmative Action, AAPI Equity Alliance, and San Francisco State University's Asian American Studies Department launched the Stop AAPI Hate reporting center, which has become the leading aggregator of anti-Asian and Pacific Islander hate incidents. Between March 19, 2020, and March 31, 2022, Stop AAPI Hate has recorded 11,467 incidents with language that victimized Asians and Asian Americans, wrongfully blaming them for COVID-19, espionage on behalf of the Chinese Communist Party, or economic insecurity. A national survey estimated that at least three million AAPI individuals experienced hate incidents between March 2021 and March 2022.
A majority of hate incidents, though harmful and traumatic, do not meet the legal definition of a crime, and therefore require solutions beyond law enforcement. To address anti-AAPI sentiment, effective solutions that have been suggested include education, community-based action, civil rights legislation, leaders advocating against it, and more AAPI community members in civic and leadership roles.
---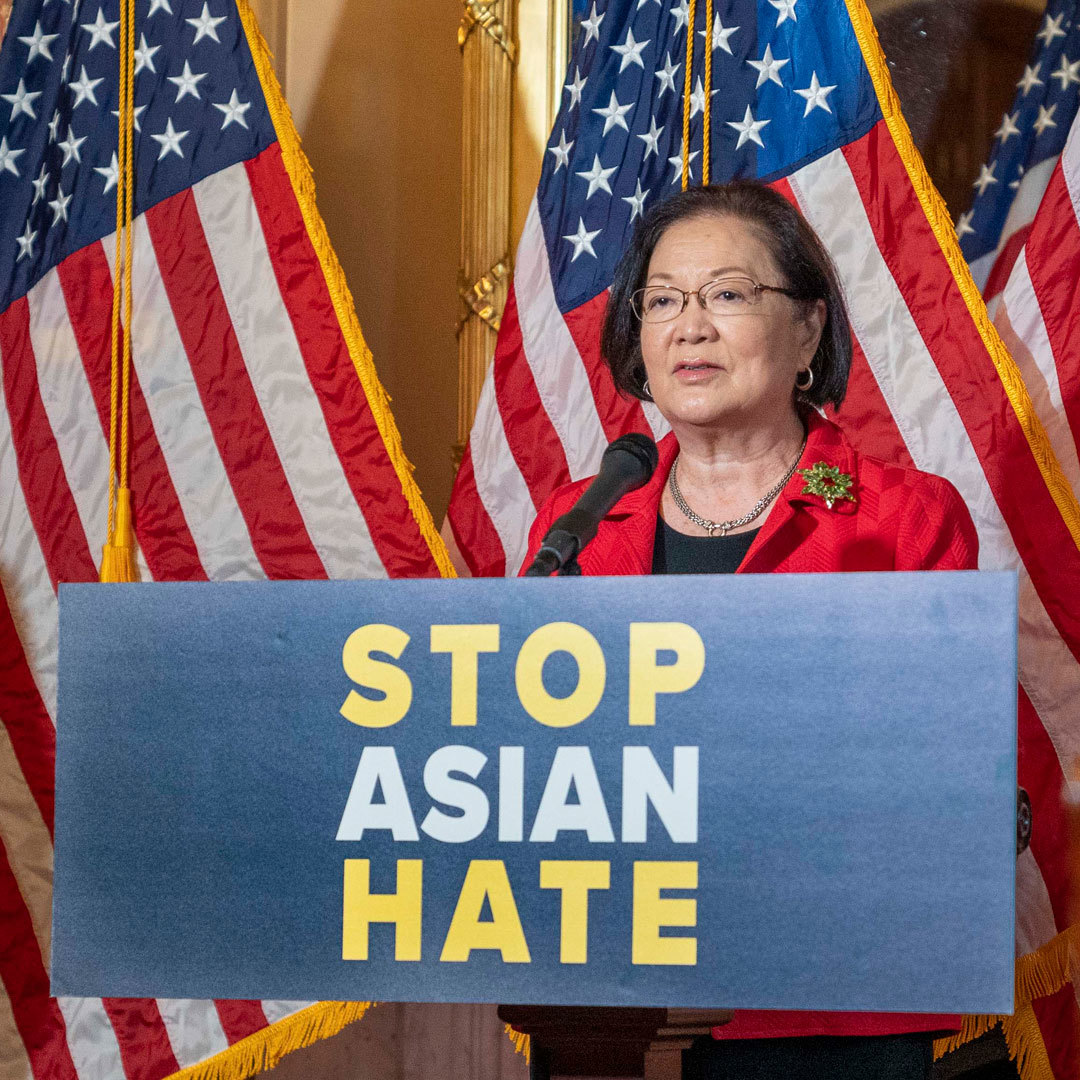 Preview Image Details
(information about the image that accompanies links to this page)
Senate Majority Leader Chuck Schumer (D-NY), House Speaker Nancy Pelosi (D-CA), Senator Mazie Hirono (D-HI), Representative Grace Meng (D-NY), and Representative Andy Kim (D-NJ) held a press conference on the COVID-19 Hate Crimes Act legislation to address the rise of hate crimes and violence targeted at the Asian American and Pacific Islander (AAPI) community related to the COVID-19 pandemic at the U.S. Capitol in Washington, D.C., Tuesday, Apr. 13, 2021. Photo courtesy of
Senate Democrats on Flickr
(
Creative Commons license
).
Portland Center Stage is committed to identifying & interrupting instances of racism & all forms of oppression, through the principles of inclusion, diversity, equity, & accessibility (IDEA).